« Drudge Report Headlines Says "Utterly Devastating" Book on Obama Birth Certificate To Be Out May 17 | Main | The Impact OBAMA'S Drilling Moratorium One Year After The Gulf Oil Spill ~ Obama Energy Policy Endangers Economy »
April 21, 2011
Traitor To America Despicable Obama Skips Tornado Destruction, Heads West to Raise Money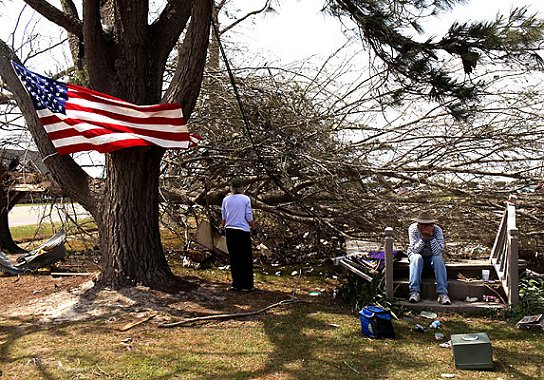 Patsy Perry, center, and Robert Travis gather near what is left of Helen White's home outside Colerain, N.C., on Monday, April 18, 2011. White was killed in Saturday night's tornado. The flag, belonging to her husband, was found in a nearby tree. "At first we folded it up, but I thought we'd better let it fly," said Travis, who was Helen White's son-in-law.
.
Obama Skips Tornado Destruction, Heads West to Raise Money
Obama is opting not to visit the tornado-ravaged areas of the South, choosing instead to embark today on a three day tour out West where he will try to boost his political standing by talking up his approach to the deficit and raise millions for himself and fellow Democrats.
The tornadoes, part of a storm that rampaged though six states Saturday, resulted in one of the worst disasters of any kind in the United States since the Hurricane Katrina in 2005. Scores were left injured or homeless while 45 people were killed – about four times as many as died in the Gulf oil rig explosion and the subsequent oil spill last year. In North Carolina alone, there were nearly two-dozen storm-related deaths Saturday, with 130 homes destroyed and an estimated 700 more damaged.

Not only is Obama staying away from the region, he has said almost nothing publicly about the tragedy beyond an interview with a North Carolina TV station and a very brief mention at a White House prayer breakfast. The president has failed to make the kind of national, attention-getting public statement presidents offer during crises to comfort victims by expressing the condolences of the nation and to seek charitable aid.
Sunday, he went golfing. On Monday, he did sign a disaster declaration for North Carolina, which will free up federal assistance to the state.
Vice President Biden has also failed to show up. He's cooling his heels today at home in Wilmington, Delaware. The disaster did not even merit a visit from Secretary of Interior Ken Salazar who – without any apparent irony – was in Boston Tuesday announcing a new wind energy project.
Meanwhile, the South is bracing for more, as forecasters say severe storms and tornadoes could hit the region again today.
Obama's failure to publicly attend to the fallout from the tornadoes comes on the one-year anniversary of the rig explosion that caused the Gulf oil spill. Obama was roundly criticized then for failing to respond sufficiently to the crisis.
The president's silence and absence during the current crisis is particularly odd given his political stakes in North Carolina, which barely went for Obama over McCain in 2008. Obama is so desperate to hold the state that he's chosen to hold the 2012 Democratic convention there, in Charlotte.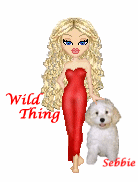 Wild Thing's comment........
Wake up obamam voters, this human piece of flesh hates you, uses you and hates America to the very core.
Posted by Wild Thing at April 21, 2011 03:48 AM
---
Comments
Where's FEMA and all the Left-wing cry babies about the government not doing a friggin thing to help these people. If this were New Orleans, Every asshole reporter in the alphabet media would be camped right next to these people telling gut wrenching horror stories. But no we have a muslim schmuck in the white house and they need to protect him.
Posted by: Mark at April 21, 2011 09:09 AM
---
The only thing more important to Obama than campaigning and raising funds is his vacation. It's inconceivable that a president would send warplanes in to attack a sovereign nation while at the same time he's flying to South America for a family vacation.
Posted by: BobF at April 21, 2011 09:36 AM
---
Whenever we see pictures of flood damage or tornadoes, someone will raise an American flag. It's heartening to see that.
Maybe that's why Obama doesn't go there. He may be face to face with real Americans.
Posted by: Jim at April 21, 2011 01:32 PM
---
Jim, I think you nailed it. He'll not only be faced with real Americans but with Americans relying on each other and not the government.
Posted by: BobF at April 21, 2011 04:40 PM
---
Great input, thank you all so much!!!!!

Jim, that was beautiful and true too. The feeling a person gets from see our Flag means so much.
Posted by: Wild Thing at April 22, 2011 01:15 AM
---