« The McLaughlin Group Eleanor Clift: " "What else would you expect from a socialist born in Kenya who's hiding his birth certificate?" | Main | Gov. Jindal Will Sign 'birther' Bill If It Reaches His Desk »
April 19, 2011
President G.W. Bush Honors Wounded Warriors With A Bike Ride In The Desert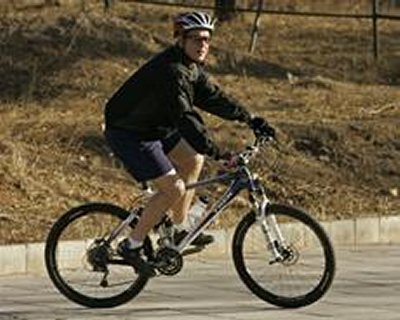 Bush honors wounded warriors with a bike ride in the desert

President George W. Bush loves his mountain bike, and later this month he'll hit the road to honor wounded veterans.

From April 25-27, Bush will host the "Warrior 100," a 100-kilometer mountain bike ride in the Big Bend of Texas with 14 service members wounded in Iraq and Afghanistan.
"I'll be riding across the deserts of Texas with wounded warriors to show the unbelievable character of our men and women in uniform," Bush said in a statement released by his office. "It's a 100-kilometer ride in the desert, and it's not a leisurely ride; it's a ride to herald people who were dealt a severe blow and said, 'I'm not going to let it tear me down.'"

Says the George W. Bush Presidential Center:
The W100 will highlight the courage of US troops who have served their country honorably during Operation Iraqi Freedom and Operation Enduring Freedom.
It will also herald the significant contributions of organizations that support these heroes and their families while they are gone and when they return home. Organizations represented on the ride include the Challenged Athletes Foundation, Ride 2 Recovery, World T.E.A.M. Sports and the Wounded Warrior Project.
The bike ride will serve as the inaugural event of the Social Enterprise initiative of the George W. Bush Presidential Center. The Social Enterprise initiative highlights the work of those who find innovative ways to help others.

Riders alongside President Bush include Sergeant Sam Cila, USA (Ret.) of Riverhead, NY; Sergeant Andy Hatcher, USMC (Ret.) of Alexandria, VA; Sergeant Major Chris Self, USA (Ret.) of Clarksville, TN; Lieutenant Colonel Patty Collins, USA of Killeen, TX; Corporal Jon Copsey, USMC (Ret.) of Vista, CA; Colonel David Haines, USA of Louisville, KY; Specialist Carlos Hernandez, USA of San Antonio, TX; Lieutenant Colonel Marc Hoffmeister, USA of Fort Richardson, AK; Staff Sergeant Scott Bilyeu, USAF (Ret.) of San Antonio, TX; Corporal Josh Davis, USMC (Ret.) of Vail, AZ; Sergeant First Class Dillon Behr, USA (Ret.) of Arlington, VA; Staff Sergeant Kenny Butler, USA (Ret.) of Barre, VT; Sergeant Bryce Cole, USA (Ret.) of Cypress, TX and Specialist Jake Lerner, USA (Ret.) of Jacksonville, FL.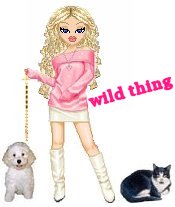 Wild Thing's comment........
I love what G.W. says above in his quote. He truly loves our troops.
Posted by Wild Thing at April 19, 2011 02:55 AM
---
Comments
W's love and respect for his troops knows no bounds. Good for him.
Posted by: Mark at April 19, 2011 10:07 AM
---
I believe GW Bush will go down in history as the president who had the most respect and love for our Armed Forces.
Posted by: BobF at April 19, 2011 02:04 PM
---
Mark, I agree, he is very sincere and passionate about his feelings about our troops.
Posted by: Wild Thing at April 20, 2011 12:39 AM
---
Bob, I bet your right, I don't remember any other president doing the things he has done regarding our our Armed Forces.
Posted by: Wild Thing at April 20, 2011 12:41 AM
---