« We Will Never Forget Our Veterans! | Main | Senate Democrats Defeat GOP Efforts to Block the EPA (and Obama) From Destroying Our Country »
April 07, 2011
Obama Friend Arrested In Hawaii for Soliciting Prostitute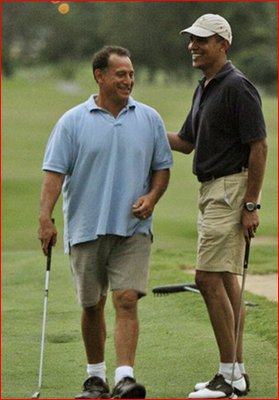 Barack Obama, right, laughs with Bobby Titcomb on the 18th green as they play golf at Mid Pacific Country Club in Kailua, Hawaii. Honolulu police say Titcomb was one of four men arrested in an undercover prostitution sting operation late Monday, April 4, 2011, and released on $500 bail. (AP Photo/Alex Brandon, File)
.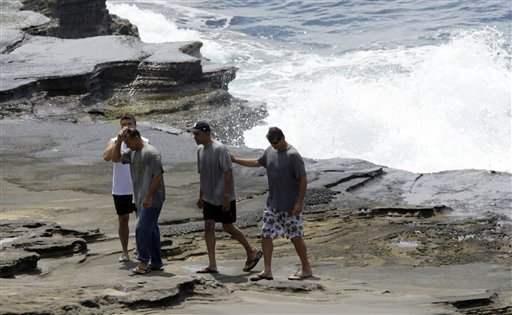 The presidential candidate Sen. Barack Obama, D-Ill., second from right, walks with Bobby Titcomb, second from left, and Greg Orme right after throwing a lei in the Pacific Ocean at the point where he scattered his mother's ashes in Honolulu, Hawaii, Thursday, Aug. 14, 2008. Sen. Obama is in Hawaii for a vacation.
.
One of President Barack Obama's close friends has been arrested in Honolulu on suspicion of soliciting a prostitute. Honolulu police say Robert "Bobby" Titcomb was one of four men arrested in an undercover sting operation late Monday and released on $500 bail.
Robert Richard "Bobby" Titcomb, 49, is scheduled to appear at Honolulu District Court next month, after he allegedly solicited sex from an undercover officer posing as a prostitute.
The 49-year-old Titcomb attended Punahou School in Honolulu with Obama. The two often golf, play basketball, go to the beach and dine together when the president returns home to Hawaii for vacation. Obama's family has also attended barbeques at Titcomb's beachside home in Waialua.
Titcomb and Obama last spent time together in Hawaii during Obama's most recent vacation over the Christmas and New Year's holidays. The White House had no comment. Titcomb has not publicly responded to the charges, and he wasn't immediately available for comment
.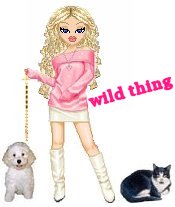 Wild Thing's comment........

Is it time for another beer summit? Is obama going to critize Honolulu PD?
Here is something about his friend.....
"I could see he was bound for bigger things," said longtime friend, classmate and football teammate Bobby Titcomb. "He looked at the world more globally than the rest of us. There was something driven about him. "But he also played basketball, tennis and hung out at the beach with the rest of us." Titcomb, 42, now a commercial fisherman and Northwest Airlines flight attendant living in Kailua, remembers visiting Obama in Chicago shortly after his friend had moved there. Obama declined Star-Bulletin requests to interview him about his Hawaii years.
Posted by Wild Thing at April 7, 2011 07:48 AM
---
Comments
Actually, I don't see why this is news. Who cares of Obama's friend was with a hooker? We've got congressmen with hookers. Oh wait, once you hire them and put them on staff, they're no longer hookers but staffers.
Posted by: BobF at April 7, 2011 09:29 AM
---
Was it a female or male undercover cop he solicited?
Posted by: TomR at April 7, 2011 10:13 AM
---
I'd guess male, if he hangs with obama, there stories out there about Berry, so who knows.
Posted by: Mark at April 7, 2011 07:19 PM
---
Bob, LOL that is funny. Especially in obama's administration.
Tom, I wondered too.

Mark, your right I bet that is it.
Posted by: Wild Thing at April 8, 2011 01:36 AM
---