« Homeland Security Secretary Janet Napolitano Explains the New Terror Threat ( Alert ) Warning System ~ Well Sort Of Nah She Is Mess!!! | Main | Congressman West Asks for Answers from U.S. Generals About Political Correctness »
April 21, 2011
Iran To Ban Pet Dogs, Un-Islamic Under Sharia ~ Man's best friend, mortal enemy to Muslims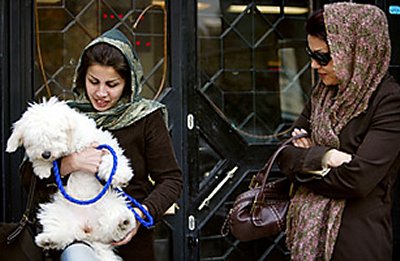 An Iranian woman holding a dog stands in front of a bank in Tehran Morteza Nikoubazl / Reuters / Corbis

Iran to ban pet dogs, un-Islamic under sharia
The Latest Enemies of Iran: Dogs and Their Owners
For much of the past decade, the Iranian government has tolerated what it considers a particularly depraved and un-Islamic vice: the keeping of pet dogs.
During periodic crackdowns, police have confiscated dogs from their owners right off the street; and state media has lectured Iranians on the diseases spread by canines. The cleric Gholamreza Hassani, from the city of Urmia, has been satirized for his sermons railing against "short-legged" and "holdable" dogs. But as with the policing of many other practices (like imbibing alcoholic drinks) that are deemed impure by the mullahs but perfectly fine to many Iranians, the state has eventually relaxed and let dog lovers be.
Those days of tacit acceptance may soon be over, however. Lawmakers in Tehran have recently proposed a bill in parliament that would criminalize dog ownership, formally enshrining its punishment within the country's Islamic penal code. The bill warns that that in addition to posing public health hazards, the popularity of dog ownership "also poses a cultural problem, a blind imitation of the vulgar culture of the West." The proposed legislation for the first time outlines specific punishments for "the walking and keeping" of "impure and dangerous animals," a definition that could feasibly include cats but for the time being seems targeted at dogs.

The law would see the offending animal confiscated, the leveling of a $100-to-$500 fine on the owner, but leaves the fate of confiscated dogs uncertain. "Considering the several thousand dogs [that are kept] in Tehran alone, the problem arises as to what is going to happen to these animals," Hooman Malekpour, a veterinarian in Tehran, said to the BBC's Persian service. If passed, the law would ultimately energize police and volunteer militias to enforce the ban systematically.

Islam, by custom, considers dogs najes, or unclean, and for the past century cultural mores kept dog ownership down to minuscule numbers. In rural areas, dogs have traditionally aided shepherds and farmers, but as Iranians got urbanized in the past century, their dogs did not come along. In cities, aristocrats kept dogs for hunting and French-speaking dowagers kept lap dogs for company, but the vast majority of traditional Iranians, following the advice of the clergy, were leery of dogs and considered them best avoided.
That has changed in the past 15 years with the rise of an urban middle class plugged into and eager to mimic Western culture. Satellite television and Western movies opened up a world where happy children frolicked with dogs in parks and affluent families treated them like adorable children. These days, lap dogs rival designer sunglasses as the upper-middle-class Iranian's accessory of choice.
"Global norms and values capture the heart of people all around the world, and Iran is no exception," says Omid Memarian, a prominent Iranian journalist specializing in human rights. "This is very frightening for Iranian officials, who find themselves in a cultural war with the West and see what they're offering as an 'Islamic lifestyle' failing measurably."

In 2007, two years into the tenure of hard-line President Mahmoud Ahmadinejad, security forces targeted dog owners alongside a crackdown on women's attire and men's "Westernized" hairstyles. In the regime's eyes, owning a dog had become on par with wearing capri pants or sporting a mullet — a rebellious act.

The criminalizing of dogs, in this context, helps the government address the legal gray areas concerning lifestyle behavior. When authorities found it difficult to police what it termed Westernized hairstyles worn by young men, it solved the problem last year by releasing a poster of specifically banned styles.
For many young people, these measures are a firm reminder that the government will brook no disobedience, whether it be chanting antigovernment slogans in the streets or sporting excessively long sideburns. Dog owners in Iran, like much of the population, are mostly preoccupied these days with inflation, joblessness and the parlous state of the country's economy. But they will soon need to consider whether keeping their shih tzu or poodle is worth the added worry. Their dogs may face the same fate as the hundreds of street dogs that the government regularly sweeps from the streets of Tehran.
"Many in Tehran and other big cities find the killing of street dogs offensive and cruel," says Memarian. "It's like the Iranian people and officials live in two different worlds."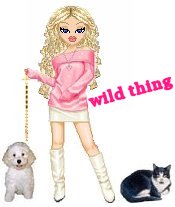 Wild Thing's comment........
The real reason they do not like dogs is because a dog is a higher, superior life than muhammad is.
So this is why IslamObama flies his daughters dog BO, the White House PROP of a dog that no one ever sees, on his own SEPARATE AIRPLANE. Bo gets to ride with IslamObama's boyfriend and constant companion Reggie Love.
Posted by Wild Thing at April 21, 2011 03:44 AM
---
Comments
Iran would be better off if it banned ayatollahs. Good point WT about obama and Bo. obama is a muslim.
Posted by: TomR, armed in Texas at April 21, 2011 12:13 PM
---
from what I understand, cats are ok as Mohammad had a cat and spoke highly of them....

Posted by: Dani at April 21, 2011 03:03 PM
---
Before Mohammad Allah was a minor Arab god who was patron of thieves and liers. I guess he hasnot changed much getting rid of all watch dogs.
Posted by: Avitar at April 21, 2011 05:47 PM
---
Thanks everyone.
Dani thanks for that too, I didn't know that.
Posted by: Wild Thing at April 22, 2011 01:18 AM
---