« Eric Holder With His History Of Letting Terrorists Go Free, Blames Congress for Forcing Hand on Military Commissions for 9/11 Detainees ~ Todd Beamer's Dad Responds!! | Main | Package Containing Severed Pig's Foot And An Anti-Semitic Note Intercepted on Way to ( R- N.Y.) Rep. Pete King's Office »
April 05, 2011
France Burka Ban Starts Next Week, Police Told To Start With Tact And Diplomacy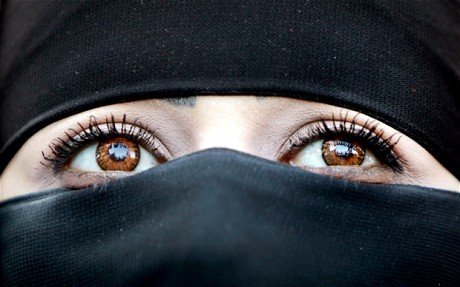 Under the new law, women who wear face-covering Muslim veils in 'public places' in France face being fined £125 or ordered to follow citizenship classes, or both Photo: REUTERS
Police told not to make public unveilings when French burka ban enforced next week
By Henry Samuel

PARIS

Police in France have been instructed to refrain from burka "hunts" or "public unveilings" of women wearing the full Islamic veil when a ban on the garment comes into force next week.

France will become the second country in Europe, after Belgium, to apply the ban, starting April 11.

But officers have been ordered to apply the legislation with tact and diplomacy so as not inflame tensions, interior ministry guidelines leaked to the French press yesterday reveal.
Under the new law, women who wear face-covering Muslim veils, including the niqab and burka, in "public places" in France face being fined £125 or ordered to follow citizenship classes, or both.
The ban encompasses "the street and areas open to the public, as well as cinemas, restaurants, stations, public transport or schools". Veils must also be removed while driving, while crossing borders or taking part in official ceremonies to acquire French nationality.
Husbands and fathers who force such veils on women and girls risk a year of prison and a £25,000 fine, with both penalties doubled if the victim is a minor.
But a nine-page document signed by Claude Guéant, the interior minister, stipulates that women wearing the full veil cannot be forcibly obliged to remove them in public.
Officers who stop a woman wearing the garment must instead "invite the person to show their face in order to check their identity and establish a fine."
If the woman persists, officers are instructed to take her to the nearest police station "as a last resort," but not to either place her in custody or keep her waiting for more than four hours.
If she still refuses to comply, the rules state that police should contact the public prosecutor.

Rather than force, police are invited to employ "persuasion" and, where possible, involve a female officer.
The guidelines emphasise that the full veil ban does not apply in the home or to car passengers. Nor is the ban to be enforced in or around mosques, so as not to be "interpreted as an indirect restriction of religious freedom."
The law to "forbid concealing one's face in public" was voted through last October after a year of heated national debate over the issue. Nine out of ten French people back it, a recent poll suggested.
President Nicolas Sarkozy has already described the burka as a "sign of debasement", and women's rights campaigners denounced it as "a walking coffin".
Michele Alliot-Marie, the former interior minister, said it "cuts [women] off from society and rejects the very spirit of the French republic, founded on a desire to live together."

Around 2,000 women, out of France's 5 million Muslims, are estimated to wear the face-covering garments, according to interior ministry figures.
France had already banned wearing conspicuous religious symbols such as veils, Jewish skullcaps and crucifixes in schools in 2004.
The guidelines came as France's right-wing UMP party is to hold a highly controversial debate today on Islam and secularism.
Organisers say it will address changes in French society such as a growing demand for building mosques in a country where a 1905 law formally separates the Church and state.
Halal food in school cafeterias or demands for women's hours at public swimming pools are also up for discussion.
Critics have denounced the debate as a divisive ploy to lure voters away from the far-Right National Front, which made significant gains in local elections last month and whose new leader, Marine Le Pen is gaining in popularity. It has split the Right, with François Fillon, the prime minister already declaring he will not take part.
France's top religious leaders issued a joint statement last week saying the debate could add "to the confusion in the troubled period we are traversing."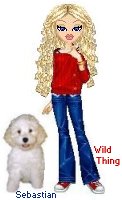 Wild Thing's comment........
I had only heard that France had passed this new law, I didn't know that Belgium had done it first.

It says that 9 out of 10 of the population voted for this, so I also think it is good to start like it says with tact and take it a little slow to begin with. I remember when the seat belt law went into effect when we lived in Calif. most of the time for several months the police only gave warnings to people instead of fines. It was kind of left up to the police man and the person not following the law. Changes take time and these women imo might even be beat by their husbands along with everything else. BUT I am glad they passed this law, and it might go further and maybe they will crack down on the mosgues being built as well.
Posted by Wild Thing at April 5, 2011 04:50 AM
---
Comments
I am surprised to hear that France has banned crucifixes and Jewish skullcaps in schools. The muslims can hardly point out discrimination from the land of Joan of Arc. My wish would be that the world would ban muslims outside their native lands in the MidEast.
Posted by: TomR at April 5, 2011 10:17 AM
---
The french should either deport all of their scumbag muzlums or chop them to pieces and use them for shark chum.
Posted by: Eddie (Enemy of the State) at April 5, 2011 11:08 AM
---
Tom, that is what they should do about the muslims, I agree. I was also surprised about the crucifixes and Jewish skullcaps. I never heard about that before.
Posted by: Wild Thing at April 6, 2011 03:46 AM
---
Eddie, I bet a lot of them there would love to do that.
Posted by: Wild Thing at April 6, 2011 03:47 AM
---