« Pathetic America Hating Washington State Democrat Rep. Jim McDermott: "tired of reading the Constitution" | Main | A Texas Flashlight! »
April 01, 2011
Another Stunner Behind Obama's Libya Doctrine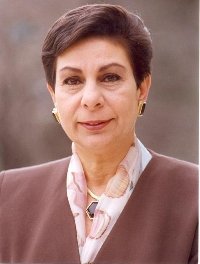 Hanan Ashrawi- "State sovereignty, in its most basic sense, is being redefined – not least by the forces of globalization and international co-operation.."
Another stunner behind Obama's Libya doctrine

By Aaron Klein
TEL AVIV – A staunch denier of the Holocaust who long served as the deputy of late PLO leader Yasser Arafat served on the committee that invented the military doctrine used by President Obama as the main justification for U.S. and international airstrikes against Libya.
As WND first reported, billionaire philanthropist George Soros is a primary funder and key proponent of the Global Centre for Responsibility to Protect, the world's leading organization pushing the military doctrine. Several of the doctrine's main founders sit on multiple boards with Soros.
The doctrine and its founders, as WND reported, have been deeply tied to Obama aide Samantha Power, who reportedly heavily influenced Obama in consultations leading to the decision to bomb Libya. Power is the National Security Council special adviser to Obama on human rights.
Now it has emerged that Palestinian legislator Hanan Ashrawi served on the advisory board of the 2001 commission that originally founded Responsibility to Protect.
That commission is called the International Commission on Intervention and State Sovereignty. It invented the term "Responsibility to Protect," while defining its guidelines.
Ashrawi is an infamous defender of Palestinian terrorism. Her father, Daoud Mikhail, was a co-founder of the PLO with Arafat. The PLO was engaged in scores of international terrorist acts and was declared a terrorist group by the U.S. in 1987.
During the First Palestinian Intifada, or war of "resistance" against Israel, in 1988, Ashrawi joined what was known as the Intifada Political Committee, which sought to advance Palestinian goals through both politics and "resistance." She served there until 1993.
In 1991, Arafat appointed Ashrawi to serve as the PLO's Minister of Higher Education and Research. The Palestinian school system is notorious for its glorification of "martyrdom," or suicide bombings, and has long preached against the existence of Israel.

Ashrawi has long defended the Hamas terror group as a legitimate component of the Palestinian "political spectrum."
She has stated she does not "think of Hamas as a terrorist group."
"We coordinate [with Hamas] politically," she said in April 1993, "the people we know and talk to are not terrorists."

In 1998 Ashrawi founded MIFTAH, a nonprofit that seeks to undermine Israel's legitimacy and refers to that Jewish state's 1948 creation as "Al Nakba," or "The Catastrophe."
Ashrawi has long been a Holocaust denier. In the July 2, 1998, edition of the official Palestinian Authority newspaper Al-Hayat Al-Jadeeda, she published an article calling the Holocaust "a deceitful myth, which the Jews have … exploited to get sympathy."
In 2001 Ashrawi became a spokeswoman for the Arab League.
Notably, Amre Moussa, Secretary General of the Arab League, served as an adviser to the same 2001 commission that invented the "Responsibility to Protect" doctrine.
Ashrawi, meanwhile, was a protégé and later colleague and close friend of late Columbia University Professor Edward Said, another notorious apologist for Palestinian terrorism.
Said was replaced by Rashid Khalidi, a close personal friend to Obama.
Soros funded doctrine
With Ashrawi on the advisory board, the International Commission on Intervention and State Sovereignty first defined the "Responsibility to Protect" doctrine.
In his address to the nation on Monday, Obama specifically cited the military doctrine as the main justification for U.S. and international airstrikes against Libya.
Indeed, the Libya bombings have been widely regarded as a test of "Responsibility to Protect."
"Responsibility to Protect," or "Responsibility to Act" as cited by Obama is a set of principles, now backed by the United Nations, based on the idea that sovereignty is not a privilege but a responsibility that can be revoked if a country is accused of "war crimes," "genocide," "crimes against humanity" or "ethnic cleansing."
The term "war crimes" has at times been indiscriminately used by various U.N.-backed international bodies, including the International Criminal Court, or ICC, which applied it to Israeli anti-terror operations in the Gaza Strip. There has also been fear the ICC could be used to prosecute U.S. troops.
The Global Centre for Responsibility to Protect is the world's leading champion of the military doctrine.
Two of global group's advisory board members, Ramesh Thakur and Gareth Evans, are the original founders of the "Responsibility" doctrine, with the duo even coining the term "Responsibility to Protect."
Soros' Open Society is one of only three nongovernmental funders of the Global Centre for the Responsibility to Protect. Government sponsors include Australia, Belgium, Canada, the Netherlands, Norway, Rwanda and the U.K.
Board members of the group include former U.N. Secretary-General Kofi Annan, former Ireland President Mary Robinson and South African activist Desmond Tutu. Robinson and Tutu have recently made solidarity visits to the Hamas-controlled Gaza Strip as members of a group called The Elders, which includes former President Jimmy Carter.
Annan once famously stated, "State sovereignty, in its most basic sense, is being redefined – not least by the forces of globalization and international co-operation. States are ... instruments at the service of their peoples and not vice versa."

To continue the rest of the article CLICK HERE.

Obama cites Soros-funded doctrine to justify bombing Libya

--In his address to the nation yesterday, President Obama cited a military doctrine funded by billionaire philanthropist George Soros as the main justification for U.S. and international air-strikes against Libya.
--Aside from directly citing the doctrine, Obama alluded to the Soros-funded military principle four more times in his 28-minute speech explaining why he decided to intervene in Libya.
.


Wild Thing's comment........

Whew! Any wonder why we are in trouble? It just never ends. If there is ANY evil in the world Obama has made friends with it.
This is another step toward global sharia law.
And Samantha Power wants a massive "protection force" to invade Israel and protect the palestinians as they rape, pillage, and murder Israel out of existence.

We need to be aware of the International Crisis group . Some notable names associated with the International Crisis group as board members and advisers.........George Soros, Kofi Annan, Samuel Berger, Wesley Clark , Mohamed El Baradei, Javier Solana, Louise Arbour, Prince Turki al-Faisal, Richard Armitage, Zbigniew Brzezinski, Douglas Schoen.

All this stuff is towards eliminating Israel, and the US is is playing the part of an enemy of Israel right now. Lord help us all ...
More oil controlled by the Caliphate + more restrictions on domestic oil + nuclear fearmongering = Death to America and Israel as we know it.
That there are USA military being used to further the goals of such people as Soros, Obama and these other people is unforgivable!!!!!!!!!!!!!!!!!

I swear the day is coming when Obama will be telling us how we have to be for "defending" Hamas terrorist Palestinian murderers from Israel. They are trying to set up destroying Israel. All the people obama admires and and takes council from are people that hate Israel, hate Jews and America.
These people make me sick.

....Thank you Mark for sending this to me.

Mark
3rd Mar.Div. 1st Battalion 9th Marine Regiment
1/9 Marines aka The Walking Dead
VN 66-67


Posted by Wild Thing at April 1, 2011 05:47 AM
---
Comments
ANY group with Jimmy Carter as a member is a group America needs to put on the watch list. We are seeing parts of the New World Order raise their ugly heads and guide US foreign policy. obama and his administration are all radical anti Americans.
Posted by: TomR,armed in Texas at April 1, 2011 11:33 AM
---
Where did he find so many of them? Sorta like cockroaches you get one and the rest just follow and infest the closet. Time to get the Orkin man to fumigate Washingtone D.C..
Posted by: Mark at April 1, 2011 04:09 PM
---
Hanging is too good for those 2 bastards.
Posted by: Eddie (Enemy of the State) at April 1, 2011 05:34 PM
---
The so-called kinetic action will have burned up over a billion dollars by the time Sir Golfs-a-lot finishes
Up.We are broke!!!!!! Where pray tell did the Mooola come from?? China??? The F-16 cost aprox.
10,000 and hour to operate. As we have no Dog in this fight what's the boob think he is proving,wait,ok
He was talkin outa hiz ass again…
Posted by: gator at April 1, 2011 06:01 PM
---