« A Texas Flashlight! | Main | NATO Warns Rebels Against Attacking Civilians »
April 01, 2011
Al Qaeda Declares Southern Yemeni Province An "Islamic Emirate"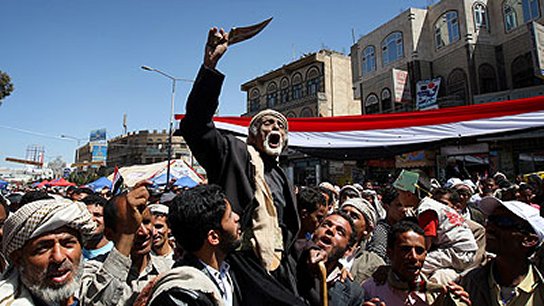 Yemeni anti-government protesters demonstrate in Sanaa. US Defense Secretary Robert Gates said that Yemeni President Ali Abdullah Saleh's eventual fall or his replacement by a weaker leader would pose "a real problem" for US counter-terrorism work. (AFP/Ahmad Gharabli)
Yemeni President Faces Demands He Step Down
SANAA, Yemen – The Yemeni president's own tribe has called on him to step down after a deadly crackdown on protesters, robbing the embattled U.S.-backed leader of vital support in a society dominated by blood ties.
President Ali Abdullah Saleh appeared to be trying to hold on, firing his entire Cabinet ahead of what one government official said was a planned mass resignation, but making no mention of stepping down himself. Yemen's ambassador to the United Nations and its human rights minister had announced their resignations earlier in the day.
Experts said that Saleh, who has cooperated closely with U.S. military operations against his country's branch of al-Qaida, had lost the support of every major power base in Yemen except the military.

Al Qaeda Declares Southern Yemeni Province An "Islamic Emirate"
Women were told not to go outside except under necessary circumstances
Al Qaeda in the Arabian Peninsula (AQAP) has declared Yemen's Abyan province an "Islamic Emirate" and banned women from going outside, according to Eurasia Review and accounts from Yemeni journalists.
AQAP, which has established full control over the southern province, made an online statement Wednesday declaring Abyan an Islamic Emirate governed by Shariah.
The statement said women in the province should not go out except under necessary circumstances, "and she who urgently needs to go out, should be with one of her male relatives, and should have ID with her."

AQAP's announcement comes just a few days after jihadists looted an ammunition factory in Ja'ar, a city in Abyan province, killing 150 people in an apparently accidental explosion. Al Qaeda militants have also taken control of local communications facilities in the province.

.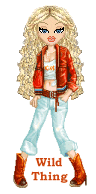 Wild Thing's comment........
All part of obama's GRAND plan. Jiimmy Carter handed over Iran to terrorists . Obama is working on the rest.
Posted by Wild Thing at April 1, 2011 06:50 AM
---
Comments
Happy HOLY SEASON & LENT Ragheads?
"It's beginning to look a lot like Easter... Everywhere I go!"
HE IS RISEN .... John 15:13 and Crusaders Up!!
Posted by: darthcrUSAderworldtour07 at April 1, 2011 08:57 AM
---
What I really fear is that we will accept tens of thousands of refugees from these countries. The MidEast is in massive turmoil. The extremist islamists are taking over. We need to get the hell out.
Posted by: TomR,armed in Texas at April 1, 2011 10:46 AM
---
wild thing, your comment says it all !
Posted by: latitude38 at April 1, 2011 02:16 PM
---
tom r, your comment is well worth noting.
Posted by: latitude38 at April 1, 2011 02:34 PM
---
What do Texas, a rope and O'Quamba have in common? I anxiously await your replies. heh heh!
Posted by: Eddie (Enemy of the State) at April 1, 2011 05:32 PM
---
And obumbles just spent 20 Million of our Tax dollars to bring in more Hamas to the good old U.S.A. and Congress approved it. We can't even count on our side.
Posted by: Mark at April 1, 2011 08:54 PM
---
What is the stinking alternative. Do we nuke Yemen? We all learned from Vietnam that this side has people who will shoot you in the back if you make too much progress.
Posted by: Avitar at April 2, 2011 01:14 AM
---
Great input thank you all so much.
Posted by: Wild Thing at April 2, 2011 04:27 AM
---