« Violence Advocated at Unlawful Socialist Protest - Portland Oregon | Main | " Top Democrat Senators Admit Obama Is Incompetent " Joe Scarborough »
March 14, 2011
Teacher's Pet: Oscar The Classroom Labrador Wins Award For The Dog Who Most Improves Children's Behaviour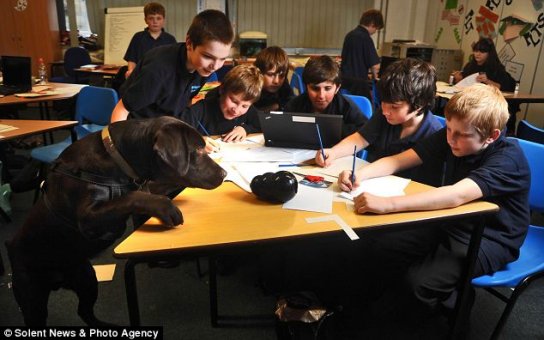 Paying attention: Oscar the teacher's pet keeps a close eye on events in Cantell Maths and Computing College in Southampton
Teacher's pet: Oscar the classroom labrador wins award for the dog who most improves children's behaviour

School in Southampton has cut trouble by amazing 40%
A school has taken the idea of 'teacher's pet' to a whole new level - by getting its own dog.
Chocolate labrador Oscar was brought in to Cantell Maths and Computing College to help with some pupils' behavioural problems.
And incredibly those problems have been almost halved since he arrived.
The friendly rescue dog is part of the school's restorative approaches (RA) policy for pupils who cause trouble in class or have fallen out with friends.
As part of the scheme, students are provided with a secluded classroom, where they can carry on with their work, or seek comfort from staff - including Oscar.
Since he was introduced to the school in Southampton a month ago staff have noticed a dramatic 40 per cent cut in student misbehaviour.
RA co-ordinator Des Anderson said: 'He's a best mate for the kids.
'Sometimes we get students who come in and they're angry and Oscar goes over and calms them down, because it's very difficult to be angry with a labrador.
'It means we can work with them within the hour, rather than having to wait until the next day.
'Rather than having a punitive approach we have a restorative approach where we try to get them to acknowledge what they've done wrong.
'It might be falling out, it might be bad behaviour, it might be having a bad time somewhere else.
'Our mantra is this is a safe place to have a difficult conversation.
'We record everything and I would say we've reduced the incidents that we have to deal with by 40 per cent since September.
'But what's really key is we've improved the students' ability to put things right.' Oscar spends every day in the school's RA base, where he plays with the children or simply sits while they read to him or just sit and stroke him.
Year 7 pupil Matthew Manning, 12, added: 'Oscar is really fun and he's really cute. I love him to bits.
'All the times I've been upset he's come over to me to cheer me up.'

.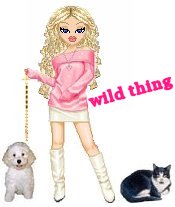 Wild Thing's comment........
Great story.
Awhile back I recall an article here where a teacher started bringing her dog (lab) into a remedial reading program.
Of course, being kids, they did not want to read aloud or even read at all...as it was difficult for them. The teacher found that they LOVED to read to the dog; and it worked incredibly well.
Posted by Wild Thing at March 14, 2011 04:47 AM
---
Comments
My favorite dog. The Chocolate Lab to the resuce. Even Taxpayer dollars couldn't buy this kind of loyalty. Wisconsin should fire a bunch of those teachers and with the money they save buy a few hundred Brown Labs. No pension, No Union dues, No Union, just two meals a day, a warm bed and a pat on the head and he's completely happy with his job.
Posted by: Mark at March 14, 2011 12:22 PM
---
Very difficult to beat animals like dogs, cats, rabbits, hamsters, etc. for having a calming effect on people. Especially kids. Like Mark says, you can't beat the price.
Posted by: TomR, armed in Texas at March 14, 2011 02:06 PM
---
This is a positive development and a vast untapped resource.
We should support and advocate the continued introduction of trained Service Dogs and Assistance Dogs into our schools, hospitals, medical facilities, and retirement homes.
Dogs hunger for a job, it's their nature, and as Mark well points out, they're easy on the budget.
Posted by: Carlos at March 14, 2011 09:35 PM
---
LOVE all your input, I agree, animals are the best, they really do calm a person and I love how more and more they are being seen how important they are for asssistance in so many areas.
Posted by: Wild Thing at March 15, 2011 02:25 AM
---