« To Surly, With Love: Are Teachers Overpaid? See Video and You Decide!! | Main | Wisc. Democrats Getting Killed In The Court Of Public Opinion Do Publicity Stunt They Move Desks Out Of Capitol »
March 04, 2011
Senate GOP in Wisconsin Orders Police to Take AWOL Dems Into Custody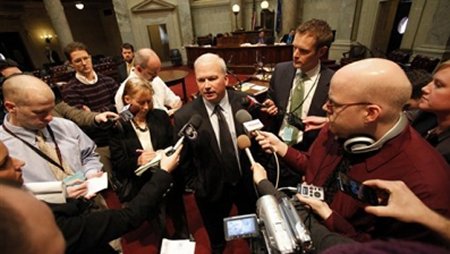 State Senate Majority Leader Scott Fitzgerald
Senate GOP in Wisconsin Orders Police to Take AWOL Dems Into Custody

Republicans in the Wisconsin Senate passed a resolution Thursday calling for police to take 14 Democrats into custody for contempt after they fled to Illinois to avoid voting on a bill that would strip public-sector unions of nearly all their collective bargaining rights.
On the same day, Republicans in the Indiana House agreed to impose fines of $250 per day on Democrats who are also in Illinois, boycotting the legislature over labor and education bills they oppose.
In Wisconsin, Senate Majority Leader Scott Fitzgerald signed the orders after Republicans voted 19-0 calling for the action unless Democrats returned to the chamber by 4 p.m. Thursday.
None of the Democrats did, prompting Fitzgerald to sign 14 orders of detainment in dramatic fashion in the center of the Senate chamber. State patrol officers watched silently from the gallery.
"We had not exhausted everything available to us to compel the senators back to the body," Fitzgerald said in an interview with Greta Van Susteren during On The Record. "If one of these senators is identified or about to come into Wisconsin they could be picked up by law enforcement and brought back to the senate chamber."

Fitzgerald added that he heard a media report that one of the missing Democratic senators didn't think he was serious.
"Bring it on, lets try it," he said. "If that senator wants to step foot in Wisconsin, he'll see."

The move comes two weeks after the Democrats left, effectively delaying the vote on Gov. Scott Walker's proposal that he says will help him address a $3.6 billion budget shortfall. Walker said Thursday that he will start issuing layoff notices to state workers on Friday if his bill isn't passed by then.
Fitzgerald said the resolution is legally different from an arrest, but "definitely a shift from asking them politely."
The resolution gives the sergeant at arms the authority to take any and all steps, with or without force and assistance from police, to bring the senators back.
The state Constitution prohibits the arrest of lawmakers while in session unless they're accused of committing felonies, treason or breach of peace.
But James Troupis, a private attorney hired by Fitzgerald, argued Thursday that the move is legal, because the state Constitution allows each house to "compel the attendance of absent members," the Wisconsin State Journal reported.
In Indiana, most House Democrats skipped Thursday's floor sessions, extending their stay at an Urbana, Ill., hotel to a 10th day and preventing action on the bills because too few members are present.
The fines would start being assessed on Monday and be deducted from the salaries or expense allowances of the absent members.
Republican House Speaker Brian Bosma said he decided to seek the fines because the Democratic boycott had reached "the point of absurdity."
"We've tried every other means other than conceding to a list of demands and this is one of the few items that we have as options," Bosma said.
Republicans calculate that the absence of the Democrats has cost more than $250,000 in taxpayer money for the salaries and expenses of running the House during the walkout, which Bosma called "a very expensive temper tantrum."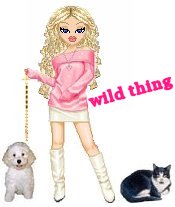 Wild Thing's comment........

Kudos to Fitzgerald, good for him and the rest of the Republicans that followed through and voted to do something about this.
What a mess this is and it isn't going to be resolved soon. I can imagine the games which will be played once they do return...you can expect they'll have something up their sleves .
Posted by Wild Thing at March 4, 2011 05:47 AM
---
Comments
Hey Cheeseheads & Badgers... Websters tells me a BADGER is a carnivorous BORROWING animal of the family MUSELIDAE... Is this Muslim too?!
Posted by: darthcrUSAderworldtour07 at March 4, 2011 11:53 AM
---
Posted by: Anonymous at March 5, 2011 12:56 AM
---
Darth, interesting.
Anonymous, it sure is!!
Posted by: Wild Thing at March 5, 2011 02:38 AM
---