« Sen. Mitch McConnell Followed John Kerry On CBS' Bob Schieffer Show and Gave a Great Response | Main | Very Impressive Michele Bachmann on Meet the Press »
March 07, 2011
Sarah Palin Responds About Semi Known Kathy Griffin Playing a 'Sarah Palin type' on 'Glee'
Sarah Palin: "Kathy Griffin Is A 50-Yr-Old Bully / Has-Been Comedian"
Palin was asked how she felt about Kathy Griffin playing a 'Sarah Palin type' on 'Glee'.
Griffin, like so many others on the left, relentlessly bully conservatives like Sarah Palin and even target her helpless children.
.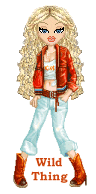 Wild Thing's comment........
Just one ity bity correction for awesome Sarah to know.........Griffin isn't a has-been, she is a never-was.
Kathy Griffin is a rude crude ignorant unpleasant obnoxious yucko!
You can tell when the LEFT REALLY IS scared of a Republican by the amount of vitriol the left spews at and about them.
Sarah Palin is the PERFECT EXAMPLE OF THIS, as is Michele Bachmann. Sarah SCARES the we-we out of the Leftwing-Nut, Libratard, Progressive, Dumb-O-cRAT Party,
Posted by Wild Thing at March 7, 2011 05:47 AM
---
Comments
Good "right back atcha" by Sarah. I would love to see this Griffin woman disappear into the Alaskan wilderness. The environment might not like that infusion of trash though.
Posted by: TomR, armed in Texas at March 7, 2011 10:50 AM
---
Good for her she is getting ready for the big game coming up at the end of the year and Sarah looks to be in Championship form. Also, a lot better looking than that griffin girl.
Posted by: Mark at March 7, 2011 09:49 PM
---
Tom, I feel the same way. Griffin is especially horrible.

Mark, yes she is much prettier then Griggin.

Posted by: Wild Thing at March 7, 2011 11:27 PM
---