« Obama Copies G.W. Bush Speech ~ What A Failure You Are Obama! | Main | An Israeli Beach Flash Mob ~ I LOVE it!! »
March 19, 2011
Protesters Throw Molotov Cocktail's At US Consulate in Brazil and Banners Saying "Obama, go home" Ahead of Obama Visit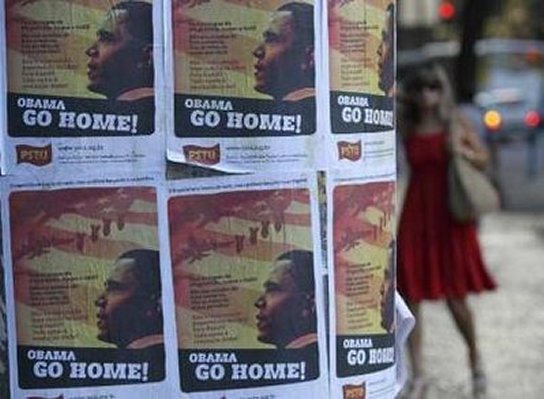 .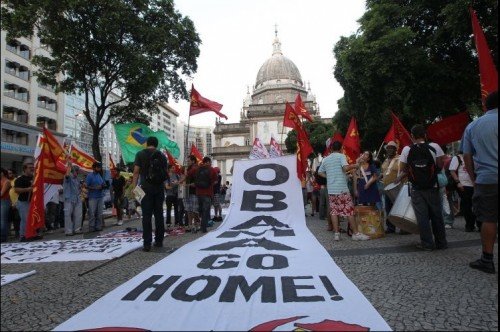 .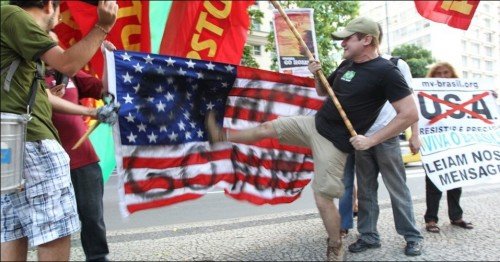 .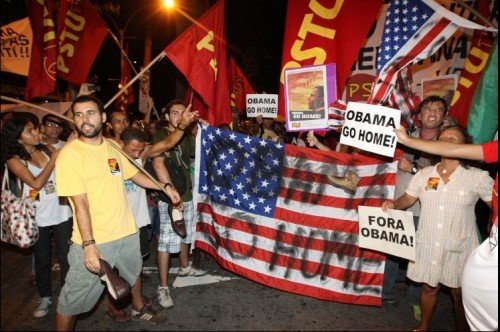 .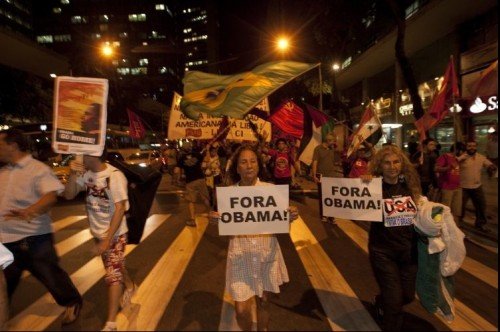 .

Brazil police use tear gas to end anti-US protest

Rio De Janeiro
Police fired rubber bullets and used tear gas to break up a demonstration outside the US consulate in Rio de Janeiro on Friday, as US President Barack Obama prepares to visit the country, AFP reports.

Some 300 people had gathered at the site when Brazilian Military Police showed up and tried to break up the demonstration.
Police cracked down on the crowd after protesters hurled a molotov cocktail at the consulate door, the O Globo newspaper reported on its website.
"I was in the center of the protest when people began to run and I heard shots," said AFP photographer Vanderlei Almeida. "I had to get out of there because it was hard to breathe."
According to the Reserved Service of the 13th Military Police Battalion (Tiradentes Square), the protesters threw a Molotov cocktail at the U.S. Consulate. Part of the device reached a vigilante and his vest caught fire. To counter the confusion, MPs threw stun grenades and tear gas.
Almeida was struck by two rubber bullets — one hit him in the leg, and the other in his stomach. Several protesters were detained, Almeida said.
The march began in front of the Candelaria church in downtown Rio, and followed by the Rio Branco Avenue until you reach the consulate. Were displayed banners reading "Obama, go home" and "Imperialism no! Obama, take the jaws of the pre-salt. All the solidarity of peoples in struggle."
Several protesters were detained, Almeida said.
Obama arrives in Brazil on an official Saturday ( today) and will meet President Dilma Rousseff in the capital Brasilia.
On Sunday, he is scheduled to deliver a speech in Rio's Municipal Theater after cancelling a public speech in the city's town square.

The Brazilian authorities have laid out a heavy security presence for Obama's two-day visit to South America's largest nation, and police in Rio had closed numerous streets from midnight Thursday in preparation.


UPDATE:

White House announced yesterday that obama will no longer be speaking at a public square in Rio. It seems that the President's days of pontificating before enraptured foreign audiences may be over.
"White House officials opted to hold President Obama's major speech in Rio Sunday in an indoor setting, the Municipal Theater, rather than an outdoor venue that might have posed greater security concerns."


Obama's Brazil press conference Q & A scrubbed
A planned press conference Saturday featuring President Barack Obama and new Brazilian President Dilma Vana Rousseff has been scratched, even before Obama departed Washington for his five-day Latin America trip.
The two leaders were scheduled to take questions Saturday morning at the Palacio do Planalto in Brasilia after a bilateral meeting there, but the White House issued a schedule Friday evening noting that the two leaders will make statements but do not plan to entertain inquiries from the press.
A White House official said the change was at the request of the Brazilians. "The Brazilians said they would prefer this format," said the U.S. aide, who asked not to be named.
Brazilian press reports say Rousseff may be less than eager to be questioned about why the U.S. has yet to endorse a permanent U.N. Security Council seat for Brazil.
Just two days ago, White House officials were proudly highlighting the transparency of having a press conference in each of the three countries on Obama's itinerary.

.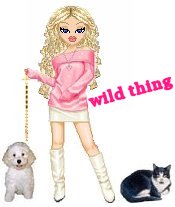 Wild Thing's comment.........

Sorry Rio… but you are stuck with him. We don't want him back.

Obama's house of cards is collapsing and all of the other world leaders know it.
Posted by Wild Thing at March 19, 2011 05:48 AM
---
Comments
Boy, I thought Obama was suppose to make the world love us?
Posted by: BobF at March 19, 2011 07:39 AM
---
Maybe with a little luck o'quamba will drink a molotov cocktail.
Posted by: Eddie (Enemy of the State) at March 19, 2011 08:49 AM
---
I guess they feel our pain too!!
Posted by: jan at March 19, 2011 08:52 AM
---
Maybe the Brazillians gave up obama for Lent.
Posted by: TomR,armed in Texas at March 19, 2011 11:37 AM
---
Kind of puzzling. Brazil elected an uber-socialist as president if I remember correctly. You would think he would be well received there. I guess he's not all that great for that side of the fence either.
Posted by: Jim at March 19, 2011 03:19 PM
---
I recognize those Wisconsin protesters and TEACHERS from last month!
Posted by: darthcrUSAderworldtour07 at March 19, 2011 06:13 PM
---
Nows a good time for that civility speech. Not gettin' good vibes here...
Posted by: Mark at March 19, 2011 09:56 PM
---
Tom, LOL yes maybe that is the reason.

Thank you everyone.
Posted by: Wild Thing at March 20, 2011 03:36 AM
---
What does Fora mean in 'Brazillian'?

Posted by: Mark at March 20, 2011 06:07 PM
---