« Florida Gov. Rick Scott Met With Convicted Terrorist Supporter Ahmed Bedier Yesterday At The 3rd Annual Florida Muslim Capitol Day ~ Gov.Scott Should Have Said NO Way! | Main | Past Ties Between Gadhafi, Farrakhan, Obama, U.S. Muslim Groups Raising Questions »
March 30, 2011
Obama's Libya Policy, In Three Sentences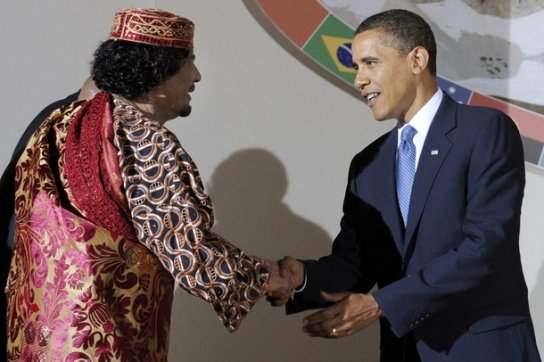 Libyan Islamic Jihad Terrorist Thug Qaddafi, today praised Obama calling him "My Son" adding, "We are content and happy if Obama can stay forever as President…" during his 1 hour 36 minute rambling diatribe to the United Nations today. ( this quote from Qaddafi is from September 23, 2009 )
.

by By Jim Geraghty
Obama's speech included these three sentences, and it is revealing that no one within the White House found them contradictory:

"I made it clear that Gaddafi had lost the confidence of his people and the legitimacy to lead, and I said that he needed to step down from power."
"Broadening our military mission to include regime change would be a mistake."
"We will deny the regime arms, cut off its supply of cash, assist the opposition, and work with other nations to hasten the day when Gaddafi leaves power."
He must step down. We are working to drive him from power. But we are not pursuing regime change.

.


Wild Thing's comment.........
LOL some leader!

He is a dictator but he will never be a leader.
Posted by Wild Thing at March 30, 2011 05:48 AM
---
Comments
This clown doesn't have a clue or we are missing the whole thing. If I were a conspiracy theorists I would say. this is being done for the total destruction of Israel. obama already said, if the winds blow the wrong way against Muslims he will go that way. But you know this should NOT be a surprise we knew this up front. Yet, 80% of the Jews in this country voted him into office, dispite the efforts of Mayor Koch and others. So when all this happens, I guess we expected the old USA to prevail and I guess that is the shock of it all.
Posted by: Mark at March 30, 2011 07:06 PM
---
Posted by: Wild Thing at March 31, 2011 03:56 AM
---