« House GOP Rejects Amendments That Say Global Warming Is Real ~ GOOD News!!! | Main | "Let There Be No Doubt, The White House ( Obama) Efforts Are Costing Jobs and Putting Even More Pressure on Gas Prices" »
March 17, 2011
Obama's Energy Secretary Steven Chu Will NOT Discuss Drilling in ANWR ~ Obama Hostile Towards Energy Causes Prices Way Up For Groceries and Gas
Obama's Energy Secretary – Steven Chu – just flat out refusing to even talk about the subject of drilling in ANWR – the Arctic National Wildlife Refuge.

After testifying before the House Energy and Water Development Subcommittee about his department's FY2012 budget, CNSNews.com asked Energy Secretary Steven Chu if — given the high price of gasoline — he supports increasing offshore drilling and opening up ANWR [Arctic National Wildlife Refuge] to domestic drilling?"
Chu responded, "I'm not going to talk about ANWR, but I think there's many areas in the arctic that are potential exploration sites. We have opened up deep shore oil drilling; as I said, there are now two new leases since the Macondo well in deep shore. There have been some 33 or 35 shallow wells, so that has continued."


Food Prices Increase Most in 36 Years
Wholesale prices jumped last month by the most in nearly two years due to higher energy costs and the steepest rise in food prices in 36 years. Excluding those volatile categories, inflation was tame.
The Labor Department said Wednesday that the Producer Price Index rose a seasonally adjusted 1.6 percent in February double the 0.8 percent rise in the previous month. Outside of food and energy costs, the core index ticked up 0.2 percent, less than January's 0.5 percent rise.
Food prices soared 3.9 percent last month, the biggest gain since November 1974. Most of that increase was due to a sharp rise in vegetable costs, which increased nearly 50 percent. That was the most in almost a year. Meat and dairy products also rose.
Energy prices rose 3.3 percent last month, led by a 3.7 percent increase in gasoline costs.
.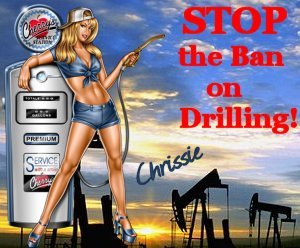 Wild Thing's comment........
Obama is to blame for not allowing drilling and opening up resources in America and then stopping rigs from working in the gulf. He wants higher gas.
Largest jump in food prices in 36 years. Gas jumped big time, don't complain to me all you lefties. Unless you can take my rage directed at You in a most personal way. ( for the leftie lurkers of this blog)
Oh and leftie lurker Nigel, your efforts are wasted, I don't even read your comments you try to get through. They just get deleted with no one even seeing them. Your hate for our country, our Military, Conservatives should be taken to another blog more to how you think. Just go to hell and turn left you will be right at home.
Posted by Wild Thing at March 17, 2011 05:40 AM
---
Comments
obama and the Dems are determined to shove "renewable" energy down out throats even if it has been proven to be inadequate. America has enough energy reserves to be energy independent, but the Dems and environmentalists don't want us using anything but "renewable" energy.
Posted by: TomR,armed in Texas at March 17, 2011 12:57 PM
---