« Marco Rubio: "I Will No Longer Support Short-Term Budget Plans...We Can No Longer Afford To Nickel and Dime Our Way Out of Dangerous Debt" | Main | Team Obama ( Arrogant Putz OBAMA ) Threatens Supreme Court to Stay Away From Health Care Challege »
March 15, 2011
Miracle Baby Girl Found In Rubble: Four-month-old Reunited With Her Father After Incredible Rescue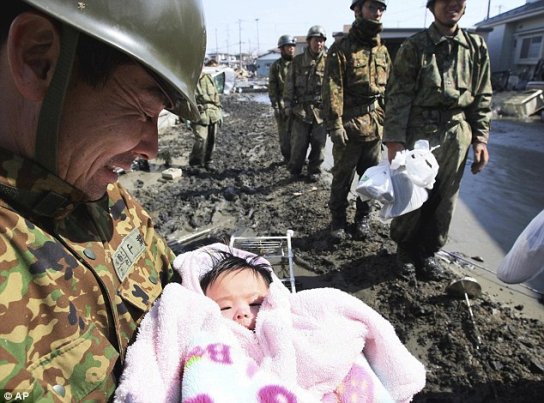 The member of Japan's Self-Defence Force member holds the four-month-old baby girl in Ishinomaki, northern Japan after her rescue

Miracle of the baby girl plucked from the rubble: Four-month-old reunited with her father after incredible rescue

The sound of a baby's cry amid the rubble seemed so impossible that soldiers searching a tsunami-smashed village dismissed it as a mistake.
But it came again. And they realised they had not been hearing things.
They pulled away wood and slate, dug back thick oozing mud – and there was the child they were to describe as a 'tiny miracle'.

The four-month-old girl had been swept from her parents' arms in the shattered village of Ishinomaki when the deadly wave crashed into the family home.
For three days, the child's frantic family had believed she was lost to them for ever.
But yesterday, for a brief moment, the horrors of the disaster were brightened by one helpless baby's story of survival.
Soldiers from the Japanese Defence Force had been going from door to door pulling bodies from the devastated homes in Ishinomaki, a coastal town northeast of Sendai.
Most of the victims were elderly, unable to escape the destructive black tide.
But for this precious moment, at least, it was only the child who mattered to the team of civil defence troops who found her.

One of them picked her up in his arms, wrapped her in a blanket which had been handed to him and cradled the child as his colleagues crowded around, not believing that someone as young as this had survived when all hope had been lost.
The tiniest survivor was cold and wet and crying, but she is believed to have suffered no other injuries. Why she did not drown remained a mystery.
But the soldiers were somehow able to trace her overjoyed father, who had been taking refuge in his wrecked home with the rest of his family.
Even then, the nightmare wasn't over. For just minutes after the emotional reunion, the shell-shocked survivors were told that a second tsunami might be on its way.
The panicked father begged the soldiers to take the baby to safety on higher ground.
But the 11am alarm proved to be false and the reunited family returned to try and rebuild their home.
Amid the devastation, there have been precious few tales of survival.

But the discovery of the unnamed child has given fresh hope that others might be found alive in the shattered landscape which covers scores of miles of the east coast of Honshu island.
Yesterday, it emerged that witnesses looking down from the second floor of a house in one of the worst hit areas thought they noticed some movement in the back of a wrecked car by the side of the road and soldiers discovered an elderly woman who had been trapped in the passenger seat for more than 20 hours.
Although she was traumatised by her ordeal, the victim was said to be otherwise unhurt.
As the Mail reported yesterday, Hiromitsu Shinkawa was found sitting on the roof of his floating home about nine miles from shore. Waving a red cloth, he was picked up by a boat. His wife is missing.
'Several helicopters and ships passed but none of them noticed me,' he said. 'I thought that was going to be the last day of my life.'
A man in his 70s was also pulled from a collapsed building in Sendai, a port town badly hit by the double disaster.
Before the baby's discovery, searchers found at least 2,000 bodies cast up along the shoreline of the badly-hit Miyagi prefecture.
All had drowned, according to police, and as the search through the debris continued throughout the day officials conceded that what had started out as a rescue effort would become a recovery operation.
And then came the cry of a little girl.
'Her discovery has put a new energy into the search,' said a civil defence official. 'We will listen, look and dig with even more diligence after this.'
.......And fear: Upon hearing another tsunami warning, a father tries to flee to safety with the baby girl he has just been reunited with.

.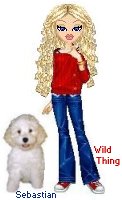 Wild Thing's comment......

Some welcome GOOD news! Thank God. The smile of the soldier holding the baby says it all.
Posted by Wild Thing at March 15, 2011 05:50 AM
---
Comments
Footage of the devastation of the tsunami from the BBC:
http://www.bbc.co.uk/news/world-asia-pacific-12725646
Drag your cursor over these dramatic pictures for before and after images:
http://www.abc.net.au/news/events/japan-quake-2011/beforeafter.htm
It is noteworthy to point out how despite having their world literally turned upside down in mere moments and without notice, how in sad contrast to Hurricane Katrina, the Japanese behave with such dignity queuing up civilly in water and relief lines with no hysteria, no grabbing or pushing, and remarkably no looting.
The Japanese possess an admirable discipline, decency, and respect. Their exemplary work ethic and strength will see them through.
One American, who during World War II drove the Japanese from Bataan, Corregidor, and New Guinea, received the Japanese surrender, later governed the American occupation of Japan, and came to know the Japanese very well as the Shogun of Occupied Japan for four years after the war once wrote:
"I know of no nation more serene, orderly, and industrious, nor in which higher hopes can be entertained for future constructive service in the advance of the human race".
-General of the Army Douglas MacArthur.
Posted by: Carlos at March 15, 2011 09:56 AM
---
A good story among many sad stories. The Japanese have taken a big hit. Like Carlos states, they are a disciplined, industrious and resilient people. They will come back strong.
Posted by: TomR, armed in Texas at March 15, 2011 12:52 PM
---
Carlos, thank you so much for all of that. I too have noticed this and agree with you. "The Japanese possess an admirable discipline, decency, and respect. Their exemplary work ethic and strength will see them through."
Posted by: Wild Thing at March 16, 2011 01:05 AM
---