« Aimee Mullins: The Opportunity Of Adversity | Main | 10 Quotes By Barack Obama About Islam Contrasted With 10 Quotes By Barack Obama About Christianity »
March 06, 2011
Marjah, Afghanistan -- A year after Marine Corps impact

.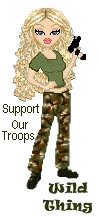 Wild Thing's comment........
Great news and news that the media should be sharing about is not.
Prayers and thanks for our Marines and all our troops!!!
Posted by Wild Thing at March 6, 2011 04:48 AM
---
Comments
The media would rather report on the West Buro Baptist church trashing Funerals of the fallen than report any success in the war against the spread of Islam.
Posted by: Mark at March 6, 2011 07:52 AM
---
Mark, so true and that is shamful.
Posted by: Wild Thing at March 6, 2011 11:53 PM
---