« America to have the highest corporate tax rate in April | Main | Outstanding Patriots Of The Week: Rep. Peter King And Gov. Scott Walker »
March 16, 2011
Heroic Marine Lance Cpl. William Kyle Carpenter Honored
Marine Lance Cpl. Kyle Carpenter, gets support from his fiance Jordan Gleaton, in the state senate chambers, where Sen. Jake Knotts, R-Lexington, presented a proclamation honoring Marine Lance Cpl. William Kyle Carpenter

.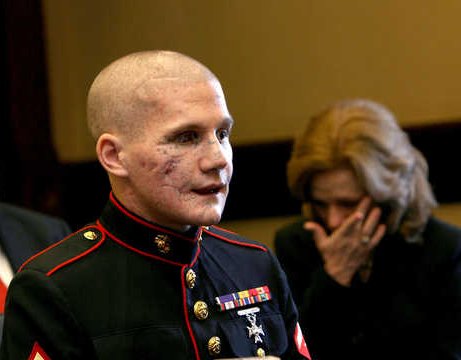 Marine Lance Cpl. Kyle Carpenter, flanked by his parents, Robert and Robin Carpenter of Gilbert, recounts his experience of being injured in a combat zone in Afghanistan during a press conference Wednesday at the statehouse.
.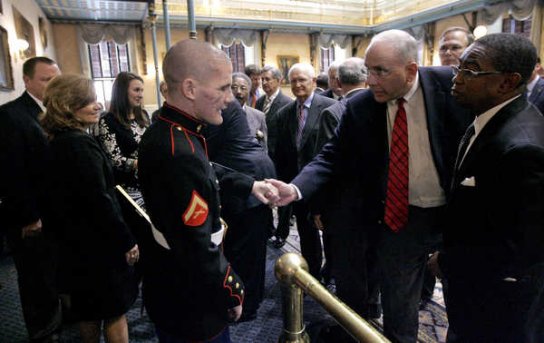 .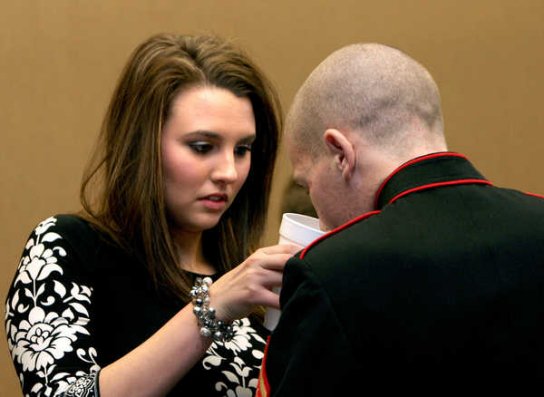 Jordan Gleaton helps her fiance, Marine Lance Cpl. Kyle Carpenter with a sip of water after a press conference

.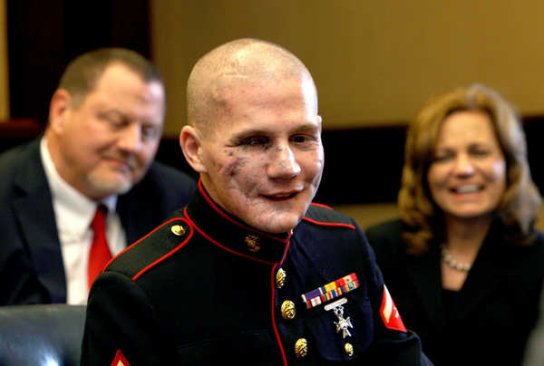 Marine Lance Cpl. Kyle Carpenter, flanked by his parents, Robert and Robin Carpenter of Gilbert, laughs during a press conference
Marine Lance Cpl. William Kyle Carpenter, his face missing an eye and crisscrossed with deep scars, stood on the floor of the S.C. Senate on Wednesday to receive the thanks of his state.
Carpenter, 21, of Gilbert lost the eye, most of his teeth and use of his right arm from a grenade blast Nov. 21 near Marjah, Helmand Province, Afghanistan.
Friends and family say he threw himself in front of the grenade to protect his best friend in Afghanistan, Cpl. Nick Eufrazio.
Carpenter just remembers seeing the grenade. Then a white flash. Then a fellow Marine telling him he would be fine.
Then, four weeks later, he woke up in a hospital in Germany.
"The second I woke up, I saw my family by my bedside," he said.
The Senate resolution noted Carpenter "suffered catastrophic wounds in the cause of freedom" and "has shown himself worthy of the name Marine."
Carpenter shook almost every senator's hand — with his left hand — after the reading.
He said his experience was nothing unusual in war. People back home, worried about the economy and gas prices, he said, should remember Marines and soldiers are still being maimed and killed.
"The light is on me right now," he said. "But I'm hoping what happened to me will help remind people that things like this happen every day and people don't see it. I'm proud of what my fellow Marines have done there and are doing there now."
Helmand Province is one of the most dangerous places in the world.
Carpenter and a 12-man squad from his 9th Regiment, 2nd Marine Expeditionary Force, were on patrol outside Marjah. They were in the fifth month of a seven-month deployment.
They were in a village they called Shadier, between two other villages they named Shady and Shadiest.
They had been in hard combat, he said, as the Marines were pushing out farther from their base, expanding the territory they controlled.
"For two days we had been hit pretty hard," he said. "We moved into (enemy) territory, and they didn't like it."
He was fighting on a rooftop when the grenade hit.
"I took 99 percent of the blast," he said. "But one little piece of shrapnel got by me and went into (Eufrazio's) brain."
According to Sen. Jake Knotts, who sponsored and read the proclamation, Eufrazio suffered a serious brain injury and is recovering in Bethesda Naval Hospital in Maryland. He is now speaking and talking.
Carpenter also spent most of his recovery time — which so far has included 25 surgeries and more than 100 hours of physical therapy — at Bethesda.
There, he said, he was inspired by the other patients, many of whom had no legs or no eyes or no arms.
"I'm lucky," he said.
Knotts said that Carpenter has been nominated for the Medal of Honor, adding, "And I think this kid deserves it."
But Carpenter said that "people saying they are proud of me is enough."
That doesn't surprise his 20-year-old fiancee, Jordan Gleaton.
"I haven't heard him complain one time," Gleaton said. "I would be a mess."
"It's been a tough three months," she added. "I don't feel like I'm 20 anymore."
Carpenter's parents, Robert and Robin Carpenter of Gilbert, say they are proud of the way their son has handled his horrific injuries.
They call him "our miracle."
.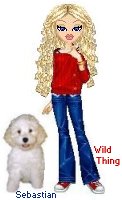 Wild Thing's comment........
God bless Marine Lance Cpl. Kyle Carpenter, and may he always know how much his sacrifices mean to all of us, that we will never forget. He has serious injuries but an amazing strength. A true hero. With all my heart I truely thank you Marine Lance Col William Kyle Carpenter.
Posted by Wild Thing at March 16, 2011 05:47 AM
---
Comments
The best this nation is making one hell of a sacrifice. I pray this nation doesn't let them down.
Posted by: BobF at March 16, 2011 09:10 AM
---
Excellent post.
Thank you.
Posted by: Carlos at March 16, 2011 09:54 AM
---
Yes, good job Marine. Kyle and his family and fiance are all heroic people.
Posted by: TomR, armed in Texas at March 16, 2011 11:54 AM
---
God Bless Cpl. Carpenter and his family.
Posted by: Jim at March 16, 2011 02:26 PM
---
L/Cpl Carpenter is a real American hero. Bless him and his family and our best wishes forever.
Posted by: Eddie (Enemy of the State) at March 16, 2011 07:19 PM
---
Thank you all sooooo much.
Posted by: Wild Thing at March 17, 2011 02:19 AM
---
Thank you for all you have done,Lance Cpl. Kyle Carpenter. I'm thankful you are alive. I'm a Marine vet. I know it takes a team of dedicated heroes to adapt and overcome to your many changing and challenging situations. I'm thankful for all who serve and who have served. Everyday, when I come out of my children's school, I stop and pause at the American flag waving high in the sky. It brings me chills, sometimes tears. I say a prayer of thanks and ask God to bless all you warrior heroes. Now, may God bless you Lcpl Carpenter, in your continued healing process. May he continue the healing process in your best friend's brain. May God bring you and your family and fiance the grace to be able to do what you need to do, and the wisdom to make the right decisions. May God charge his angels concerning all the military to encamp around you all. May you all be a unstoppable force. May God bring you all the heightened sense of alertness you need. May God bring a full recovery for you both and all our wounded heroes. Semper-Fi!
Posted by: Kimberly Baker at March 17, 2011 10:34 AM
---
God Bless Cpl Carpenter and his family. Thank you for your service.
Posted by: Becky at March 17, 2011 11:50 AM
---
I'm a retired Marine Gunnery Sgt and not a day passes that I don't pray for you and the rest of our truley brave men & women still out there defending us. Thanx just does'nt seem enough. God Bless & Semper fi Marine, don't ever forget that your country is extremely proud of you....
Posted by: Stella M Crame at March 17, 2011 09:17 PM
---
Kyle:
I have posted this e-mail to you on another site. I am posting it again to make sure that it gets through to you.
You are truly a proud Marine. You have sacrificed so much.
My name is George Doc Fregeau. I am a retired Corpsman serving with the Marines for 23 years.
I now work for NEADS (Dogs for Deaf and disabled Americans). We are based in Princeton, MA.
I am the co-founder of Canines for Combat Veterans. Basically what our organization does is to provids an assistance dog with a wounded veteran for no out-of-pocket expense.
We also pay airfare both ways from your home to NEADS and while you are here for the two weeks learning how to use your dog, room and board is supplied by the Blue Star Mothers chapter 1 Leominster, MA and the Leominster VFW Post 1807.
I would love to tell you more about our program.
If you could call me at 978-660-5952
I know I could really open your eyes to a most terrific program.
My e-mail address is DocFregeauMCL@verizon.net
Please write or call.
Semper-Fideles
Doc Fregeau

Posted by: George Doc Fregeau at March 21, 2011 01:34 PM
---