« Cornstalked: As the 14 Wisconsin Democrats run, meet the numerous Illinois Tea Party activists giving chase | Main | American Combat Troops To Get Gay Sensitivity Training Directly On The Battlefield »
March 01, 2011
Gov. Scott Walker Stands Up To Obama and His Goons~ Thank YOU Gov. Walker!!!!
First we have Obama's comment on Monday followed by Gov. Waklker's response further down. ~ Wild Thing

Obama warns public workers are being 'vilified'

Obama warned Monday against vilifying public workers, making his first allusion to the labor dispute in Wisconsin in a week and a half.
The president, speaking Monday to a group of governors at the White House, warned against using public servants as scapegoats, a not-so-subtle reference to Wisconsin Gov. Scott Walker's (R) pursuit of legislation that would eliminate collective bargaining rights for public workers.
"I don't think it does anybody any good when public servants are denigrated, or vilified, or have their rights infringed upon," Obama said.

.

Gov. Scott Walker on Monday afternoon responded to comments Barack Obama made earlier in the day about the protests in Madison:

Walker's office issued this statement:
Office of the Gov. Scott Walker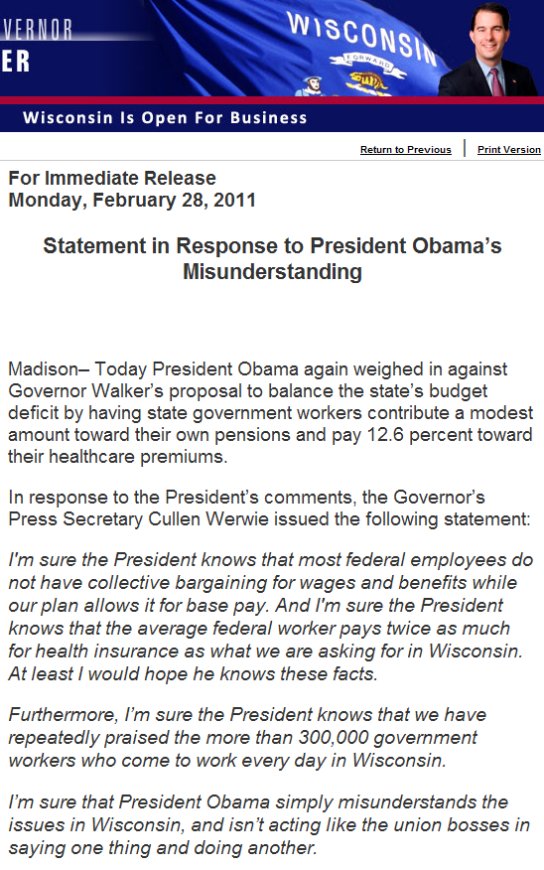 .

Wisconsin Gov. Scott Walker on Monday warned the 14 Democrat State Senators who have fled to Illinois that they must return and vote on the Governor's "Budget Repair Bill" or there will be "dire consequences."
Those consequences are layoffs of state workers, which Walker said would be necessary if they are unable to move forward with the budget bill. Walker said layoffs are the last thing he wants to do. But it will be unavoidable if the Democrats refuse to allow the budget process to move forward in order to deal with the state's $3.6 Billion deficit.
.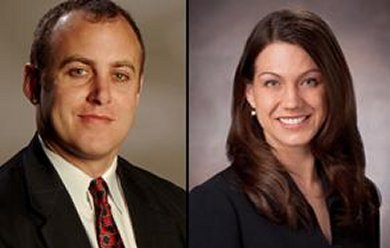 Friday morning after the Assembly vote to approve Governor Scott Walker's budget repair bill Democrat State Rep. Gordon Hintz turned to Republican Rep. Michelle Litjens and said: "You are F***king dead!"
State Rep. Gordon Hintz was issued a municipal citation in Appleton earlier this month for violating a city sexual misconduct ordinance.
Appleton police said the citation was issued Feb. 10 in conjunction with an ongoing investigation of Heavenly Touch Massage Parlor, 342 W. Wisconsin Ave., in Appleton. Police searched the business and a nearby residence in the 1300 block of North Division Street Jan. 28, after investigators had staked out the properties for several days after receiving a tip.
Last Friday…. after the Assembly voted to engross the Budget Repair Bill, Hintz turned to a female colleague, Rep. Michelle Litjens and said: "You are F***king dead!"
Hintz was arrested for sexual misconduct earlier in the week – in a prostitution sting.
.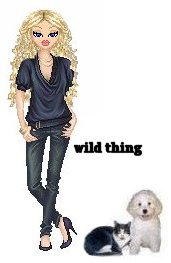 Wild Thing's comment........
If the legislatures don't want to work, then fire them and get some who do.
God Bless Gov. Walker for calling this union-puppet clown out. I sure hope he continues to be strong about this.

"I'm sure that President Obama simply misunderstands the issues in Wisconsin, and isn't acting like the union bosses in saying one thing and doing another."
SSSSSSSMACK!!!!.........Great one! Walker damns obama with faint praise. Better put some ice on that, 0bama!
In boxing this would be a knock down for a 10 count.
I'm sure Obama knows...
I can hear the sarcasm in the statements loud and clear.

Walker is standing up and telling people the truth, even if it is not a pleasant truth. Then he offers SOLUTIONS, while Obama leaves it to others to find the solutions. Walker's budget plan?... Tough choices, realistic assumptions. Obama's budget plan?.....Even the Democrats said Obama's budget is a bad joke, phony 'savings' and unrealistic projections.
Posted by Wild Thing at March 1, 2011 04:48 AM
---
Comments
Obama takes a kick to the crotch! BAM! Good to see people taking a stand against the unions and their commie friends. The behavior of the union thugs is self-denigrating. Union goons assault conservative protesters while union cops stand by and do nothing. Pro-union protesters carry signs calling for violence and calling lawmakers "Hitler" or "Nazi." Union members frequently voicing threats to anyone who oppose them saying things like: "I'll break your neck", "hang so-and-so," etc... Geez.
Posted by: petesuj at March 1, 2011 08:40 AM
---
Obama takes a kick to the crotch! BAM! Good to see people taking a stand against the unions and their commie friends. Obama makes me sick.
Posted by: petesuj at March 1, 2011 08:43 AM
---
Had this been a Republican this would have made all the Papers in 3 inch block letters On every front page in the country. This is such BS. Where is all the civility ...huh ...
Posted by: Mark at March 1, 2011 09:00 AM
---
Damn Democrat thugs. Too many of these guys run for office on a power/ego trip rather than to serve the public.
I guess Rep. Hintz has a low opinion of women. He thinks they are only good for paid sex and bullying.
Posted by: TomR, armed in Texas at March 1, 2011 11:15 AM
---
Rep Hintz got an e-mail from me yesterday where I told him what I though of him. I guess he won't be sending me a b-day card this year.
Posted by: Eddie (Enemy of the State) at March 2, 2011 08:07 AM
---