« Besides The Enemies Of America In Our White House ~ DHS and FBI Say There Might Be Terrorists Among Us | Main | Obama's Libya Policy, In Three Sentences »
March 30, 2011
Florida Gov. Rick Scott Met With Convicted Terrorist Supporter Ahmed Bedier Yesterday At The 3rd Annual Florida Muslim Capitol Day ~ Gov.Scott Should Have Said NO Way!
Vidoe is Tom Trento, the Executive Director of the Florida Security Council speaking about ................... Rick Scott, Florida Republican Governor met with admitted Arab revolutionary leader Ahmed Bedier during Muslim Day in Tallahassee Florida on Tuesday 29 March 2011.

.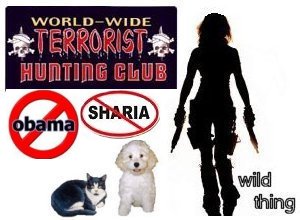 Wild Thing's comment.........
It was the third annual Florida Muslim Capitol Day in Tallahassee organized by ex-Tampa CAIR director, Egyptian-born Ahmed Bedier, former spokesperson for convicted terror supporter Sami al Arian, and founder of United Voices for America (UVA). There were Florida National Guardsmen armed with sub-machine guns patrolling the courtyard of the Capitol Rotunda building.

Scott may have been under the influence of a Muslim sympathizer and noted conservative, Grover Norquist. Red-bearded Norquist was seen frequently on Governor Scott's campaign bus during the 2010 gubernatorial election campaign in Florida.

Governor Scott chose to meet with Bedier and his UVA contingent while saying no to meeting with anti-Sharia activists organized by the newly formed TUW organization led by Tom Trento ( he is the man in the video above) of the Florida Security Council.
Gov. Scott did pose for a group picture, and a picture with Bedier who blocked the Governor's exit. When the governor was asked by a TWU activist later why he made the appearance at the UVA event, he answered that he was just doing his job.
Muslim Bedier will clearly use the pictures as evidence of an endorsement by Governor Scott. Gov. Scott had better wise up and do it fast. Any time one gives in to these people in any way, they will USE it .
The Muslim Brotherhood may have won several Stealth Jihad victories across America in Washington, DC, Tallahassee – Florida's State Capitol and Sioux Falls, South Dakota. started Sunday, March 27th with the launch of CNN's "Unwelcome: Muslims Next Door" Soledad O'Brien's "In America" documentary on alleged Muslim discrimination in Murfreesboro, Tennessee over the Islamic Center expansion project.

....Thank you Mark for sending this to me.
Mark
3rd Mar.Div. 1st Battalion 9th Marine Regiment
1/9 Marines aka The Walking Dead
VN 66-67


Posted by Wild Thing at March 30, 2011 05:47 AM
---