« Lois Farrakhan Blasts Barack Hussein Obama | Main | Striking Pocono Medical Center Workers and SEIU Thugs Protest at ESSA Bank Headquarters in Stroudsburg, Pa. »
March 20, 2011
Barack 'Jackwagon" Obama and His Family Spring Break In Brazil

Barack Obama and his family aboard, Air Force One touched down at exactly 7:31 this morning in Brasília. Obama and his committee (estimated to be a total of one thousand) will spend the day in the capital of Brazil and leave for Rio de Janeiro in the evening.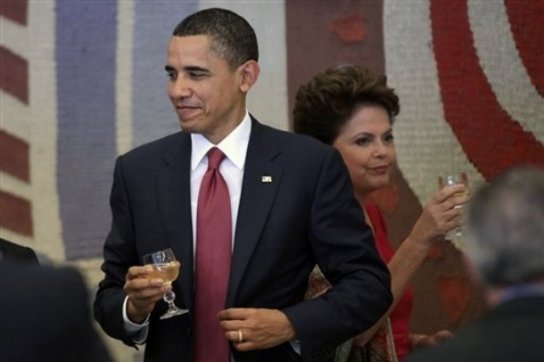 Two Communists together
Dilma Roussef, can´t even go in US. for she will be arrested for the kidnapping of late US Ambassador Charles Burke Elbrick in 1969 when she was a guerrilla.
It would be interesting to see her stepping a foot into US during Obama term, would he arrest her? Would he uphold the law?
By the way, Dilma should not be Brazilian President also, same as Obama - She is no Brazilian Born... But communists do not give a damn about law...

Obama might be thinking ...it's good to be the King......
.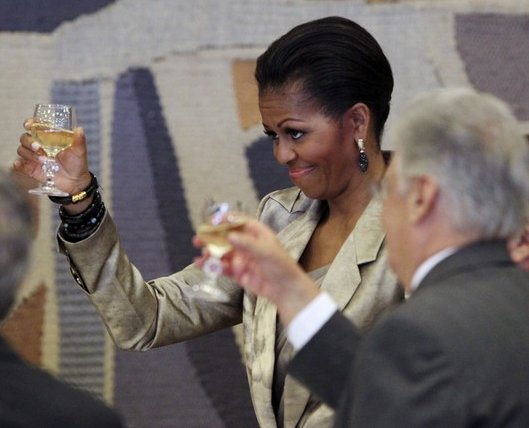 Reuters Pictures U.S. first lady Michelle Obama makes a toast a lunch at the Palacio do Itamaraty in Brasilia, March 19, 2011.
.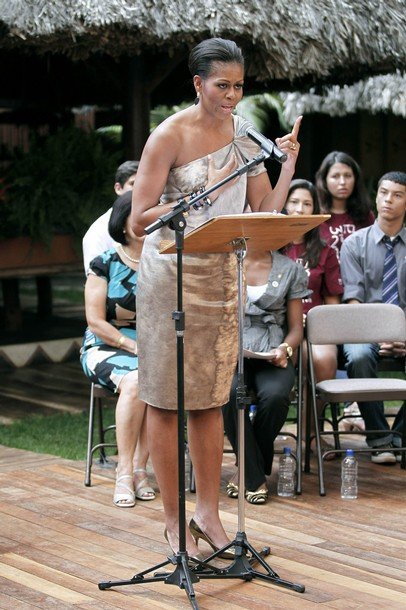 Michelle Obama speaks during a visit with young Brazilians who have participated in a range of U.S.-sponsored development programs, in Brasilia March 19, 2011

.
Michelle always looks so angry almost all the time. Obama and his arrogance always shows up too in photos. What a miserable, horrible couple.

Close our borders and DO NOT ALLOW THEM BACK IN OUR COUNTRY......thank you sooo much.
Posted by Wild Thing at March 20, 2011 05:47 AM
---
Comments
I wonder how they treat the people who maintain Air Force One? I met one of the maintenance line chiefs from the 89 Air Wing who was there under both Bush/Quayle and Clinton/Gore. He said Clinton/Gore treated them like sh_t; arrogant and condescending towards them. He said Bush/Quayle were decent men who went out of their way to thank the maintainers.
Posted by: BobF at March 20, 2011 08:43 AM
---
Is that an alum foil dress? ;/....note: reflective makes us look larger.
Posted by: jan at March 20, 2011 10:09 AM
---
Party hearty obama. The world is in turmoil and obama is socializing. obama never met a communist he didn't like.
Posted by: TomR,armed in Texas at March 20, 2011 11:32 AM
---
It sure looks like Aluminum Foil after the potatoe is done singed around the edges and brownish hue to it. Why does it look like she lecturing those people. Of all the the first ladies she is the first one not to fit into the catagory of Lady.
Posted by: Mark at March 20, 2011 03:31 PM
---
Bob, I wonder too, if they treat them like they do everyone else this is going to be a long term to live through. Good point.

Jan, hahahahahaha I agree and it was not the right thing to wear when she spoke to that group.

Tom, exactly!!!
Mark, haha yes it does. Your right Mark, she really does look like that.
Posted by: Wild Thing at March 21, 2011 12:42 AM
---
Oh My Allah, no Boone's Farm nor Mad Dog 20-20?
Posted by: darthcrUSAderworldtour07 at March 21, 2011 09:59 AM
---
Hahaaa! Tell me, can you drink wine while you have a dip of snuff in the lip? This cadre of socialist are having a party on our dollar! Ha! Damn, Michelle got that man by the nap-of-his neck. Say toast mf'er, toast!
Posted by: Mustang Gus at March 21, 2011 04:21 PM
---