« Very Impressive Michele Bachmann on Meet the Press | Main | Obama Rosemonday Carnival Parade in Cologne, Germany »
March 07, 2011
Another Obama Submission to Islam ~ White House Praises Muslims Ahead of House Hearing
Religious leaders, community members and activists took to the streets Sunday in New York to protest upcoming congressional hearings, convened by House Homeland Security Committee Chairman Peter King, on "the radicalization of American Muslims."
Congress is scheduled to begin the hearings this week under the direction of King, R-New York.
.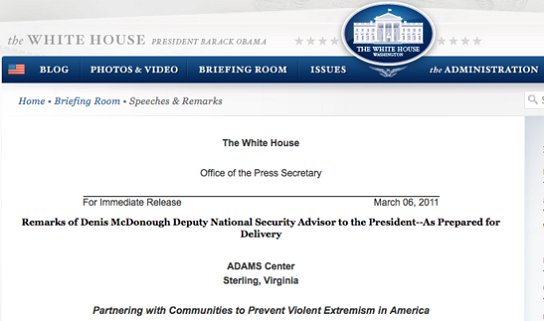 White House praises Muslims ahead of House hearing
STERLING, Va. Muslim Americans are not part of the terrorism problem facing the U.S. - they are part of the solution, a top White House official said Sunday at a Washington-area mosque.
Deputy National Security Adviser Denis McDonough set the Obama administration's tone for discussions as tensions escalate before the first in a series of congressional hearings on Islamic radicalization. The hearings, chaired by New York Republican Peter King, will focus on the level of cooperation from the Muslim community to help law enforcement combat radicalization.
The majority of the recent terror plots and attempts against the U.S. have involved people espousing a radical and violent view of Islam. Just a few weeks ago a college student from Saudi Arabia who studied chemical engineering in Texas was arrested after he bought explosive chemicals online. It was part of a plan to hide bomb materials inside dolls and baby carriages and blow up dams, nuclear plants or the Dallas home of former President George W. Bush.
King said the Muslim community could and should do more to work with law enforcement to stop its members from radicalizing and recruiting others to commit violence.
"I don't believe there is sufficient cooperation" by American Muslims with law enforcement, King said Sunday on CNN's "State of the Union." "Certainly my dealings with the police in New York and FBI and others say they do not believe they get the same - they do not give the level of cooperation that they need."

~snipet~

The White House is close to finalizing a strategy for countering violent extremism McDonough leads a working group of 13 federal agencies and offices - including the National Counterterrorism Center and the departments of Defense, Education, Health and Human Services, Homeland Security, Justice and State - focused on finding ways to confront the problem.
On Sunday, McDonough said the strategy would involve continuing efforts to understand the process of radicalization, as well as further outreach to Islamic communities in the United States. He also promised further efforts to dispel "misperceptions about our fellow Americans who are Muslim."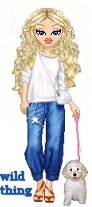 Wild Thing's comment.........

The White House on Sunday praised American Muslims for helping fight violent extremism

Yeah? When? Where? How? What a bunch of total BS!
Thank God this anti-American, anti-America, anti-Freedom, anti-Constitution, anti-Free Market president will (hopefully) be out of office in less than two years.
Posted by Wild Thing at March 7, 2011 05:55 AM
---
Comments
How fast some in NY forget what happened on 9/11.
Posted by: BobF at March 7, 2011 07:27 AM
---
And so it starts. Just the announcement of hearings on muzzies in America sends them to the streets in anger. There are also the usual leftists that join them. We have probably already lost the war with islam.
Posted by: TomR, armed in Texas at March 7, 2011 10:35 AM
---
Egypt is now starting to persecute Christians, again, Jews can't be far behind. Libya is not far behind and a bunch more are at it. Gasoline is what 3.50 a gallon , here. It won't be long before it is out of range for the little guy to fill up his tank for work. Obama needs to be gone. This is just too much for one country to deal with. Muslims are running amok in this country becauseof obama. They kill Americans and get a free pass. The American People had better wake up soon.
Posted by: Mark at March 7, 2011 12:12 PM
---
It's not just official lip service, political correctness and appeasement from Washington in 2011.
It's much worse;
Hundreds of millions of our taxpayer money have been spent for Mosque makeovers overseas by our own U.S. Department of State:
http://www.wsbtv.com/video/25764282/index.HTML
This revealing story deserves national attention. Can somebody get this to FNC ?
Posted by: Carlos at March 7, 2011 07:05 PM
---
Bob, I agree, they sure have forgotten.

Tom, that is the thing, just to know that Peter King is going to do this is sending them into a frenzy.
Mark, well said!!! That is about how it is going to be too.

Carlos, thank you for the information and the link.
Posted by: Wild Thing at March 7, 2011 11:20 PM
---