« Gov. Scott Walker Stands Up To Obama and His Goons~ Thank YOU Gov. Walker!!!! | Main | Beautiful Actress Jane Russell, Film Star of '40s, '50s, Dies at 89 »
March 01, 2011
American Combat Troops To Get Gay Sensitivity Training Directly On The Battlefield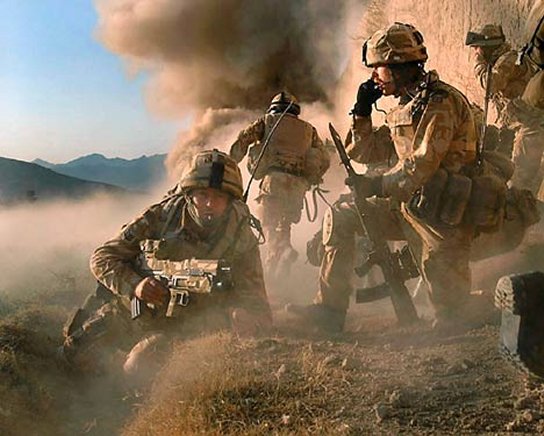 In the heat of battle: Marines fighting the Taliban in Helmand Province, Afghanistan

Combat troops to get gay sensitivity training New policy OK'd for battlefield

American combat troops will get sensitivity training directly on the battlefield about the military's new policy on gays instead of waiting until they return to home base in the United States, the senior enlisted man in Afghanistan said Thursday.
The Pentagon is launching an extensive force-wide program to ease the process of integrating open homosexuals into the ranks, including into close-knit fighting units.

Army Command Sgt. Maj. Marvin Hill, the top enlisted man in Afghanistan where 100,000 U.S. troops are deployed, said that the sessions on respecting gays' rights will go right down to the forward operating bases, where troops fight Taliban militants.
"I have heard about the training that will be forthcoming to the battlefield," Sgt. Hill told Pentagon reporters via a teleconference from Kabul.
"We will take our directions from the Department of Defense, from the secretary of defense, the chairman, as well as the service chiefs of each service. Our plan is to take their direction, and we're going to execute that training right here on the battlefield."
No unit is exempted, he said.
"Our goal is to not allow a unit to return to home station and have the unit responsible for that," he said. "While we own those soldiers, sailors, airmen and Marines, we're going to execute that training on the ground. We hope that it will have little impact on their combat and security operations here."

Elaine Donnelly, who heads the Center for Military Readiness, said it is "ridiculous" to train combat Army soldiers and Marines as they are engage in daily combat with tenacious insurgents.
"It's absurd because the military has more important things to think about in that dangerous part of the world," she said. "For the administration to say this is more important than even with the troops we're trying to train in that part of the world, I think it shows flawed priorities at best. It is ridiculous."
.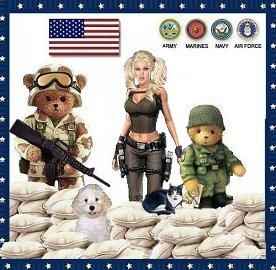 Wild Thing's comment.........

I sure never thought we would see this happening to our military.
The real enemy of our country is not the terrorists, not number one enemy anyway. The most dangerous destroyer to our country is sitting in the Oval office and all the rest of the Progressives. Where was OUR vote about all of this. Why didn't we have a say in this repeal of DADT. And dear God WHY DO WE IN OUR COUNTRY GIVE IN TO THE MINORITIES OVER AND OVER AGAIN !!!

So now we have our troops being shot at, IED's around them, and they are being told they also have to add gay sensitivity training in the mix.
Posted by Wild Thing at March 1, 2011 05:50 AM
---
Comments
What stupidity. Obama will always pound home his agenda no matter how unimportant it is or how much damage it will cause. I can't believe the soldiers in the field give a crap about sensitivity training.
BTW: the picture at the head of this section is of UK soldiers. They prolly don't care a bit about sensitivity training, either!
Posted by: petesuj at March 1, 2011 08:30 AM
---
These are British troops in the picture, not US
Posted by: robert at March 1, 2011 08:45 AM
---
Its going to cause confusion, thats for sure when the enemy attacks and there is a fag next to you and somebody yells, "here they come, shoot the Coc%suckers", this could be troublesome.
Just what we need sensitivity training for Combat Troops. They already have to read the enemy captives, "Their Rights", now this ? Open homosexuals in the Military. This is a major disaster waiting to happen.
Posted by: Mark at March 1, 2011 08:51 AM
---
Pardon my french folks but we now have one of the most corrupt and mindless governments in the history of the world. Its even dumber than Alfred E.Neumans dwarf mother.
Posted by: Eddie (Enemy of the State) at March 1, 2011 09:14 AM
---
My gosh! That soldier on the left looks like he has a cigarette in his mouth! Doesn't he know that smoking isn't permitted on the battlefield? His second hand smoke is dangerous and can lead to cancer in those being shot at around him.
Posted by: BobF at March 1, 2011 09:15 AM
---
Pardon my french folks but we now have one of the most corrupt and mindless governments in the history of the world. Its even dumber than Alfred E.Neumans dwarf mother. Fuck O'Quamba and the maggots that elected him.
Posted by: Eddie (Enemy of the State) at March 1, 2011 09:16 AM
---
The Taliban must be laughing their asses off. What happens now when a gay throws a hissy fit on patrol? Will uniforms now be color coordinated? obama is trying his best to destroy our military.
Posted by: TomR, armed in Texas at March 1, 2011 11:25 AM
---
As a Marine who servied in combat I will let you in on a fact, you can almost always tell who is gay and who is not. And most of the time no one cares, you have a job to doand you r there to do it. That being said, sensitivity training should come second to the lives of are troops.
Posted by: Tony at March 1, 2011 11:54 AM
---
Really Tony, use to be they'd be given a BCD and discharged at first light after spending a couple of nights in the brig, on piss and punk. Of course that was 45 years ago. and we sure as hell knew and gave a shit if someone was queer or not and he was quickly removed. Because it was bad for morale and bad for the platoon. Maybe thats why toe poppers were invented.
Posted by: Mark at March 1, 2011 04:00 PM
---