« GOP Senators Introduce National 'Right-to-Work' Bill to Restrict Unions | Main | Democrat Protesters Climbing The Wisconsin Capitol Walls During Lock Out Yesterday and Republican State Senators Told To Skip St. Patricks Day Parade For Safety Reasons »
March 13, 2011
America Hater Obama and IDIOT RINO Mitch Daniels Roast Potential 2012 Candidates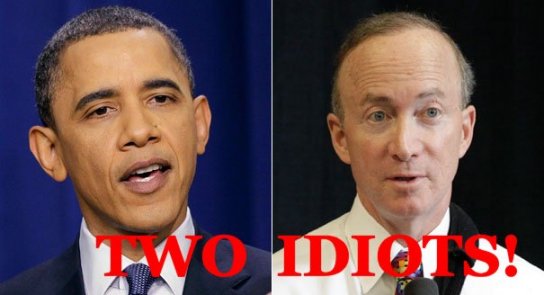 Obama, Mitch Daniels roast potential 2012 candidates
Obama mocked his potential 2012 GOP rivals — and poked fun at himself — while Mitch Daniels returned fire and got in his own shot at Sarah Palin at Saturday night's 126th annual Gridiron Club dinner of Washington politicos and journalists.

Obama, in his first address to the group as president, pounced on Haley Barbour's weight – by highlighting First Lady Michelle Obama's efforts to end obesity in the country.
"Haley, when Michelle said you should run, she didn't mean for president," he cracked.
The president didn't spare Tim Pawlenty either.
"Tim Pawlenty's not here, but he's hit the campaign trail hard," Obama said. "And to be honest, I think the American people are going to have some tough questions for Tim. Specifically, 'Who are you and where do you come from?' Which is OK. Two years into my presidency and I'm still getting those questions."
Obama could not resist tossing a zinger at Jon Huntsman, a Republican who is stepping down as U.S. ambassador to China to consider a run for the White House.
Knowing that conservatives would question Huntsman's service in a Democratic administration, Obama said with a laugh, "My dear, dear friend Jon Huntsman — nobody has done more for my administration. He's the yin to my yang."
To Daniels, Obama said he had heard that "your friends at Fox News say you don't look like a president. Well, don't worry about it, they say the same thing about me every day."
Daniels, who gave the Republican response, returned fire at the president, invoking the sling he wore thanks to recent rotator-cuff surgery. He mentioned Obama's comment during the 2008 campaign about conservatives seeking religion and guns as touchstones.
"Mr. President, until I get this thing off, I can cling to my gun or my Bible but not both," Daniels quipped.
The Indiana governor, who is considering a run for the White House, also joked about the president's widely-reported use of written texts at big events, saying, "Mr. President you're not laughing, who forgot to put ha-ha-ha on the teleprompter?"
But Daniels saved some of his harshest jabs for his potential Republican primary rivals.
Daniels poked both Palin and Mike Huckabee with a single punch, raising the former Arkansas governor's gaffe in which he claimed inaccurately more than once that the president grew up in Kenya.
"Sarah Palin pounces and says, 'Wrong, Mike — he's never been to Europe," said Daniels, according to a guest on hand for the event, which was off the record to the White House pool.
Daniels also joked that the whole rotator-cuff surgery story was a ruse.
He actually suffered a broken rub flying to the National Governors Association conference, because, "I sat in a middle seat between Haley Barbour and Chris Christie."
"Their tummies were tucked in the full upright and locked position," Daniels joked
Health and Human Services Secretary Kathleen Sebelius appeared on behalf of the Democrats, and took a shot at Pawlenty in her speech, according to a Twitter post from the Wall Street Journal's Alan Murray – who found ways around the tweet-free zone the Gridiron was supposed to be.
"Let's not forget Tim Pawlenty….the voters will do that," Sebelius said .
Sebelius also parried back at Daniels, saying, "We're both Midwestern governors, we've both been cabinet secretaries, and neither of us is going to be president in 2012."
The event is staged by the exclusive D.C. journalists' club, and Obama was the 21st president to attend. Every president except for Grover Cleveland has spoken at the dinner since the Gridiron Club was formed in 1885.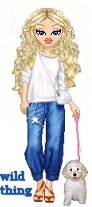 Wild Thing's comment........
Well ole Mitch fit right in trashing Sarah Palin didn't he. sheesh. Mitch is a coward with the what he said about Wisconsin and his not standing up to the unions. Mitch Daniels called on State GOP to abandon Unioni -busting bill.
IMO, Mitch will never get near the White House except through the guest entrance ... if that.
And now he says this..... Mitch Daniels says Right to Work Bill should be dropped, he will not support what the GOP is trying to do. . He is a constant disappointment.
Posted by Wild Thing at March 13, 2011 07:45 AM
---
Comments
It's interesting how they still refer to Palin as stupid. I wonder why they never refer to how she tore Biden apart during the Vice Presidential debate. Biden, who was suppose to be the Democrats best on foreign policy and national matters but tore up by the hockey mom from Alaska.
Posted by: BobF at March 13, 2011 09:50 AM
---
Michelle prefers a ROAST to KFC and Mickey D's french fries, oui monseur? Look at Michelle's size 44 hips? "MMM MMM BAD!"
Posted by: darthcrUSAderworldtour07 at March 13, 2011 11:20 AM
---
Great point BobF, She ripped him a new one and only the Biden didn't know it, Of course he doesn't know what day it is, either.
Posted by: Mark at March 13, 2011 06:46 PM
---
Bob, well said, love when that happened.
Darth, haha yes she loves to tell us how to eat then we see photos of her stuffing her face. haha

Mark, Hahahhaa your right, and that was such fun that debate where she did that.
Posted by: Wild Thing at March 14, 2011 01:44 AM
---