« Sarah and Todd Palin Visit Israel | Main | Awesome Video and Open Letter From Offshore Marine Service Association (OMSA) To Obama The KILLER of America's Oil Industry »
March 22, 2011
Nobel Committee Asked To Strip Obama of Peace Prize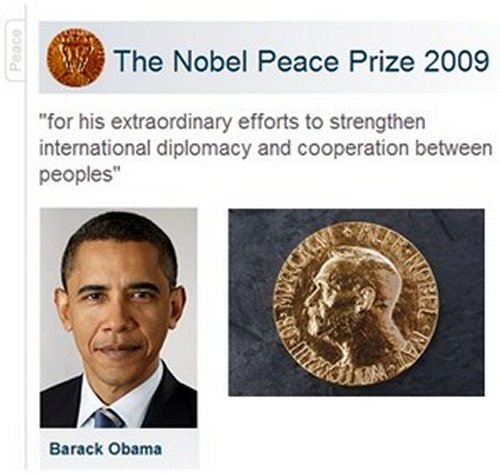 Nobel Committee Asked To Strip Obama of Peace Prize
The Bolivian President and a Russian political leader have launched a campaign to revoke Obama's honour after the US attacked Libya.
Liberal Democratic Party of Russia leader and Vice-Chairman of the State Duma Vladimir Zhirinovsky released a statement today calling for the Nobel Prize Committee to take back the honour bestowed on US President Barack Obama in 2009.
Zhirinovsky said the attacks were "another outrageous act of aggression by NATO forces and, in particular, the United States," and that the attacks demonstrated a "colonial policy" with "one goal: to establish control over Libyan oil and the Libyan regime." He said the prize was now hypocritical as a result.
Bolivian President Evo Morales echoed the call: "How is it possible that a Nobel Peace Prize winner leads a gang to attack and invade? This is not a defence of human rights or self-determination."
Morales won the Gaddafi International Prize for Human Rights in 2006.
He is amongst a number of left-leaning Latin American leaders who have denounced the attacks against Libya. Hugo Chavez of Venezuela, Rafael Correa of Ecuador, Daniel Ortega of Nicaragua and Cristina Ferdinez of Argentina have all criticised western media coverage of the Libyan crisis.

Morales and Chavez repeated calls for peace talks with Libyan leader Muammar Gaddafi.
A message has been widely retweeted on Twitter today: "Obama has now fired more cruise missiles than all other Nobel Peace prize winners combined."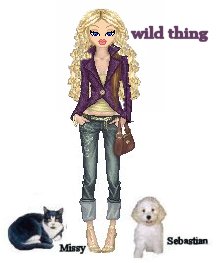 Wild Thing's comment........
"Morales won the Gaddafi International Prize for Human Rights in 2006"
The irony of it all. A Marxist Gaddafi-recipient throwing a hissy fit against a Kenyan Marxist. Damn priceless!
Posted by Wild Thing at March 22, 2011 04:55 AM
---
Comments
That's what happens when you give a prize like that to an untested individual who hasn't done a thing. His whole getting the prize was a joke.
Posted by: BobF at March 22, 2011 08:25 AM
---
This story has made my day. I would like to see the Brits return obama's gift of CDs of his speeches.
Posted by: TomR,armed in Texas at March 22, 2011 10:19 AM
---
Tom, they probably would return them but they would have to dig them out of the landfill.
Posted by: BobF at March 22, 2011 10:52 AM
---
Now now comrade Baracksheviks... DR. ZHICAGO is the man, da Babeushka Wild Thingskov?
You Amerikanner Capitalists often over-react?
"Somewhere my love..."
Posted by: darthcrUSAderworldtour07 at March 22, 2011 11:10 AM
---
I nominate Barracks Hoseain O'Quamba for BIGGEST DOUCHEBAG OF THE 21ST CENTURY.
Posted by: Eddie (Enemy of the State) at March 22, 2011 11:35 AM
---
heh heh You are wonderful, thank you all so much!
Posted by: Wild Thing at March 23, 2011 04:42 AM
---
What was he judged on to get the prize in the first place,...Nothing... He has virtually done nothing to keep it...if he has done nothing to earn it and done nothing to but try to destroy the United States. then why are we having this conversation.
Posted by: Mark at March 23, 2011 07:20 AM
---
"the Gaddafi International Prize for Human Rights"- makes about as much sense as the "Michael Moore International Prize for Physical Fitness". The leaders of the "third world" with their upside-down values really do take this seriously. Regardless of where he was birthed, our "Dear Leader" is more atune with the values represented by "the Gaddafi International Prize for Human Rights" than with the fundemental values of the United States of America...
Posted by: Willy at March 23, 2011 08:38 PM
---