« Capt. D.J. Skelton, the Army's Most Seriously Wounded Commander, Returns to Combat | Main | Union Goons Showing Civility....NOT! »
February 26, 2011
Rep. Allen West (R-Fla.) Not Ruling Out VP Bid: " I'm always willing to serve my country"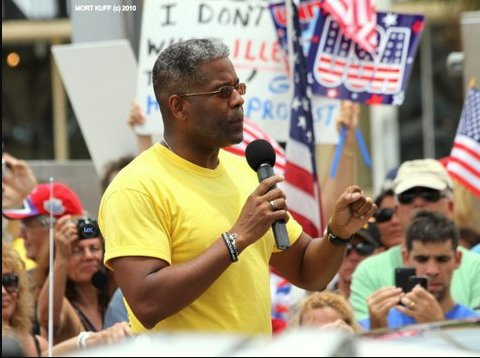 West speaking last November at one of the Tea Party events.

Allen West not ruling out VP bid: 'I'm always willing to serve my country'
Rep. Allen West (R-Fla.) is not closing the door to being considered for the vice presidential spot, despite only having served in Congress for less than three months.
Speculation over West was sparked Friday when former House Speaker Newt Gingrich (R-Ga.), who is considering a presidential bid, said that a number of Florida GOP politicians would do well as vice president, including West.
When asked about Gingrich's comments by WPTV-TV, West asked, "He said that?"
"I have to pray about it and I have to clear it with my wife and two daughters," he added. "I never thought that seven years ago when I retired here I'd be a United States congressman, and that I'd be standing in front of your news camera. So we don't know what the future holds, but I'm always willing to serve my country."
West, 50, is one of two black Republicans elected to Congress in the 2010 midterm elections, which saw the GOP take control of the House with the backing of Tea Party activists. Florida has never had a candidate on a national ticket, according to WPTV.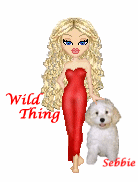 Wild Thing's comment........

Talk about heads exploding on the left if he was on a ticket for President or VP one day. America's Armed Forces need to be led by a warrior , not by gaggles of liberal lawyers .They deserve it and I just thank God that he won his eledtion last Nov. and he is in Florida. Whatever he does I feel it will be the best for America.
Colonel West, I would vote for you in a heartbeat, but please, please stay away from RINO Gingrich.

Allen West: West is a patriot, he reveres the U.S. Constitution and he talks about it. He reveres our Republic and our democracy, and he talks about it.

Palin and West....sounds good. heh heh
Just thinking of West telling Biden.... not to blow sunshine up his butt. LOL! hahahha

Infamously, if you are a Liberal, and famously if you are a Conservative, West gave a belligerent Iraqi civilian police office the opportunity to tell him who was killing soldiers:

Lt. Col. Allen B. West was told the policeman was uncooperative, so he took a few of his men to the interrogation area to see for himself, where he found the prisoner being questioned by two female officers. They told him the man was belligerent, and wasn't giving them any information. (Surprise, surprise. The idiocy of having women question male Arab prisoners is apparent to everyone except the army commanders.) West entered the room, sat across from the man, drew his pistol, and placed it in his lap.
West told him he had come to either get information, or to kill him. The prisoner responded by smiling and saying, "I love you."
After about 20 more minutes of useless questioning, West then had his men take the prisoner outside. West grabbed the man, held him down near a box full of sand used to discharge jammed weapons, and said something like, "This is it. I'm going to count to five again, and if you don't give me what I want, I'm going to kill you." West held the man down, counted to five, and then fired his pistol into the discharging box about a foot from the Iraqi's head. He began talking. Over the next few minutes, the prisoner gave very specific information about the plot. He named the conspirators, gave times and dates of the assassination plan, and even described how attacks would be made.
After the Iraqi talked, there were no more attacks on U.S. forces. For this, Lt. Col. West was relieved of this campaign:
He was told he would go through an Article 32, which is about the same as a Grand Jury hearing. At the hearing he was asked if he would do the same thing again.

West replied "if it's about the lives of my men and their safety, I'd go through hell with a gasoline can."
Congress sent a letter to the Secretary of the Army in support of him with 95 signatories.
Posted by Wild Thing at February 26, 2011 06:55 AM
---
Comments
No, no, no! Please Col. West do not let Gingrich use you. Gingrich talks well, but he is a Rino and is at least as narcissistic as obama.
Bolton/West or Palin/West AOK.
Posted by: TomR, armed in Texas at February 26, 2011 09:27 AM
---
One thing about this interrogation that hasn't come out in many reports of it is right after West was done, he reported to his superior officer what he had done. He knew he would be in trouble and possibly Courts Martialed. He knew his career was over. He sacrificed what very...very few officers would do for their men and that was a promising military career. It wouldn't matter if he were Conservative or Liberal, what he did for his men has earned my respect. That fact that he's a Conservative is icing on the cake.
Posted by: BobF at February 26, 2011 09:57 AM
---
Either or Tom, Palin/West or Bolton/west I like either one. I don't think Gingrich has it anymore, I really think he's done. He has a dumpster full of baggage and the left will destroy him.
Posted by: Mark at February 26, 2011 03:01 PM
---
Thank you Tom, Bob and Mark.
Bob, thanks for that information, I did not know that.
Posted by: Wild Thing at February 26, 2011 03:45 PM
---