« ~ ~ Happy Birthday Darth ~ ~ | Main | GOP Attacks Internet Rules »
February 17, 2011
Mario Andretti Leads IndyCar Contingent to Visit Troops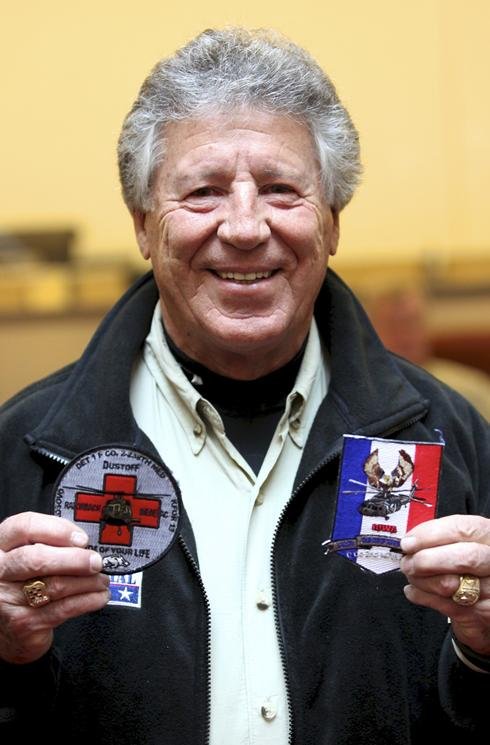 On a 10-day goodwill tour of Europe and the Middle East with a contingent of IndyCar drivers, Mario Andretti says the group is getting as much out of the experience as the servicemembers they're visiting
.
Troops and Drivers talk about the Indy 500 Centennial Tour
Mario Andretti leads IndyCar contingent to Europe, Mideast
Mario Andretti, the only driver to win the Daytona 500 (1967), the Indianapolis 500 (1969) and the Formula One World Driving Championship (1978), was on a 10-day goodwill trip visiting U.S. servicemembers in Europe and the Middle East with an IndyCar contingent that also incldues Johnny Rutherford, Al Unser Jr., Sarah Fisher, Davey Hamilton and Larry Foyt.
I'm a perfect example of living 'The American Dream' because I'm an immigrant. I arrived in the States and motor racing was the only thing in my mind — besides school, of course — at the age of 15. I started driving here at 19. I would have never had the opportunity if I would have stayed in Italy.
If I would have been born here, obviously there are a lot of things that I would have taken for granted, which is natural. Coming over, realizing what America could provide as far as opportunities for us, gives us a clear appreciation of what's here. I think maybe I have different values. It gives me just a different viewpoint.
I'm quite happy that I was invited to this tour. The invitation came while I was visiting the last race at Homestead. I happened to be taking a general from the National Guard for a ride in the two-seater car. He mentioned something about it. The fact they said, 'Well, maybe we'll have the two-seater car shipped over there, and you can give some rides there.' I said, 'You know what, this sounds good, sounds like an incredibly good idea.'
I've had the opportunity to visit bases around the world before, and I always welcome that opportunity. These young individuals that obviously are out there and serving our country and sacrificing in many different ways. .. if we can bring a smile to their faces for whatever reason, I think it's a great feeling. I hope we all will be able to relay some funny and interesting stories so they can take away some memories.
I had the opportunity to meet one of my heroes, Eddie Sachs, as a youngster in Trenton, N.J. I was shaking in my boots. He actually talked to me. I asked him a question about how he enjoyed the race in Monza, in Italy, when they went there to run on the high banks. He actually answered it to me. I know how those things work. There could be a day that would impress somebody, and that person could become a fan for life. Those are all the things that are important to remember.
I've signed a lot of things over my career — shirts, posters, toy cars and the like — but signing bottles of Andretti wine brought all the way to Germany from California is a real treat. And it shows he has taste.
Lt. Col. Rich Ciao says he's going to put the bottles in a frame. I say drink them and then put the bottles in a frame.
That was part of a program that concluded our day of visiting with wounded soldiers at Landstuhl Regional Medical Center near Ramstein Air Base. He said that it meant so much to soldiers that are executing the mission in Iraq, Afghanistan and around the world to have us come and spend some time with them. I think it means more to us.

Brig. Gen. Mark Dillon, the base commander, welcomed us to Ramstein. I was selected to give the General an Indy 500 Centennial Tour helmet that was signed by all the drivers, and he gave me a coin with the 86th Air Lift Wing emblem on it. It's a military tradition, and if you possess a coin and challenge a friend to see if they have one and they don't they buy your choice of drink. I'll have to try that.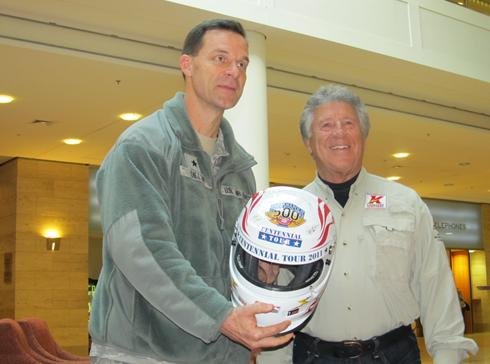 Mario Andretti (right) presents an Indy 500 Centennial Tour helmet signed by all the drivers to Brig. Gen. Mark Dillon Bemidji, Minn. Dillon is commander of the 86th Air Wing at Ramstein Air Base in Germany.
Mario Andretti thanks military for helping him live his dream
I always say how lucky I've been throughout my career. I've lived the American dream, and I have to credit the men and women who have fought for our freedom because I wouldn't have been able to do any of it if I wasn't free.

Clearly, it has been a privilege to make this tour and cover so much ground in a short period of time. Every day was special. Every day I looked back and said it was a good day. Everything that we might have expected happened but even more. We got so many thank yous but it's just the opposite.
We are the ones who have to say thank you. I think finally the military is appreciated by all of America, and rightfully so. I say it all the time and it's true that the military is the most noble of professions.
This entire experience has been extremely rewarding for me and I'm sure I speak for the others. Some of the things we have experienced you have to see to believe, and everybody has been so generous with their time.
There is so much of a parallel between the military and what we do. It's all about trying to be excellent and be right at the edge of the envelope all the time. Motor racing is such a team sport and so is the military. You have to work together and have that passion to get the desired results. When I have talked to the pilots, they say they wouldn't want to do anything else. It's the same way with a race car driver.
Personally, I feel that I haven't worked a day in my life because I always looked forward to getting back in that race car. Mechanics and support crews for planes feel that same thing in their own right because they're all racers. They all want to get it right. We win or lose together, but we fight to win.
"There is a camaraderie about it," Andretti said Wednesday, hours before boarding a KC-135 cargo plane bound for New Jersey. "We've fought a lot of battles together, but we're united about this and it's really nice."

No, it wasn't exactly what organizers envisioned -- bringing longtime rivals Mario Andretti and A.J. Foyt together as part of a legends tour.
But it is the next best thing.
Larry Foyt said his father declined the invitation because racing injuries would make the long flight too difficult to cope with. Instead, the four-time Indy winner made a short video that will be shown to the troops, and his son quickly jumped at the chance to fill in for dad.
In the Foyt household, though, that return ticket comes with an unspoken stipulation.
"I said 'If we go karting, I had better beat Mario or A.J. won't let me come home,'" Larry Foyt joked.
Andretti, Foyt and Unser said they have never been on an overseas goodwill tour, though each has visited military installations in the United States.
The troops, who will get to ride around in a red, white and blue two-seat IndyCar emblazoned with the National Guard logo and Andretti's name just outside the cockpit.

IndyCars' nine-member team is expected to fly from New Jersey to Ramstein Air Force Base in Germany on Thursday before heading to the Middle East. It is also scheduled to board an aircraft carrier, though military officials are keeping details of all installations other than Ramstein a secret.
"I know there's been a Foyt and an Unser who were on the same team, but I don't think that [Andretti, Foyt and Unser on the same team] has ever happened," Unser said with a chuckle. "It's going to be a heck of a lot of fun, a lot of excitement and, hopefully, we'll be able to give some thanks to the men and women who stand on that wall 24/7 to give us our freedoms."
. .
Day 4....Indy Drivers visit troops and give a few lucky troops a ride around the Bahrain International Circuit
Also on this video toward the end you can see where our troops signed the car and put the State where they are from with their name.

Day 5 of Tour to visit troops


.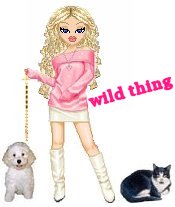 Wild Thing's comment.....

The vidoes according to the person that posted them at YouTube were shot with a personal camera, so I am not sure if that is why the video's sound track is not consistent on them or not. It comes and goes in spots, but the visuals are well worth watching.
I am so happy for our troops that got to ride and the thrill they had to drive the car Andretti took to the bases.
Posted by Wild Thing at February 17, 2011 03:50 AM
---
Comments
Too bad the Pentagon won't start the engines of our Abrams TANKS and let them crush the islamofascists! Today the Fort Hood MASSACRE report DID NOT mention 'radical islam' in it!!
Posted by: darthcrUSAderworldtour07 at February 17, 2011 08:42 AM
---
Speaking of military. My son just enlisted in the Air National Guard. I'm proud of him.
Posted by: BobF at February 17, 2011 10:22 AM
---
Congratulations Bob. I hope the young man really enjoys his time in the military.
You know the GIs enjoyed gabbing with those very famous race drivers and the lucky GIs that got to ride in the racecar have a lifetime experience to brag about.
Posted by: TomR at February 17, 2011 10:56 AM
---
> how did Mario age and the restofus remained so young?!LOL ...I remember back in '70-71 when my father picked up a "used" '66 dark blue mustang for my older sister...ooops! i passed my driver's test and she had not....yippee...I was driving that thing around and she could not! mybad?!! They called me "mario"...I am not sure why LoL
Posted by: jan at February 17, 2011 07:36 PM
---
Darth, thanks for sharing the latest about Fort Hood. They are really controlling everything about what happened and the wording too which is especially horrible to not call it what it is.
Posted by: Wild Thing at February 17, 2011 11:50 PM
---
Bob, fantastic, thank you for sharing about your son. Please thank him for me Bob.
Posted by: Wild Thing at February 17, 2011 11:52 PM
---
Jan, Hahahaha that is so funny. Thanks Jan for sharing about that.
Posted by: Wild Thing at February 17, 2011 11:54 PM
---
Tom, it is fun to see how special this is to those that got to go for the ride in that car. That one soldier said he was at a loss for words.
Posted by: Wild Thing at February 17, 2011 11:56 PM
---