« AWOL Wisconsin Democrat Calls CNN With List Of Demands | Main | Anti-America OBAMA Responsible For Fanning The Flames at Wisconsin Capitol »
February 18, 2011
GOP Votes To Defund Obama's Policy 'czars'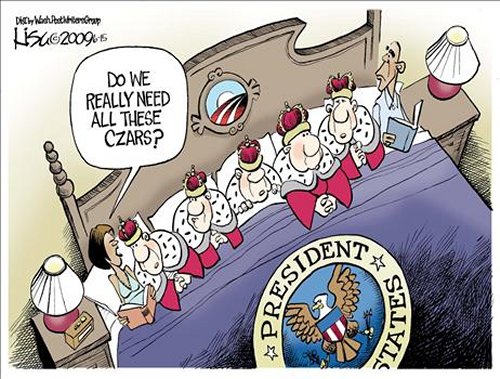 The House GOP approved an amendment to a government-spending bill that would block funding for the Obama administration's so-called policy "czars," appointed advisers to the president that have been much-criticized by Republicans.
The vote was 249-171.

Rep. Steve Scalise (R-La.), specifically targets Obama's "climate czar" by blocking funding for the assistant to the president for energy and climate change, the position's official title.

The amendment would block funding for the 'czars' through the end of the fiscal year, when the spending bill would run out. The underlying bill also includes a provision to block funding for the position.
"I think this sends a strong signal to the president that we are tired of him running this shadow government, where they have got these czars that are literally circumventing the accountability and scrutiny that goes with Senate confirmation," Scalise said after the vote.

Carol Browner, who currently holds the position, announced last month that she will resign, leaving the future of the office in doubt.
Scalise said the measure blocking the czars also makes good fiscal sense.
"We are going to save millions of taxpayer dollars, but we are also going to send him a signal that he is going to have to hold his administration accountable to the same transparency that he promised, but has unfortunately failed to deliver," he said.

Republicans railed against Browner and Obama's other policy advisers, arguing they played too great a role in the president's policy decisions for officials that were appointed rather than confirmed by Congress.
The amendment would also prohibit funding for the director of the White House Office of Health Reform; the State Department's special envoy for climate change; the special adviser for green jobs, enterprise and innovation at the Council on Environmental Quality; the senior adviser to the secretary of the treasury assigned to the Presidential Task Force on the Auto Industry and senior counselor for manufacturing policy; the White House director of urban affairs; the special envoy to oversee the closure of Guantanamo Bay; the special master for TARP executive compensation at the Department of the Treasury; and the associate general counsel and chief diversity officer at the Federal Communications Commission.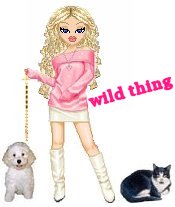 Wild Thing's comment.........

Excellent news! This is GRRRRREAT news! The financial effect might not be that huge , but it relieves the citizenry of a few tyrants.
241 Republicans and 193 Democrats in the House! Looks like we picked up 8 Dems.
The List of Obama's Czars this is over at Glenn Beck's website and it says there 32 Obama czars that they have counted.
In addition, President Obama has said that he will create the position of cyber czar, and there have been media reports that there could be a health insurance czar and a copyright czar. When and if those positions are filled, that would bring the total to 35.
Posted by Wild Thing at February 18, 2011 02:55 AM
---
Comments
This must really chaff obama's ass. His private govt. being defunded. Maybe he will use descetionary funds to keep it in place. I just hope the entire administration is gone in 2012.
Posted by: TomR at February 18, 2011 11:18 AM
---
I'm going to enjoy watching O'Quamba twist in the air and listen to him whine for the next 2 years.

Posted by: Eddie (Enemy of the State) at February 18, 2011 12:59 PM
---
Come now Babeushka Wild Thing for Baracksheviks and Czars go well together in Washington DCCCP, da comrade?
Posted by: darthcrUSAderworldtour07 at February 18, 2011 03:36 PM
---
Also they defunded Planned Parenthood.
Posted by: Mark at February 18, 2011 09:37 PM
---
Tom, yes I bet he is furious about this. I hope it sticks that it really does defund these czars.
I am holding on so much that what you said would happen, to have them all gone in 2012.
Posted by: Wild Thing at February 19, 2011 12:14 AM
---
Eddie, and I hope he does that daily. I want so much for him to be upset and really know that he is the worst president and a failure as a leader and that the majority of people can't stand him.
Posted by: Wild Thing at February 19, 2011 12:17 AM
---
Posted by: Wild Thing at February 19, 2011 12:19 AM
---
Mark, that is sooooo fantastic!!!!!!
Posted by: Wild Thing at February 19, 2011 12:21 AM
---