« The Repeal Bill Has Been Posted By Cantor and The Democrats Threaten! | Main | Sheriff Paul Babeu on Napolitano's Afghan Trip: "It's Outrageous!" »
January 04, 2011
Obama Pulling BS and PR Stunt On Oil Companies As Obama Administration Allows Gulf Drilling


Obama Administration allows Gulf drilling
In a move that could signal a long-awaited return to business-as-usual in the Gulf of Mexico, the Obama administration announced Monday that it would allow 13 companies to resume deepwater oil and gas drilling suspended when the Deepwater Horizon oil rig exploded last spring.
The Administration had instituted a moratorium on deepwater drilling after BP's Macondo well blew out on April 20, killing 11 workers on the rig and spewing nearly 5 million barrels of oil into the ocean, in the country's worst offshore oil disaster. The Interior Department lifted the moratorium in mid-October. Yet because drilling permits have been issued at a far slower pace than before the disaster, the Administration has faced criticism from the oil industry, Gulf Coast politicians and citizens that a de facto moratorium persists.

So far, two companies have received new permits after the lifting of the moratorium, but for activities they could have done under the suspension any way, an administration official explained. The oil and gas industry and its supporters have been waiting for permits to be issued for actual exploration and development, and Monday's decision makes way for such work.
"We are taking into account the special circumstances of those companies whose operations were interrupted by the moratorium and ensuring that they are able to resume previously-approved activities," said Bureau of Ocean Energy Management Director Michael R. Bromwich. "For those companies that were in the midst of operations at the time of the deepwater suspensions, today's notification is a significant step toward resuming their permitted activity."
The decision Monday allows the companies, including Chevron, Shell, Hess and Kerr-McGee. to return to 16 wells they were drilling in early 2010, nearly all of them exploratory wells. The companies would have to adhere to new standards issued after the Gulf oil spill regulating equipment like the blow-out preventer and processes like an oil spill response plan. But they would not have to undertake new environmental assessments, as is required for drilling new wells.

The oil industry fears that permits for new deepwater drilling might not be issued until late this year at the earliest.

About 30 percent of domestic oil production and 23 percent of gas production comes from deepwater wells.
Oil company representatives said they had yet to calculate the effect the decision might have on their individual projects in the Gulf of Mexico. But some industry sources remained skeptical of an Interior Department they have come to view as an adversary after it tightened regulations.

They said that the decision was a public relations ploy in response to a front page story in The Wall Street Journal on Monday detailing the slowdown in deepwater drilling, and they did not expect it to jumpstart work in the Gulf.
"The pattern we've seen again and again is that the administration makes an announcement when they're under the gun," an industry official said, "but then there's no change afterwards."

The oil industry's political allies were also guarded.

.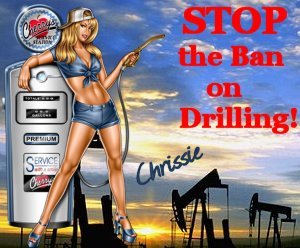 Wild Thing's comment........
PR stunt 'til sundown!!
When I that they will be "allowed" to resume drilling, not immeidiately, but only after fulfilling a host of new bureaucratic requirements that could take months.
I think this move is strictly a CYA so that when gas prices shoot above $4 a gallon, they can stand around with an innocent look and say "Who, me?".
But much of the damage is already done - the rigs that have moved, the holes that haven't been started, the production that's been lost, the regulatory hurdles that will discourage new permitting, and as much as anything, the debasement of the currency that affects all commodities, but especially those as essential (and as foreign-based) as oil.
$5.00 dollars a gallon in 2012. Obama will try to squirm around and blame the Oil Companies for it. The Democrats then will be wailing and flailing.

The Muslim in the WH is supporting the Saudi muslums in their fight for 150 oil.
And the Wall Street Journal reports today that, "More than two months after the Obama administration lifted its ban on drilling in the deep-water Gulf of Mexico, oil companies are still waiting for approval to drill the first new oil well there. Experts now expect the wait to continue until the second half of 2011, and perhaps into 2012." The WSJ headline is: Drilling Ban is Off, But Work is Stalled. Domestic production will fall 13% instead of increasing by 6% as predicted. Complying with new regulations onerous. Economic damage multiplies throughout the region. Restoring to previous levels not expected until 2012.

So "allowed to drill" REALLY means....."slow death by bureaucratic stalling".

Our country should NEVER need permission from any president to drill for oil ! Our land and out in the Gulf is rich in oil and a president and any enviro brain dead group should have any say so in it . EVER!
Posted by Wild Thing at January 4, 2011 05:50 AM
---
Comments
These drilling restrictions should be another target for repeal by the Repubs. We need all the drilling both offshore and onshore we can fire up. This is one of the reasons I support Sarah Palin. Her "Drill Baby Drill" battle cry should be taken up by all Repubs.
Posted by: TomR,armed in Texas at January 4, 2011 10:41 AM
---
Posted by: darthcrUSAderworldtour07 at January 4, 2011 12:58 PM
---
Tom, that would be great if they would do that. I feel the same way, Sarah is strong about drilling and that has been a big thing with me for a long time, back to when Carter was president.

Darth, LOL good one!
Posted by: Wild Thing at January 5, 2011 02:25 AM
---