« Fantastic Rep. Steve King (R-IA) Speaks Out About The Pigford II Settlement | Main | Lt Col Allen West Interviewed About The War, Islam and Obama »
December 01, 2010
WikiLeaks Founder Julian Assange Tells TIME: Hillary Clinton 'Should Resign'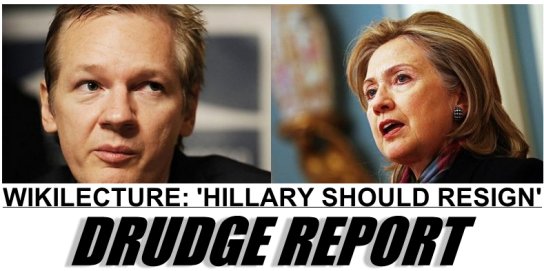 WikiLeaks Founder Julian Assange Tells TIME: Hillary Clinton 'Should Resign'

Pakistani-Saudi relations were not the only casualty from the Wikileaks release this week. The far left Obama Administration is getting pummeled by the disclosures. And, democratic darling Hillary Clinton is taking a huge hit.

Hillary Clinton, Julian Assange said, "should resign."

Speaking over Skype from an undisclosed location on Tuesday, the WikiLeaks founder was replying to a question by TIME managing editor Richard Stengel over the diplomatic-cable dump that Assange's organization loosed on the world this past weekend.

Stengel had said the U.S. Secretary of State was looking like "the fall guy" in the ensuing controversy, and had asked whether her firing or resignation was an outcome that Assange wanted. "I don't think it would make much of a difference either way," Assange said. "But she should resign if it can be shown that she was responsible for ordering U.S. diplomatic figures to engage in espionage in the United Nations, in violation of the international covenants to which the U.S. has signed up. Yes, she should resign over that.
Assange spoke about the latest tranche of documents from WikiLeaks in a 36-minute interview with TIME (the full audio will be available soon on TIME.com). He said there would be more:
"We're doing about 80 a day, presently, and that will gradually step up as the other media partners step in." Indeed, every region of the world appears to be bracing for its turn in the WikiLeaks mill. Pakistani officials are almost certain that more revealing documents focusing on their country will come out soon. And the Russian media are anxious to see if future leaks will detail any behind-the-scenes dealings over the August 2008 Russia-Georgia war.

Assange said that all the documents were redacted "carefully." "They are all reviewed, and they're all redacted either by us or by the newspapers concerned," he said. He added that WikiLeaks "formally asked the State Department for assistance with that. That request was formally rejected."

Asked what his "moral calculus" was to justify publishing the leaks and whether he considered what he was doing to be "civil disobedience,"
Assange said, "Not at all. This organization practices civil obedience, that is, we are an organization that tries to make the world more civil and act against abusive organizations that are pushing it in the opposite direction." As for whether WikiLeaks was breaking the law, he said, "We have now in our four-year history, and over 100 legal attacks of various kinds, been victorious in all of those matters." He added, "It's very important to remember the law is not what, not simply what, powerful people would want others to believe it is. The law is not what a general says it is. The law is not what Hillary Clinton says it is."
And the source or sources of all the diplomatic cables? Stengel asked Assange if U.S. Army PFC Bradley Manning, now detained in Quantico, Va., was the sole source of the megaleak.
"We're a source-protection organization," Assange said, "so the last thing we would do is discuss possible sources. However, we do know that ... the FBI, State Department and U.S. Army CID [Criminal Investigation Command] has been going around Boston visiting a number of people there." He referred to "people who have been detained coming back into the United States" with connections to Manning. The U.S. soldier's "mother's home in Wales, in the U.K.," he said, was "visited, or raided, depending on how you want to describe it," by the FBI.

Stengel asked what was coming next from WikiLeaks.
"We don't have targets," said Assange, "other than organizations that use secrecy to conceal unjust behavior ... That's created a general target." A story in Forbes magazine, which interviewed Assange before the latest leak, said that WikiLeaks has a large U.S. financial corporation in its sights. Assange confirmed that. "Yes, the banks are in there. Many different multinational organizations are in the upcoming weeks, but that is a continuation of what we have been doing for the past four years" since WikiLeaks was founded. He added that the volume of material has increased. "The upcoming bank material is 10,000 documents, as opposed to hundreds, which we have gotten in the other cases."

.
Dick Morris last night on Hannity where he said he believes Secretary of State Hillary Clinton was trying to get personal information on foreign diplomats and heads of state so he could "blackmail" them into doing what she wanted them to do.
Morris is basing that contention on WikiLeaks documents that show Clinton was urging State Department employees to try and obtain personal information such as credit card numbers and other personal information on foreign officials.

"It's how the Communists work. They work on getting negative information on everybody, so that they can blackmail everybody with something."
Hannity appeared shocked at what Morris said, but Morris responded with: "You're not getting that (personal information) for a scrapbook, Sean."

.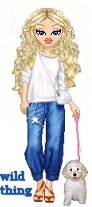 Wild Thing's comment.......
OK just a thought.....Hillary was becoming too strong of a "contender" to Obama's 2012 bid, his ratings among dems were dropping and some high percentage wanted an opponent to run against him in the primaries. Could this be some sick part of an effort to take Clinton out of the running for 2012. Does this make any sense? I mean there is so much more involved in all these leaks, it is not only about Hillary. But it is just a thought about the Hillary stuff and why Obama has not been upset about any of this. Only Holder has FINALLY gotten around to even pretending to do something just lately.
Obama trying to remove his primary challenger? Or is she the one Obama will blame all of this on. Just a bunch of thoughts on this.
Hillary! may still take Obama out: rumors about scandals and CIA agents looking at birth certificates worldwide;
Leon Panetta and the pissed off CIA???; Broadway Bank scandal?Selling senate seats? Something is out there and the Clintons are serious at creating body counts. Rahm Emanuel is an old Clintonista too. BUT THIS KILLS HILLARY'S CHANCES AT EVER RUNNING FOR PRESIDENT. This is really damaging stuff and I have no doubt that Obama had something to do with it. Foreign countries will be asking for Hillary's head and Obama will gladly supply it on a platter.

Posted by Wild Thing at December 1, 2010 03:50 AM
---
Comments
Who the heck is Julian Assange to say that? Oh, right, George Soros' paid goofball... yes, boss!
Posted by: Anonymous at December 1, 2010 10:59 AM
---
No doubt obama will be happy to have Hillary and her political career fatally damaged by these leaks. "Never waste a crisis".
I just hope these leaks also seal obama's political future. The upcoming banking leaks may also be a kiss of death for some politicians. Maybe Barney Frank will take a hit.
In the meantime AG Holder runs around like a headless chicken wondering what to do.
Posted by: TomR,armed in Texas at December 1, 2010 11:26 AM
---
How is this possible. How did Time magazine find this guy nobody else in the world has a clue where he's hiding, yet Time magaZine can find him for an interview.
Posted by: Mark at December 1, 2010 01:19 PM
---
This is the craziest thing, this whole mess.
Great input, thank you all so much.
Posted by: Wild Thing at December 2, 2010 12:03 AM
---