« 'We the people' To Open Next Congress | Main | Vets Protest Plan Opening Military To Homosexuals »
December 26, 2010
Tacoma Native Awarded Silver Star in Afghanistan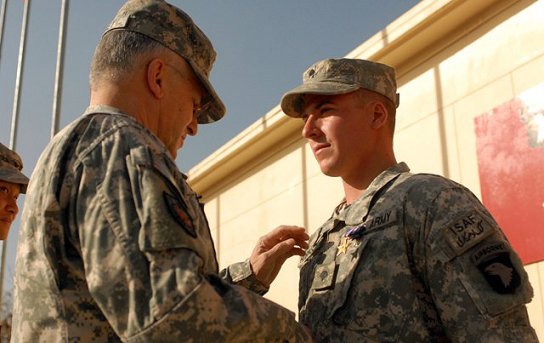 Army Chief of Staff Gen. George Casey pins a Silver Star Medal on U.S. Army Spc. Nicholas Robinson of Tacoma, WA, Company D, 1st Battalion, 187th Infantry Regiment, 3rd Brigade Combat Team, 101st Airborne Division, during a ceremony at Forward Operating Base Salerno Dec. 23rd. (Photo by U.S. Army Pfc. Christopher McKenna, Task Force Rakkasan Public Affairs)
Tacoma native awarded Silver Star in Afghanistan

It was a typical morning in Afghanistan and Spc. Nicholas Robinson was just about finished with a six-hour guard duty shift at an Afghan police compound near his combat outpost.
Then all hell broke loose.
A mortar round landed roughly 20 meters in front of his guard tower.
"It knocked me back and when I got up I saw an explosion like nothing I had ever seen before going off," the Tacoma native told a public affairs writer with the 101st Airborne Division's Task Force Leader Rakkasan. "Then gunfire erupted from every possible side you could imagine."

Over the next seven minutes in the first combat action he had seen, Robinson killed one insurgent carrying a rocket launcher and then held off 15 to 20 insurgents, killing two of them. One of them was a suicide bomber who got to within 50 feet of Robinson.
For his heroism and bravery, Army Chief of Staff George Casey presented Robinson Thursday with a Silver Star, the Army's third highest award for valor in combat.
During the brief award ceremony at Forward Operating Base Salerno, Casey said Robinson's actions were in keeping with the finest tradition of heroism and courage under fire, according to an Army press release.
Noting that soldiers always remember the first time they saw action and pointing out that this attack was Robinson's baptism under fire, Casey asked them if they all responded "the same way Spc. Robinson did."
Robinson, a machine gunner with the 3rd Brigade Combat Team, recalled that when the bullets started flying he grabbed a Russian PKM machine gun and fired back. He killed one insurgent 35 yard away who was carrying a rocket-propelled grenade launcher.
More insurgents followed firing all kinds of weapons, Robinson said.
"So I just shot up all the ammo I could at them," he said. "Then an (American) 240 machine gun was brought up because more people were coming up so I used that."

Another mortar round went off in front of him about the same time as he ran out of ammunition on the M240. He then grabbed an AK-47 (automatic rifle) from one of the border policemen and began shooting the remaining insurgents including the suicide bomber.
At the ceremony, Casey told the assembled troops stories of recent Medal of Honor awardees and said Robinson's actions were an example of the courage that is spoken of when talking about heroes.
.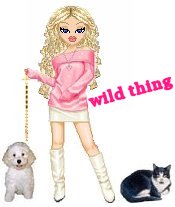 Wild Thing's comment.......
Outstanding! Spc. Robinson!
Posted by Wild Thing at December 26, 2010 04:45 AM
---
Comments
Great work SPC Robinson. Good shooting.
Posted by: TomR,armed in Texas at December 26, 2010 11:05 AM
---
Tom, thanks for being here and your comments and sharing.
Posted by: Wild Thing at December 27, 2010 02:25 AM
---
Gen. Casey is a punk. You would think that the Army Chief of Staff would at least be a holder of the Combat Infantry Badge (CIB) but he doesn't therefore he is unqualified to hold this position according to ME.
Posted by: Eddie (Enemy of the State) at December 27, 2010 10:25 AM
---