« Teen THUGS Attack Marine, Wife At Movie Theater In Bradenton, Florida | Main | Rep. Steve King: Congress Will Investigate Reparations Pigford, Acorn »
December 30, 2010
R. Lee Ermey, Appearing On Behalf Of Toys 4 Tots & USO Speaks Out On Obama
GEICO's R. Lee Ermey, appearing on behalf of Toys 4 Tots & USO speaks out on Obama

During a December 10, 2010 appearance on Roe & Roeper's Miracle on Indianapolis Blvd. Holiday Extravaganza broadcast, live from The Venue inside the Horseshoe Casino, which benefitted the USO, GEICO's R. Lee Ermey appearing on behalf of Toys 4 Tots took an opportunity to unload on Obama, claiming his administration was destroying the country so that it could impose socialism.
R. Lee Ermey – of Full Metal Jacket, Mail Call, and Geico commerical fame – who speak in behalf of the Toys for Tots program, and then also blasts the Obama Administration for having a lot to do with the fact that the present U.S. Economy "sucks." Ermey was just getting warmed up.

He went on to say:
"Not to point fingers at anybody, but the present administration probably has a lot to do with that. And the way I see it, they're not going to quit doing it until they bring this country to its knees. So I think we should all rise up and we should stop this Administration from what they are doing, because they are destroying this country. They're driving us into bankruptcy so they can impose socialism on us. That's exactly what they're doing, and I'm sick and damn tired of it and I know you are too. But I know the Marine Corps is going to be here forever – this Administration won't. Semper Fi. God Bless you all."
.

.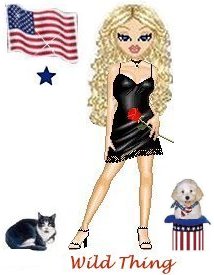 Wild Thing's comment.........
I love his GEICO's so much. Thank God for Ermey speaking up like he has for our country.

Some information on Ermey, a real favorite of mine. I love the things he does.
R. Lee Ermey was in the US Marine Corps for 11 years. He rose to the rank of Staff Sergeant, and later was bestowed the honorary rank of Gunnery Sergeant by the Marine Corps, after he served 14 months in Vietnam and later did 2 tours in Okinawa, Japan. After injuries forced him to retire from the Corps.
Regarding his role in Full Metal Jacket. He was not intended to be in Full Metal Jacket (1987). He was hired as a technical advisor for the actor who was to play the drill instructor, but he did such a good job at it that Ermey himself was hired for the part.
He was involved in a jeep accident during the making of Full Metal Jacket (1987). At 1:00 a.m. one morning, he skidded off the road, breaking all the ribs on his left side. He refused to pass out and kept flashing his car lights until a motorist stopped. In some scenes in the movie, he does not move his left arm at all.
.

....Thank you BradL for sending this to me.
Posted by Wild Thing at December 30, 2010 03:55 AM
---
Comments
It was great to see Ermey unload on obama at a public function. Usually celebrities fawn over a socialist like obama. I like the exact wording of Ermey's rant.
Posted by: TomR,armed in Texas at December 30, 2010 09:52 AM
---
Definitely scolding the Administration as it needs.
Linked at ORPO!
Posted by: Glenn Mark Cassel AMH1(AW) USN Ret. at December 30, 2010 10:41 AM
---
Wonder if GEICO will pull his commercial, now that this is out.
My guess is that if they do not, they could possibly see an increase in business.

Posted by: Sean at December 30, 2010 11:36 AM
---
I am glad to see this there was one interview right after the election and Ermey sort of wimped out on an assessment of obama. I don't know why he did that he was hesitant and did not sound like the "Gunny" at all.
In my eyes he has reprieved himself.
Posted by: Mark at December 30, 2010 02:33 PM
---
Check out his FIRST movie as a Leatherneck DI (San Diego)in 'THE BOYS IN COMPANY C' and it's better than FULL METAL JACKET! You'll love this movie, big time. Happy New Year's Eve EVE everyone.
Posted by: darthcrUSAderworldtour07 at December 30, 2010 04:06 PM
---
Thank you everyone, I was so happy to see this video and could hardly wait to share it with all of you.

Darth, thank you so much. I sure will check it out.
Posted by: Wild Thing at December 30, 2010 11:53 PM
---
GEICO is Government Employee Insurance COmpany. A New Deal product.
He is putting his treasure on the line. This could cost him millions. I don't know if I would say he wimped out right after the '08 election rather he was just hoping for the best. You have to follow the news in detail to have realized that we were facing the worst.
Posted by: Avitar at December 31, 2010 01:04 AM
---
The Boy's From Company C was a far better movie than full metal jacket and both Drill instructors were
Great I thought the short Puerto Rican Drill instructor was over the top.. I walked out on full metal jacket Knowing the Marine Corp as I do that Fat A$$ Boot that killed the Gunny would have never made it pastThe first week…

Posted by: gator at December 31, 2010 11:58 AM
---