« America's Best in Afghanistan | Main | Santa Clause is a Paratrooper! Elves gear up for Operation Toy Drop »
December 06, 2010
Arab" Youths Arrested for Setting Israeli Fire That Killed 41
Fierce fires rages over Israel

Arab" Youths Arrested for Setting Israeli Fire That Killed 41
The youths arrested yesterday for starting the deadly Israeli fire are "arab" not Druze.
And, apparently there have been a wave of arson incidents by Arab citizens in Israel that are being ignored by the media.
Police and volunteers are manning checkpoints, lookouts and ambushes throughout Israel in an effort to combat a wave of terrorist arson by Arab citizens of Israel. While occasionally reporting some of the arson incidents, most news sources are playing them down considerably, while others cover them up completely.
The IDF has released video footage shot from an IAF aircraft, which shows a vehicle escaping from the scene of an arson attack on the Carmel Mountain. The conversation on the radio, in Hebrew, is between pilots and police. The pilots report that they have received word from a firefighting aircraft that spotted the vehicle leaving the scene of an act of arson, near a spot called the Muhraka. The aircraft follows the vehicle – a Renault Kangoo – until it is stopped by police cars.
Despite this video, news of the wave of arson is seeping into the public consciousness mostly through smaller news sources and by word of mouth.
Police said the main conflagration in the Carmel Mountains was unintentionally caused by a group of youth from Ossafiya. According to a report on Channel 2 news, the youths lit a fire as part of a nocturnal picnic and did not put it out properly before leaving the site. Later reports said that while most of the residents of Ossafiya are Druze, the youths who were arrested are Arabs.

…Channel 2′s website also carries a report that Border Police arrested two Arabs, one an Israeli citizen and the other from the Palestinian Authority, who tried to start a fire near Jerusalem on Saturday night. The two were caught in a ravine near the "tunnels checkpoint" at the entrance to the neighborhood of Gilo.
Citizens who passed through the checkpoint noticed the suspects and reported their activity to security forces. A Border Police team identified the two trying to set a fire, called on them to stop and fired four shots in the air. The suspects tried to escape in a vehicle but were arrested after a short chase.
A short time later, a 34-year-old Arab man was arrested near Dodge Junction close to Nazareth. He was taken to interrogation.
.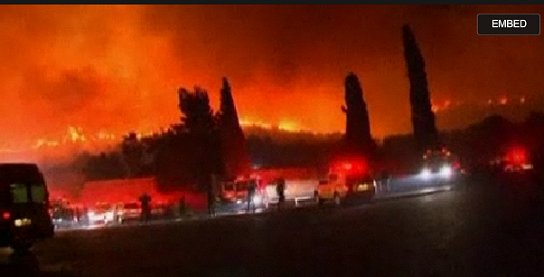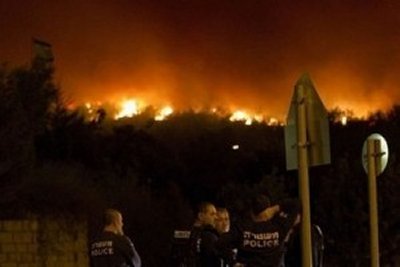 Israeli firefighters watch a devastating fire in the city of Kyriat Karmel, Carmel Forest, near Israel's northern city of Haifa. 41 people have died in the fires.
Leading Leftist Website Urges Liberals Not to Donate to Israel's Fire Relief Fund

The Atlantic today is urging liberals to turn their back on Israel:
Don't Give to the Jewish National Fund....this is the title of the article
Inevitably, the Jewish National Fund, which, among other things, plants forests in Israel, is asking for donations from Americans for its "Forest Fire Emergency Campaign," in response to the massive fire spreading across the Carmel mountains. But I'm not giving.
Israel's per capita GDP is nearly $30,000. Israel is a rich country. The fact that it doesn't possess adequate firefighting equipment is its own fault. The fact that the leadership of its fire service is incompetent is its own fault (you can read more about that here). At some point, the good-hearted Diaspora Jews who still think of Israel as a charity case are going to have to tell their cousins to learn to fully-fund basic services like firefighting if they want to be thought of as citizens of an advanced country.
.
The fires this week that killed 41 people were set by "Arab" youths. It wasn't the only fire. Israel is battling against a wave of arson attacks set by "Arab" citizens. Israel is under terrorist attack and the left is urging liberals to withhold support.

.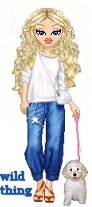 Wild Thing's comment........
The fires this week that killed 41 people were set by "Arab" youths. It wasn't the only fire. Israel is battling against a wave of arson attacks set by "Arab" citizens.

The US is. From Bill Gabbert's Wildfire Today Blog:
The United States is sending three at least six C-130 aircraft with Modular Airborne Firefighting Systems (MAFFS) from Wyoming Air National Guard's 153rd Airlift Wing in Cheyenne, Wyoming; 145th Airlift Wing of the North Carolina Air National Guard in Charlotte, N.C.; the 146th Airlift Wing of the California Air National Guard in Port Hueneme, Calif.; and possibly one or two from an Air Force Reserve unit in Colorado. Two other military planes are ferrying firefighting supplies to Israel.
The United States is also sending Custer's National Incident Management Organization (NIMO) Team, 45 metric tons of Fire-Trol fire retardant and 12,000 liters of WD881 Class A foam. The fire retardant is being flown to Israel by U.S. military C-130′s and aircraft chartered by the U.S. Agency for International Development.
Posted by Wild Thing at December 6, 2010 02:47 AM
---
Comments
Arabs and leftists. Like TNT and fuses. Made for each other, but detrimental to everyone else.
Posted by: TomR,armed in Texas at December 6, 2010 04:18 PM
---
I don't believe an Israeli is involved in this. the Two arabs is par for the course give them both 41 life terms and hang the Israeli. Out of all the Jews in Israel there's always that 1% shit bird that thinks he can make peace with those lousy, dirty good for nothing Arabs.
Posted by: Mark at December 6, 2010 05:15 PM
---
Tom, good comparison.

Mark, yes that is true, shirtbird is right.
Posted by: Wild Thing at December 6, 2010 11:39 PM
---