« Florida Attorney General-elect Pam Bondi :Majority of States Will Join Suit Against Obamacare | Main | Rep. Bachmann: Obama Blames Voters for Election »
November 10, 2010
Soros Exposed: Research on the Progressive Puppet Master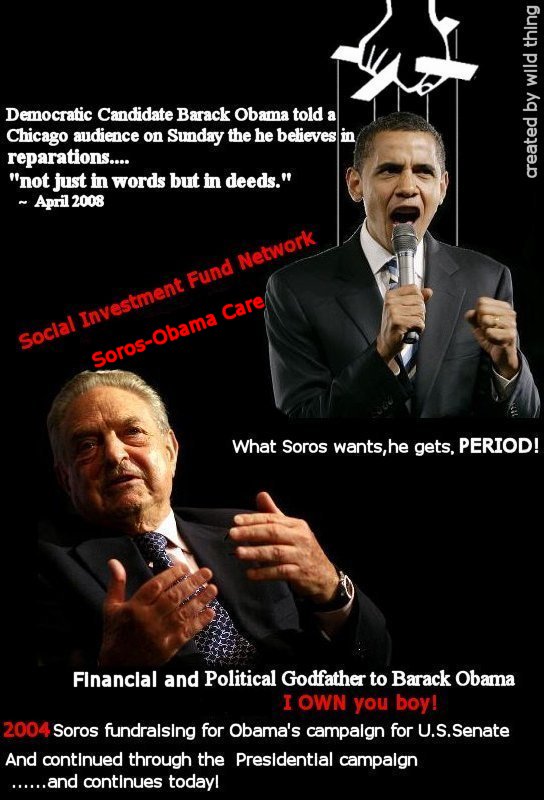 Soros Exposed: Research on the Progressive Puppet Master

For months, Glenn has been pulling back the structure progressives have worked decades to put in place. Beneath every layer lies one common thread: George Soros. Tonight on TV, Glenn presents an in-depth look at the Puppet Master, billionaire financier George Soros, one of the most powerful forces in the Progressive Movement. But don't just take Glenn's word for it. Read. Analyze. Do your own homework and come to your own conclusions - read below to fact check all the sources used on tonight's show.

BACKGROUND

"Messianic Fantasies"

- "It is sort of a disease when you consider yourself some kind of god, the creator of everything, but I feel comfortable about it now since I began to live it out," (The Independent, June 3, 1993)
- "I admit that I have always harbored an exaggerated view of self-importance –to put it bluntly, I fancied myself as some kind of god or an economic reformer like Keynes or, even better, a scientist like Einstein," (The Alchemy of Finance, George Soros)
- According to friend Byron Wien (now with the Blackstone Group), "You must understand he thinks he's been anointed by God to solve insoluble problems. The proof is that he has been so successful at making so much. He therefore thinks he has a responsibility to give money away," (Time Magazine, Sept 1, 1997)
- "If truth be known, I carried some rather potent messianic fantasies with me from childhood which I felt I had to control, otherwise I might end up in the loony bin. But when I made my way in the world I wanted to indulge myself in my fantasies to the extent that I could afford."
- George Soros 60 Minutes Interview - 12/20/98 / Transcript:
KROFT: Are you religious?
Mr. SOROS: No.
KROFT: Do you believe in God?
Mr. SOROS: No.
KROFT: (Voiceover) Soros told us he believes God was created by man, not the other way around, which may be why he thinks he can smooth out the world's imperfections.
In a 1998 interview with Steve Kroft, Soros was asked if he felt guilty about confiscating property from Jews as a teenager. He responded, "No."
- "I don't deny the Jews their right to a national existence--but I don't want to be part of it." That experience notwithstanding, Soros has chosen to exclude Israel and Jewish causes, by and large, from his massive philanthropy-a decision that has caused comment among one of his colleagues in the financial community, particularly those who are strong supporters of Israel. In Hungary, Soros has been subject to anti-Semitic attacks. Referring to being a target, Soros, in his book "Underwriting Democracy," wrote, "I am ready to stand up and be counted." When I mentioned that rather suggestive line to Soros during one of several extended interviews with him, he responded quickly, "Right. It took me a long time."
He continued, "My mother was quite anti-Semitic, and ashamed of being Jewish. Given the culture in which one lived, being Jewish was a clear-cut stigma, disadvantage, a handicap-and, therefore, there was always the desire to transcend it, to escape it." He confirmed what someone had told me-that his family name had long ago been changed from Schwartz. "So the assimilationist Jews of Hungary had a deep sense of inferiority and it took me a long time to work through that," he said, adding, however, that he succeeded in doing so many years ago… "I am escaping the particular. I think I am doing exactly that by espousing this universal concept"-of open society. "In other words, I don't think that you can ever overcome anti-Semitism if you behave as a tribe… the only way you can overcome it is if you give up the tribalness."

Source: THE WORLD ACCORDING TO SOROS by CONNIE BRUC, The New Yorker, January 23, 1995,)
- "As I looked around me for a worthy cause. I ran into difficulties. I did not belong to any community. As a Hungarian Jew I had never quite become an American. I had left Hungary behind and my Jewishness did not express itself in a sense of tribal loyalty that would have led me to support Israel,"
.
Here is a partial transcript from an interview done by Steve Kroft for CBS' 60 Minutes George Soros on December 20, 1998:
On Dec. 20, 1998, in the midst of his murderous speculative rampage against the currencies of Malaysia, Indonesia, South Korea, and other targeted Asian nations, George Soros appeared on CBS-TV's "60 Minutes," to explain and defend his behavior. Confronted by interviewer Steve Kroft about his experiences as a youth in Hungary, under the Nazi occupation, Soros freely admitted that he posed as the "adopted godson" of an official of the Nazi-occupation government, and helped in the confiscation of Jewish properties.

Soros life as a youth in Nazi occupied Hungary when he assisted in identifying fellow Jews for his Gestapo "mentor" and confiscating their property before they were sent off to the gas chambers. Soros described that period as one of the happiest of his life.
When the Nazis occupied Budapest in 1944, George Soros' father was a successful lawyer. He lived on an island in the Danube and liked to commute to work in a rowboat. But knowing there were problems ahead for the Jews, he decided to split his family up. He bought them forged papers and he bribed a government official to take 14-year-old George Soros in and swear that he was his Christian godson. But survival carried a heavy price tag. While hundreds of thousands of Hungarian Jews were being shipped off to the death camps, George Soros accompanied his phony godfather on his appointed rounds, confiscating property from the Jews.
(Vintage footage of Jews walking in line; man dragging little boy in line)
KROFT: (Voiceover) These are pictures from 1944 of what happened to George Soros' friends and neighbors.
(Vintage footage of women and men with bags over their shoulders walking; crowd by a train)
KROFT: (Voiceover) You're a Hungarian Jew…
Mr. SOROS: (Voiceover) Mm-hmm.
KROFT: (Voiceover) …who escaped the Holocaust…
(Vintage footage of women walking by train)
Mr. SOROS: (Voiceover) Mm-hmm.
(Vintage footage of people getting on train)
KROFT: (Voiceover) …by–by posing as a Christian.
Mr. SOROS: (Voiceover) Right.
(Vintage footage of women helping each other get on train; train door closing with people in boxcar)
KROFT: (Voiceover) And you watched lots of people get shipped off to the death camps.
Mr. SOROS: Right. I was 14 years old. And I would say that that's when my character was made.
KROFT: In what way?
Mr. SOROS: That one should think ahead. One should understand and–and anticipate events and when–when one is threatened. It was a tremendous threat of evil. I mean, it was a–a very personal experience of evil.
KROFT: My understanding is that you went out with this protector of yours who swore that you were his adopted godson.
Mr. SOROS: Yes. Yes.
KROFT: Went out, in fact, and helped in the confiscation of property from the Jews.
Mr. SOROS: Yes. That's right. Yes.
KROFT: I mean, that's–that sounds like an experience that would send lots of people to the psychiatric couch for many, many years. Was it difficult?
Mr. SOROS: Not–not at all. Not at all. Maybe as a child you don't–you don't see the connection. But it was–it created no–no problem at all.
KROFT: No feeling of guilt?
Mr. SOROS: No.
KROFT: For example that, 'I'm Jewish and here I am, watching these people go. I could just as easily be there. I should be there.' None of that?
Mr. SOROS: Well, of course I c–I could be on the other side or I could be the one from whom the thing is being taken away. But there was no sense that I shouldn't be there, because that was–well, actually, in a funny way, it's just like in markets–that if I weren't there–of course, I wasn't doing it, but somebody else would–would–would be taking it away anyhow. And it was the–whether I was there or not, I was only a spectator, the property was being taken away. So the–I had no role in taking away that property. So I had no sense of guilt.
.

"THE MAN WHO BROKE THE BANK OF ENGLAND"

- "As September 15 wore on, George Soros's confidence that Britain would pull the pound out of the ERM was growing. It had been Stanley Druckenmiller who had thought the time ripe for making a bet against the sterling. He talked to Soros about doing something. Soros gave him the green light but urged his head trader to bet an even larger sum than Druckenmiller had in mind. And so Druckenmiller, acting for Soros, sold $10 billion worth of sterling… The next morning at 7:00, the phone rang at Soros's home. It was Stan Druckenmiller with news… While George Soros had slept, he racked a profit $958 million. When Soros's gains from other positions he took during the ERM crisis were tallied, he racked up close to $2 billion… It was this bet, this single act of placing $10 billion on the fact that Britain would have to devalue the pound, that made George Soros world famous," (SOROS THE UNAUTHORIZED BIOGRAPHY, pgs 5-6).
- "He famously shorted the British pound in 1992, wagering $10 billion on a drop in its value. In a desperate bid to keep its currency afloat, the Bank of England tried to buy up pounds as fast as Soros could dump them. However, as more and more investors followed Soros' lead and joined his efforts, the Bank of England eventually gave up. The British pound was devalued, launching a tsunami of financial turmoil from Tokyo to Rome. When it was over, millions of hardworking Britons confronted their diminished savings, while Soros counted his gains. He had personally made nearly $2 billion on the catastrophe," (The Shadow Party, pg. 4).

- Soros has said of this event: "I had no platform, so I deliberately [did] the sterling thing to create a platform. Obviously people care about the man who made a lot of money…my influence has continued to grow and I do have access to,"(Time Magazine, Sept 1, 1997)
- In 1997, during the Asian financial crisis, the then Malaysian Prime Minister, Mahathir bin Mohamad, accused him of bringing down the Malaysian currency, the ringgit, through his trading activities. In Thailand he was branded an "economic war criminal" who "sucks the blood from the people".

REVOLUTIONS
- "Just write that the former Soviet Empire is now called the Soros Empire," (The New Republic, Jan 1994)
- "I am acting out a fantasy and so is Eastern Europe. A psychiatrist once told me how dangerous it is to act out fantasies and I am beginning to see what he meant," http://www.osi.hu/oss/postscript.html
INFO ON NAME CHANGE FROM SCHWARTZ TO SOROS
- Born in Hungary in 1930, Mr. Soros began life as George Schwartz. His father, Tivadar, was from humble origins; his mother, Erzebet, from money. Both were Jews, but nonobservant (she eventually converted to Catholicism). Once married, Tivadar had to work just two hours a day managing some of his wife's family property, which provided a handsome living for them and their two sons, Paul and George. At some point during the boys' childhood, the parents decided to change the family name and chose the Hungarian-sounding but in fact obscure Soros. It means "soar" (in the future tense) in Esperanto, the made-up trans-European language promoted by those who dreamed of a world free of nationality. Tivadar was among its leading proponents. (Source: The Mind of George Soros; Meet the Esperanto enthusiast who wants to save the world from President Bush, 2 March 2004, The Wall Street Journal)

- Before the end of the war, however, Soros' upper-middle-class world had inverted. The family posed as Christians and separated to hide from the Germans. They changed their name from Schwartz (considered too Jewish-sounding) to Soros (more reflective of the family's Hungarian roots and because his father liked the palindrome). (The elusive billionaire: An author tries valiantly to capture the essence of philanthropist George Soros, Vancouver Sun, 20 April 2002)

GLOBALIZATION
- Soros has long been calling for increased globalization. In "The Crisis of Global Capitalism," 1998 he writes: "To stabilize and regulate a truly global economy, we need some global system of political decision-making. In short, we need a global society to support our global economy. A global society does not mean a global state. To abolish the existence of states is neither feasible nor desirable; but insofar as there are collective interests that transcend state boundaries, the sovereignty of states must be subordinated to international law and international institutions. Interestingly, the greatest opposition to this idea is coming from the United States. But there has never been a time when a strong lead from the U.S. and other like-minded countries could achieve such powerful and benign results. With the right sense of leadership and with clarity of purpose, the U.S. and its allies could help to stabilize the global economic system and to extend and uphold universal human values. The opportunity is waiting to be grasped." (Source: The Crisis of Global Capitalism.(book excerpt), George Soros, 7 December 1998, Newsweek)

- During this year he called for greater authority to institutions such as the World Bank and the International Monetary Fund (IMF) and for an International Credit Insurance Corp. to establish some kind of supervision over national supervisory authorities and stated, "At the same time, there remains the urgent need for Congress to authorise an increase in the capital of the IMF." He admitted that such "radical ideas" could not even be considered until Congress "changes its attitude toward international institutions in general and the IMF in particular."
(Source: Soros calls for global credit insurance agency, 15 September 1998, Reuters News)
- Soros has said that the United States would cease to be the world's undisputed dominant force. "The veto power that we have in the International Monetary Fund will disappear. We will be downsized. At the same time, hopefully, we will have a better working system and opponents will be more downsized than we will."
(Source: BOSTON, Oct. 29 -- Massachusetts Institute of Technology press release via Factiva)
- "The Bubble of American Supremacy,": "The disparity between private goods and public goods manifests itself in a number of ways. First, there is a growing inequality between rich and poor, both within countries and among countries. Admittedly, globalisation is not a zero-sum game: its benefits exceed the costs in the sense that the increased wealth produced by globalisation could be used to make up for the inequities and other shortcomings of globalisation and there would still be some extra wealth left over.
The trouble is that the winners do not compensate the losers either within states or between states. The welfare state as we know it has become unsustainable and international income redistribution is practically nonexistent. Total international assistance amounted to $US56.5 billion ($74.4 billion) in 2002. This amount represents only 0.18 per cent of global GDP. As a result, the gap between the rich and the poor continues to grow."
(Source: Edited extract from The Bubble of American Supremacy by George Soros via The Sydney Morning Herald, February 4, 2004)
SOROS AND VAN JONES
- Soros has also supported Van Jones – Originally through the Open Society Institute which gave the Ella Baker Center $151,800 in 2006 and $140,000 in 2007. Van Jones was head of the Ella Baker Center during those years. OSI also funded Green for All in 2008 -- they received a grant in the amount of $75,000 to "integrate the Civic Justice Corps into Green For All's campaign to create a national Clean Energy Corps." while Van Jones was running it. Van Jones later appeared as a senior fellow at the Center for American Progress. Additionally, OSI helped fund TIDES which then started the Apollo Alliance (where Van Jones sat on the board).
.
CAP & TRADE
- Soros is also a huge proponent of cap and trade. The sot below sounds very similar to VAN JONES' "We'renot going to put a new battery in a broken system."

SOROS: "work on a better world order where we work together to resolve problems that confront humanity like global warming. And I think that dealing with global warming will require a lot of investment.
SOROS: You see, for the last 25 years the world economy, the motor of the world economy that has been driving it was consumption by the American consumer who has been spending more than he has been saving, all right? Than he's been producing. So that motor is now switched off. It's finished. It's run out of — can't continue. You need a new motor. And we have a big problem. Global warming. It requires big investment. And that could be the motor of the world economy in the years to come…Instead of consuming, building an electricity grid, saving on energy, rewiring the houses, adjusting your lifestyle where energy has got to cost more until it you introduce those new things. So it will be painful. But at least we will survive and not cook.
MOYERS: You're talking about this being the end of an era and needing to create a whole new paradigm for the economic model of the country, of the world, right?
GEORGE SOROS: Yes.
.

MORE ON GREEN INITIATIVES
- In 2009, Soros announced the formation of the Climate Policy Initiative to address global warming, and said he would fund it with $10 million a year over 10 years
- Friends of the Earth is another group that receives Soros money.

THE OPEN SOCIETY INSTITUTE
- Soros started Open Society in 1993
- Soros has given away over $7 billion to "support human rights, freedom of expression, and access to public health and education in 70 countries."
- Up to $425 million donated annually
- Aryeh Neier is the president of the Open Society Institute and Soros foundations network. "Neier personally created the radical group Students for a Democratic Society in 1959… He worked for the American Civil Liberties Union for fifteen years," (The Shadow Party, pg 23).
- Open Society Foundations recently pledged its largest donation ever to Human Rights Watch in the amount of $100 million to be distributed over 10 years
- Richard Poe writes, "Through his global web of Open Society Institutes and Open Society Foundations, Soros has spent 25 years recruiting, training, indoctrinating and installing a network of loyal operatives in 50 countries, placing them in positions of influence and power in media, government, finance and academia."
- Some organizations that have received support from OSI:
Center for American Progress
Tides Foundation
Campaign for America's Future
National Council of La Raza
ACORN
Apollo Alliance
Center for Community Change
Free Press
MoveOn.org
- Top 20 grant recipients in 2008 (the most recent OSI filing)
International Crisis Group $5,000,000
Ministry of Education Republic of Liberia $4,250,000
Drug Policy Alliance $4,000,000
Media Development Loan Fund $3,900,000
Bard College $3,094,539
Proteus Fund Inc $3,000,000
The Revenue Watch Institute $3,000,000
The Tides Foundation $2,875,000
The Mayors Fund to Advance New York City $2,512,415
Center on Budget and Policy Priorities $2,107,000
Public Interest Projects $1,700,000
The Tides Center $1,396,681
Center for Community Change $1,362,500
Leadership Conference on Civil Rights education $1,320,000
Fund for the European University $1,100,000
Center for New York City Neighborhoods $1,050,000
American Civil Liberties Union Foundation $1,000,000
Center for American Progress $1,000,000
Foundation to Promote Open Society $1,000,000
Link Media Inc $1,000,000
CENTER FOR AMERICAN PROGRESS
- Early in 2003, Soros pledged $3 Million over 3 years to the think tank

- He awarded $1 Million in grants to Center for American Progress for 2008/2009

- The group was largely set up to prevent Bush from gaining re-election in 2004. Soros told the Washington Post: "I have made rejection of the Bush doctrine the central project of my life… America, under Bush, is a danger to the world. And I'm willing to put my money where my mouth is."

- The organization is headed by John Podesta
- Van Jones is currently a senior fellow
- In its first year, CAP took in more than $10 million
- In 2006, CAP launched a network of liberal religious leaders called Faith in Public Life to "fuel this burgeoning faith movement with cutting edge strategies and capacity-building resources"

- CAP's campus Progress, with a staff of 15 and a large network of student advisers, offers money and guidance to help college activists launch initiatives and newspapers

- CAP has a congressional outreach staff and aides dedicated to booking its experts on talk shows. It has a studio that offers daily taped segments and talking points for radio hosts, and it broadcasts liberal radio host Ed Schultz's show when he's in town.

and additional information click here
.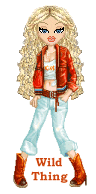 Wild Thing's comment........
Beck's show yesterday and the next part about Soros will be on tonight was very informative and to my knowledge no one has ever done this extensive reporting about him. I am proud of Glenn Beck for taking this stand and the information he is telling the world about. All of this needs to be said and especially we Americans need to know the monster (the enemy) of our country and his pal Obama.
Beck is playing with a lot of fire here with his safety and I am not trying to be an alarmist, just experience in what we have seen from the left over the years. I would have food tasters and security teams around the clock. He is unleashing pure straight no b.s. and today's show was enough to shake you to the core.
Glenn Beck is pealing George Soros like an onion, and revealing who/what George Soros is, and George, we understand, is NOT pleased.
Beck said he got a gift from Soros, a DVD film, "A Face In The Crowd", given to him by George Soros...a film by a communist, starring another leftie, Andy Griffith. Soros was trying to say by sending him the film . It was spooky the way Beck presented the "Movie for Beck from Soros" and then Beck telling Soros it will not end in Beck committing suicide like the "movie". I think that DVD was a warning to Glenn.
Beck also told about how the Soros people came to FOX to discuss Beck. They met with a FOX exec and told FOX to take Beck off the air.
I wonder if they would ever start up The House Un-American Affairs Committee again. Because of Soros, Maurice Strong who is another Soros and of course Obama and his many CZAR's.
Obama's on a mission, and he'll use all means to achieve it.
Posted by Wild Thing at November 10, 2010 05:45 AM
---
Comments
Moyers and soros,Snake eyes!! Green the new RED!!
Posted by: gator at November 11, 2010 10:14 PM
---