« John Boehner: 'We Are Going to Repeal Obamacare' | Main | GOP Picks Up 680 State Legislature Seats »
November 05, 2010
Six Republican Iraq and Afghan War Veterans Elected to Congress

The New Victory Caucus in Congress
On Tuesday, six Iraq and Afghanistan veterans were elected to Congress (and possibly seven, if Jesse Kelly pulls out his race in Arizona's 8th district). All six (seven) of them support victory on the battlefield in Iraq and Afghanistan and a hawkish national-security posture overall. The impressive list of warriors can be found at the bottom of this post, and also at Vets for Freedom's website.
These warriors — and the two pro-victory Iraq veterans already in Congress (Duncan Hunter and Mike Coffman) — constitute a formidable new Victory caucus in the House. All eight (or nine) Iraq and Afghanistan veterans — an infantry-squad-sized element of Republicans — speak with special authority on very important issues facing the next Congress, especially winning the war in Afghanistan, winning the peace in Iraq, preventing a nuclear-armed Iran, and ensuring that the Pentagon has adequate resources to project American power and preserve American interests around the world.

But that's not the only good news. Tuesday also brought losses for every single anti-war Iraq and Afghanistan veteran running for Congress — including the only two anti-war Iraq war incumbents in Congress (Patrick "the surge can't work" Murphy in PA-8 and John Boccieri in OH-16). The group most undermined by this trouncing is VoteVets, the blatantly partisan anti-war "veterans" group that came up empty on Election Night (and has already removed all the candidates from its website).
All of this taken together means that every single Iraq and Afghanistan veteran in Congress today is pro-victory. The true voice of our warrior generation will soon be heard on Capitol Hill, and the anti-war movement no longer has a veteran to prop up in defense of its reckless policies. This is all great news for America, and motivation for her warriors. The list of new Iraq/Afghanistan vets in Congress is:

The list of new Iraq/Afghanistan vets in Congress is:
– Lt. Col. Allen West (FL-22) – Iraq, Afghanistan, & Gulf war
– Lt. Col. Steve Stivers (OH-15) — Iraq war
– Capt. Adam Kinzinger (IL-11) — Iraq & Afghanistan wars
– Col. Joe Heck (NV-3) — Iraq war
– Maj. Tim Griffin (AR-2) — Iraq war
– Col. Chris Gibson (NY-20) — Iraq war (4 tours)
.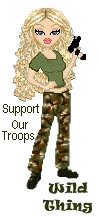 Wild Thing's comment.......
I LOVE this......FANTASTIC!!!
Posted by Wild Thing at November 5, 2010 04:50 AM
---
Comments
This is great. I was glad to see Allen West get elected.
Posted by: BobF at November 5, 2010 09:40 AM
---
This is very good. In two more years I hope we get another batch of conservative veterans.
Posted by: TomR, armed in Texas at November 5, 2010 10:17 AM
---
Congratulations gentlemen! Now reload and lets start taking down the left as well as Rino's like McCain and his girlfriend Goober from South Carolina.
Posted by: Eddie (Enemy of the State) at November 5, 2010 11:51 AM
---
Goober = Ms. Lindsay Graham
Posted by: Eddie (Enemy of the State) at November 5, 2010 11:52 AM
---
Definitely going to be some leadership there for this new group. Now obama will have to deal with the Military he's been so adept at avoiding.
I wonder if they will have a muster at 0800, before each session.
Posted by: Mark at November 5, 2010 08:52 PM
---
Thank you everyone so much, I love your input.
Posted by: Wild Thing at November 6, 2010 12:02 AM
---