« Staff Sgt. Salvatore Giunta First Living Recipient To Receive the Medal of Honor from Iraq and Afghanistan | Main | Sen. Rockefeller: FCC Should Take FOX News, MSNBC Off Airwaves »
November 18, 2010
Show Birth Certificate, Or Don't Get On Ballot...Eligibility Storm Clouds On Horizon For Obama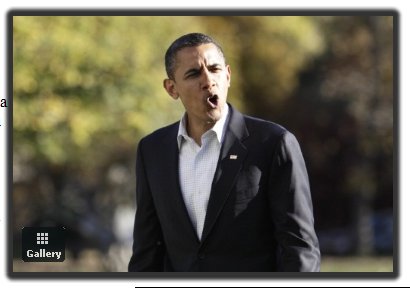 Show birth certificate, or don't get on ballot
Eligibility storm clouds on horizon for Obama
A Texas state lawmaker has filed a bill that would require candidates for president or vice president to show their birth certificates to the secretary of state before being allowed on the ballot, and the measure could become effective as early as next year if adopted and signed into law.
The move by Rep. Leo Berman, R-Tyler, renews the threat to a second Oval Office term for Barack Obama that was posed last year when the state House in Arizona actually adopted the requirement, but the session ended before the Senate acted.
Berman's legislation, House Bill 295, is brief and simple:
It would add to the state election code the provision: "The secretary of state may not certify the name of a candidate for president or vice-president unless the candidate has presented the candidate's original birth certificate indicating that the person is a natural-born United States citizen."
It includes an effective date of Sept. 1, 2011, in time for the expected presidential campaigning for 2012.
Berman told WND he's seen neither evidence nor indication that Obama actually qualifies under the Constitution's requirement that a president be a "natural-born citizen," a requirement not imposed on most other federal officers.
"If the federal government is not going to vet these people, like they vetted John McCain, we'll do it in our state," he said. He noted the Senate's investigation into McCain because of the Republican senator's birth in Panama to military parents.
Berman also said there will be pressure on any lawmaker who opposes the information plan, since voters would wonder why they wouldn't want such basic data about a president revealed. And he said even if one state adopts the requirement, there will be national implications, because other states would be alerted to a possible problem.
"If Obama is going to run for re-election in 2012, he'll have to show our secretary of state his birth certificate and prove he's a natural-born citizen," he said. "This is going to be significant."
Berman said he's convinced there are problems with Obama's eligibility, or else his handlers would not be so persistent in keeping the information concealed.
You can continue with the article CLICK HERE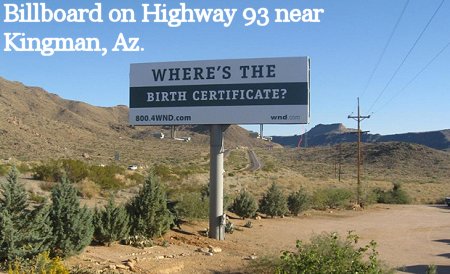 Expanding billboard campaign about Obama's birth certificate
.....will the question that's popped up on billboards in dozens of states already, in a move into Arizona, make a difference? Remains to be seen, say officials with the program that posted the newest campaign image along Highway 93 (mile marker 65) near Kingman, Ariz.

And if it seems that there are more and more of these appearing, that's no one's imagination.
"If it seems like we are posting more billboards than ever, the perception is correct," said Joseph Farah, editor and chief executive officers of WND, and the mastermind behind the campaign.
"With a new Congress coming to power and more Americans realizing every day that lingering questions about Barack Obama's constitutional eligibility have not been answered, we are making a concerted effort to step up the pressure. Of course, we need continued financial support for this campaign from the American people to keep it up," he said.

Surveys a little more than a year ago revealed barely half of those in America were aware of the questions over Obama's eligibility. But polls as recent as a few weeks ago now show that 6 in 10 Americans doubt Obama's constitutional eligibility to occupy the Oval Office.
Other recent billboards have been seen in Alabama and Delaware, officials for the campaign confirm, as well as Florida and Georgia. A long list of sites are being developed.

The campaign was started a little more than a year ago after a poll showed barely half of Americans were even aware of questions about Obama's eligibility.

The result of the sign campaign has been reflected in the poll showing 6 in 10 Americans doubt Obama's eligibility to be president. The campaign also is credited with helping change America's mind about the president.

Previously the sign has appeared in Houston and Dallas. Other postings were in Alabama, Florida, Pennsylvania, California, Tennessee and San Antonio. The question also has been asked in state and federal courts across the land, even in the U.S. Supreme Court.
Copycat signs also have appeared in locations ranging from Oregon to Denver.

The "Where's The Birth Certificate" question directly challenges Obama's authority to direct programs such as the government takeover of health care, Wall Street and automobile companies.
The Dallas sign was posed on the west side of I-75 visible to traffic on the highway in the area just south of Churchill Way.
San Antonio has also been asked the question by a billboard on Loop 410, near Old Pearsall Road.
And earlier signs were in California, San Antonio, Florida and Tennessee:

.
60+ Lawmakers 7 States Tell Obama; if you want on 2012 ballot, RELEASE THE RECORDS!
3 more states, South Carolina, New Hampshire and Indiana have joined Arizona in proposing bills requiring proof of Article II Eligibility for Obama.
.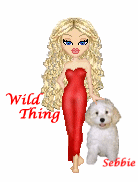 Wild Thing's comment........
Good news! Way to go Texas! Rush Limbaugh also talked about this. The list is growing!!!


....Thank you Mark for sending this to me.

Mark
3rd Mar.Div. 1st Battalion 9th Marine Regiment
1/9 Marines aka The Walking Dead
VN 66-67


Posted by Wild Thing at November 18, 2010 07:48 AM
---
Comments
I did volunteer work for Leo Berman back in the 70's. He lost a campaign for the US House. He has been in the Texas House for several terms and is a staunch conservative. He is also a Vietnam vet and retired Army Lt. Col. This proposed bill of his has a good chance to be passed by the Texas Legislature(2/3 Repub). I know that the Texas AG would be happy to enforce the provisions of this bill if it becomes law.
Posted by: TomR, armed in Texas at November 18, 2010 11:30 AM
---
Tom, thank you so much for sharing abotu Leo. That is great!
Posted by: Wild Thing at November 18, 2010 11:50 PM
---