« Podesta: Obama Can Use 'Armed Forces' to Push Progressive Agenda | Main | James Carville: "If Hillary gave him ( Obama ) one of her balls, they'd both have two" »
November 19, 2010
Obama Plans To Pull Back National Guard From Much Of The Border
FOX News.......Inside look at U.S. fight against Mexican drug war

.

Obama administration plans to pull back National Guard from much of the border
The Obama Administration plans to withdraw National Guard troops from the Texas, New Mexico and California borders by the end February under a new Southwest security plan, even as turmoil in Mexican border cities grows, according to documents obtained by The Washington Examiner.
A letter sent to various members of the Texas Congressional delegation from Texas' Gov. Rick Perry's office says, "In February, 2011, the Texas, New Mexico, and California National Guard forces that were deployed to the border in September, 2010, under President's Obama's Southwest Border Augmentation Plan, will have 30 days to complete a total draw down of forces."
The roughly 550 troops will have the month of February to redeploy back to their units, Texas Congressman Ted Poe told The Examiner. Troops would not be pulled off the Arizona border under the plan, and about 100 of the troops would re-deploy there from other states, officials said.

Poe received the letter today. His office confirmed with Department of Homeland Security officials that the plan came from the administration.
"I'm surprised the president would so quickly remove troops from Texas. They're not supposed to leave until July," said Poe.

The congressman recently traveled to Falcon Lake, where the ongoing investigation into the death of American tourist David Hartley's is ongoing. Tiffinay Hartley, 29, reported that her husband had been shot while riding his jet ski.
"It's apparently a plan the Obama administration believes will save money. We don't need fewer National Guard we need more. We need to pass the Border National Guard Border enforcement act that would put 10,000 National Guard on the border," Poe said.

The 286 Texas National Guard covered by the plan have only been fully operational since September and October of this year. They will have spent less than six months conducting operations along the border, an official with the Texas Governor's office said.
Obama's original Southwest border plan would have ended in July, 2011. According to officials familiar with the new initiative the "Administration budgeted only $135 million for the entire deployment."
The funds, which were originally budgeted to those three states, are expected to be reallocated to allow Arizona an additional 100 troops from March through September, 2011 or, "until such time as that money is exhausted," the letter from the governor's office stated.
"This new plan was designed without any input from the States, and without any significant DHS resources being deployed to the border since the beginning of operations," it said.
Poe said there is "no question about it, the federal government should cut back on spending but not national defense."
The letter to Texas lawmakers said, "Even under the new plan their is still no guarantee that Arizona will have their troops until September. In fact, the Administration has made it clear that once the $135 million has been spent, all operations must cease and desist immediately."

The DHS Border and Custom's Protection agency would "restart the ATEP (Alien Transfer and Exit Program) program that brings detained illegal aliens from other states to Del Rio where they will be released to Mexican officials across the border," according to the letter.

Mexican news outlets have documented a sharp rise in violence, including drug related murders, in cities near the U.S. border.
"Border violence is on the rise," Poe said. "And Washington is incorrect when they say the border is secure."
.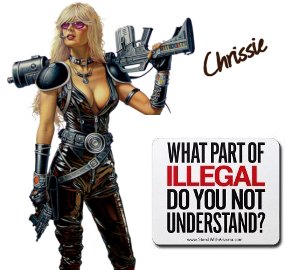 Wild Thing's comment......

When they do this they might as well leave all the weapons so the people can defend themselves. He might as well just declare open borders and get it over with.
Refusing to protect American territory is grounds for Impeachment if Impeachment is to mean anything at all. Problem is Obama has run the gamut on impeachable offenses and so far nothing has been done about it.
Obama spent more $$$ in one day in India than it would cost to protect the border for a year or more!
Posted by Wild Thing at November 19, 2010 04:50 AM
---
Comments
Neal Boortz has a brilliant solution for stopping illegal immigration from Mexico and it will work.
We divide the border from Brownsville, Texas to San Diego, California into regions.
Each region may be about 100 miles long.
You then get however many generals in the Mexican army you need and you assign a section of the border to each general.
You then tell these generals they will each receive one million dollars at the end of the year … BUT … $100 will be deducted from that total for each illegal the U.S. Border Patrol catches crossing the border in that region
Posted by: BobF at November 19, 2010 09:32 AM
---
obama can give over $100 million to Hamas in Gaza, but he can't find the money to secure our borders. Yes, he should be impeached on numerous charges.
Posted by: TomR, armed in Texas at November 19, 2010 09:46 AM
---
Obama and this Administration, just like all the Administrations before them, never had any intention of stemming the flow of illegals.
The stationing of the troops was merely for show.
This action now sets up a new round of Amnesty discussions, and the Administration will seek to get the RINO's on board to show how it is a Bi-Partisan effort. Expect Lindsay Graham and John McCain to be in the news again shortly.
Posted by: Sean at November 19, 2010 10:28 AM
---
I read where these choppers were flying over the border, they all looked un armed. no Rocket pods nothing. The cartels have RPG's, LAWS rockets and other Military type weapons, I'd think they'd at least have a coupld of 50's mounted mounted for their own protection. Arpaio does.
Hey if I was Perry I'd buy a couple of used A-10 to do battle with the Drug Cartels.
Posted by: Mark at November 19, 2010 01:54 PM
---
I agree WT, but up until now there have a dem congress, with the new majority this should change. Impeachment has to start in the House. Senate will be the problem. But even at that, it will at least give obama a 20 yard penalty or a KO completely.
Posted by: Mark at November 19, 2010 09:50 PM
---
Thank you for the input I really appreciate it.
Mark, thanks good point too about the dem congress.
Posted by: Wild Thing at November 20, 2010 12:15 AM
---