« Veterans Day ~ A Very Special Thank You To ALL Who Serve, or Have Served, Our Beloverd USA! | Main | Without Veterans there Would be no U.S.A. by Colonel Bob Pappas, USMC, Retired »
November 12, 2010
Obama Bid To Pick Iraq Leader Spurned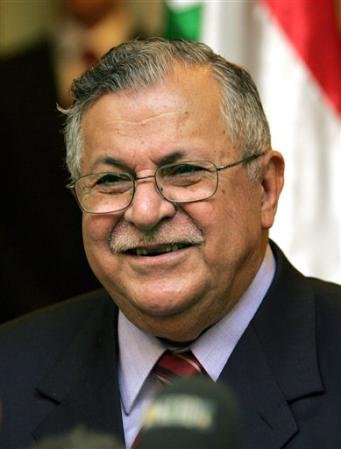 Obama bid to pick Iraq leader spurned

Obama called staunch American ally and Iraqi President Jalal Talabani and asked him to resign last weekend. This didn't go over well with the Iraqis. Today the Iraqis will announce a new government in which Mr. Talabani remains president.
Iraqi President Jalal Talabani, one of America's closest allies in the country, has rebuffed the personal request of President Obama and Vice President Joseph R. Biden Jr. to relinquish his post as Iraqis form a new government in Baghdad.
Iraqi leaders are expected to announce Thursday a new government in which Mr. Talabani remains president, Nouri al-Maliki remains prime minister and Iyad Allawi's Iraqiya party, which won the most votes in March's election, will control the speakership of Parliament and the presidency of the National Security Council, according to Iraqi and U.S. officials familiar with negotiations that ended Wednesday in Baghdad between Iraq's major parties.
Last Saturday, Mr. Obama phoned Mr. Talabani and asked him to give up the seat he has held since 2005 so that Mr. Allawi could be Iraq's president, according to U.S. and Iraqi officials familiar with the diplomacy. Mr. Obama on Saturday also urged the president of the Kurdistan region, Massoud Barzani, to accept Mr. Allawi in the role of the presidency.

Since late summer, U.S. officials had been trying to get Mr. al-Maliki and Mr. Allawi to share power in the government because neither man's party won the majority of votes. But Mr. al-Maliki's Rule of Law party ultimately formed an alliance with the Kurds and another Shiite bloc with ties to Iran known as the Iraqi National Alliance.
Mr. Talabani, however, said the pressure on his father to resign was reigniting old fears for many Iraqis.
"The Kurds have been the strongest ally and partner of the United States since before the liberation and certainly during it," he said. "And for the United States to be leaning on us, as they are now, in effect handpicking the new leaders of Iraq, is not respectful of Iraq's parliamentary system and touches on all of the insecurities of the Kurds, that the United States will once again betray us."

Kurds consider the first U.S. betrayal to have occurred in 1975, when the U.S. and the Shah of Iran agreed to end all support for the Kurdish rebellion in Iraq in exchange for Iraqi concessions on water rights over the Shatt al Arab waterway between Iraq and Iran.

.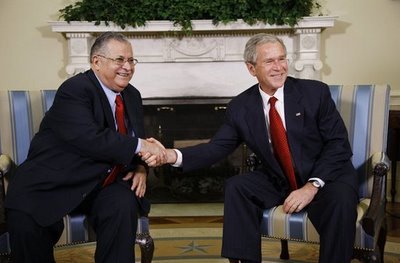 President George W. Bush welcomes Iraqi President Jalal Talabani to the Oval Office, Wednesday, Sept. 10, 2008, where the two leaders heralded the improved security situation and quality of life for the citizens of Iraq. (White House photo by Eric Draper)
PRESIDENT TALABANI:
"Well, Mr. President, thank you very much for giving me the honor of meeting you again. I think it's clear that we are in Iraq looking to you as a hero of liberation of Iraq from worst kind of dictatorship. And now we are working with your — with you, Mr. President, for finalizing the strategic framework agreement between United States and Iraq. "
"And also, we are always getting benefit from your views about how to secure Iraq. I think you know very well that you and we in Iraq achieved very good successes on terrorism. Now I can say all parts of Iraq liberated from terrorist control and activities. It's true that some groups remain hiding themselves from here or there, but there's no place, no inch of Iraqi land under the control of terrorist activities. There are some terrorist — still groups working — hiding themself, and thanks to you and sacrifice of your brave army and to Iraqi people, now we can live in peace and security."

.


Talabani Elected Iraqi President, Asks Maliki To Form Government
Iraq moved a step closer to a new era of democracy as a key parliamentary session elected incumbent President Jalal Talabani for a second term, who in turn reappointed Nouri al-Maliki as Prime Minister and asked him to form a Cabinet within 30 days.
A parliamentary session that finally convened on Thursday night.

.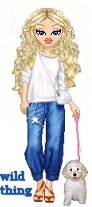 Wild Thing's comment.......
Obama did not want Iraq to alienate Sunni Arabs when he asked his request. But I have to wonder if it had more to do with that GW Bush is the hero to President Jalal Talabani.
Posted by Wild Thing at November 12, 2010 05:45 AM
---
Comments
Ha! It seems like a good number of world leaders have told obama to get under the bus lately. obama's foreign policy is a shambles. He has failed on the world stage.
Posted by: TomR, armed in Texas at November 12, 2010 09:50 AM
---
Tom, heh heh it really is something on the positive side. Your're right they see right through him and they hate his agenda.
Posted by: Wild Thing at November 12, 2010 11:51 PM
---