« Barack Obama Joined Muslim Prayers At School, Teacher Says | Main | Keith Olbermann To Return Tuesday to MSNBC »
November 08, 2010
Obama Asks About India's Communists
President Barack Obama speaks during a town hall meeting with students at St. Xavier College in Mumbai on November 7, 2010. (AFP/Tim Sloan)
.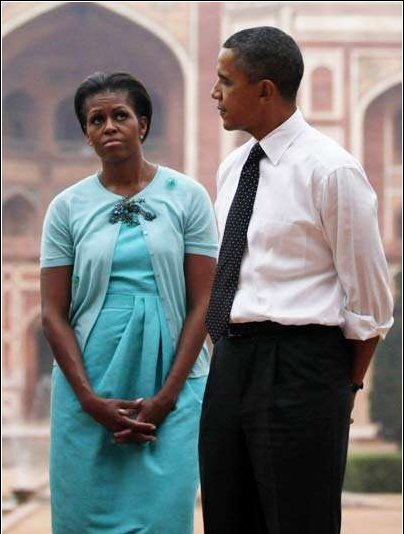 .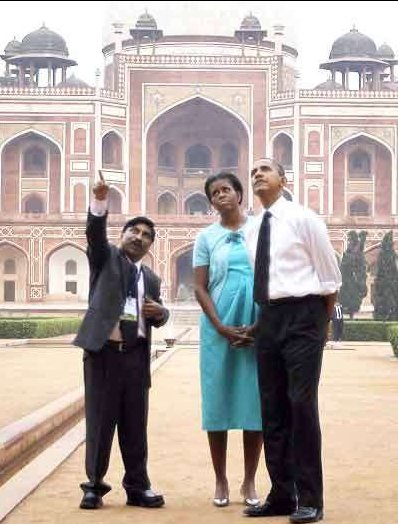 US President Barack Obama with First Lady Michelle Obama listening to the guide during their tour of Humayun's Tomb in New Dehli

A large open marquee, 12 tables named after Americans with an Indian connection, 60 prominent Indians — drawn from Bollywood to the IT sector to sports — Diwali diyas and a band playing, 'O meri zohra zabeen'… The Obamas were treated to a slice of emerging India as Prime Minister Manmohan Singh hosted a private dinner on the lawns of 7 RCR on Sunday
The high table had the PM, Gursharan Kaur, the Obamas and Congress chief Sonia Gandhi and son Rahul Gandhi. The only other person at the table was UPA-2's chief trouble shooter Pranab Mukherjee whose presence only cements his status of being more than a few notches above the rest of his ministerial colleagues.
Obama is learn't to have asked Mukherjee about the entry of communists in India into the parliamentary system in India. Mukherjee is understood to have pointed out that Indian communists were part of the mainstream and like social democrats.
Sonia sat next to the PM while Obama was seated beside her. Next was Michelle and then Rahul while Mukherjee completed the circle. The conversation did not flag with Rahul proving to be a keen listener and nodding frequently to what Obama and the PM had to say.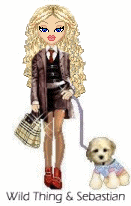 Wild Thing's comment......
Isn't it wonderful that obama asked that about communists in India. Maybe he is thinking of going there to live when he retires.
augh!!!
One other thing, why can't he wear a jacket. I mean he is President of the United States and more and more he dresses in just his shirt and trousers, has anyone else noticed that????? I guess it is because he does not respect the office of the president. It is not life and death important, just an observation. Same thing with Michelle.
Posted by Wild Thing at November 8, 2010 05:47 AM
---
Comments
Why does Michelle always look so frumpy? She looks like she's on her way to play BINGO.
Posted by: petesuj at November 8, 2010 08:14 AM
---
Well Joe, thats fairly obvious. You can't take the skank out of a ghetto whore.
Posted by: Eddie (Enemy of the State) at November 8, 2010 08:22 AM
---
Ronald Reagan respected the Office of the Presidency so much he always wore a tie in the Oval Office. obama puts his damn feet on the desk. Michelle always dresses like a slob. Their daughters dress better to play than they do.
Posted by: TomR, armed in Texas at November 8, 2010 09:44 AM
---
Pete, I agree, she always looks like that unless it is a formal event then it is an evening gown. But on a daily basis it is always frumpy. She should look at the past First Ladies and see how they did it.
Posted by: Wild Thing at November 8, 2010 01:22 PM
---
Posted by: Wild Thing at November 8, 2010 01:25 PM
---
Tom, thanks so much for sharing about Ronald Reagan.
Posted by: Wild Thing at November 8, 2010 01:26 PM
---
TomR, same thing with GW. Michelle always looks "frumpy" in her clothes.
Posted by: BobF at November 8, 2010 04:32 PM
---