« DOJ Gave Millions to Illegal Immigrant 'Sanctuaries,' Report Finds | Main | Racist Nancy Pelosi and Democrats Won't Allow A Black Man To Be Second In Command Of New Minoirty in House »
November 14, 2010
Navy's Newest Destroyer USS Jason Dunham Enters the Fleet
.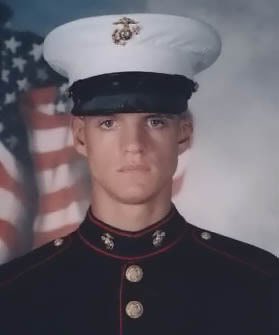 MARINE CPL JASON L. DUNHAM
Corporal Jason L. Dunham, 22, of Scio, N.Y. selflessly sacrificed his life in Iraq on April 14, 2004.
CITATION:
For conspicuous gallantry and intrepidity at the risk of his life above and beyond the call of duty while serving as a Rifle Squad Leader, 4th Platoon, Company K, Third Battalion, Seventh Marines (Reinforced), Regimental Combat Team 7, First Marine Division (Reinforced), on 14 April 2004. Corporal Dunham's squad was conducting a reconnaissance mission in the town of Karabilah, Iraq, when they heard rocket-propelled grenade and small arms fire erupt approximately two kilometers to the west. Corporal Dunham led his Combined Anti-Armor Team towards the engagement to provide fire support to their Battalion Commander's convoy, which had been ambushed as it was traveling to Camp Husaybah.
As Corporal Dunham and his Marines advanced, they quickly began to receive enemy fire. Corporal Dunham ordered his squad to dismount their vehicles and led one of his fire teams on foot several blocks south of the ambushed convoy. Discovering seven Iraqi vehicles in a column attempting to depart, Corporal Dunham and his team stopped the vehicles to search them for weapons. As they approached the vehicles, an insurgent leaped out and attacked Corporal Dunham. Corporal Dunham wrestled the insurgent to the ground and in the ensuing struggle saw the insurgent release a grenade. Corporal Dunham immediately alerted his fellow Marines to the threat. Aware of the imminent danger and without hesitation, Corporal Dunham covered the grenade with his helmet and body, bearing the brunt of the explosion and shielding his Marines from the blast. In an ultimate and selfless act of bravery in which he was mortally wounded, he saved the lives of at least two fellow Marines. By his undaunted courage, intrepid fighting spirit, and unwavering devotion to duty, Corporal Dunham gallantly gave his life for his country, thereby reflecting great credit upon himself and upholding the highest traditions of the Marine Corps and the United States Naval Service.
.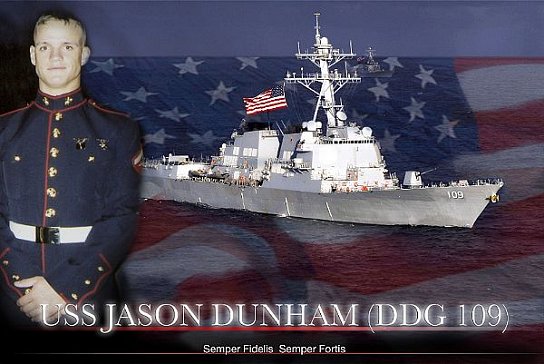 .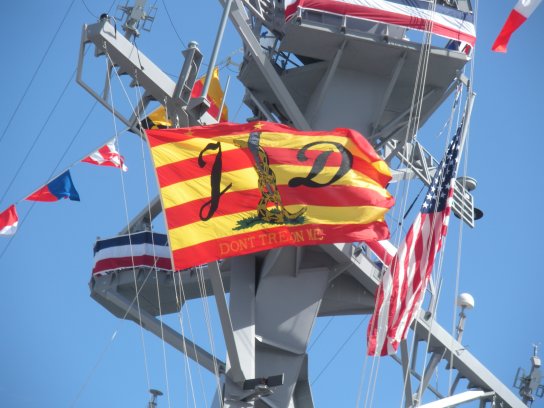 Navy's Newest Destroyer USS Jason Dunham Enters the Fleet

Under blue skies and the Florida sun, the Navy's newest Arleigh Burke Class Aegis Guided Missile Destroyer the USS Jason Dunham (DDG 109) was commissioned today in Port Everglades, entering full status as a ship of the United States Navy.
Deb Dunham, ship sponsor and mother of Marine Corps Corporal Jason Dunham, stood on deck as she gave the command to "Man the Ship and Bring Her to Life!" Dan Dunham, father of Corporal Dunham, set the first watch and passed the long glass to LTJG Andrew Gray. The watch, which will now continue for the entire period of time the ship is in service, will ensure the safety and security of the ship and its crew.
Six weeks earlier, Deb and Dan stood on the bridge of the ship on a cloudy overcast day as it left Bath Iron Works, Maine where the ship was constructed to begin its journey to Port Everglades. Today the ship and her crew stand ready to continue to fulfill Corporal Jason Dunham's mission of protecting the United States.
Keynote speaker General James F. Amos, Commandant of the Marine Corps, stated "Dan and Deb Dunham, none of this would have been possible without you. You have borne the heaviest burden – the sacrifice of a son. But Jason's actions will not be forgotten. Your son – honored through this ship – stands together with the greatest men and women in our Nation's history. Thank you for all you have given and all you continue to give. You embody all that is great in our American Family."
.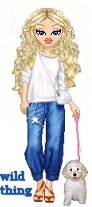 Wild Thing's comment.......

Godspeed to our brave aboard this ship. And bless the Dunham family for their incredible sacrifice and my heart-felt prayers to the Dunham family.
Corporal Jason L. Dunham, 22, of Scio, N.Y.
We remember our heroes! Rest In Peace.
Posted by Wild Thing at November 14, 2010 02:50 AM
---
Comments
What I had was the opportunity and honor of serving God, Country and Corps with some of the finest individuals and greatest true heroes that our nation has ever known. Each generation has it's share of these men.
I see today nothing has changed. The greatest heroes are still with us and I am sure Corporal Dunham would not agree that he was a hero but only doing his job. As Americans we are still blessed with these men and thank God for that.
Thank you, Corporal Dunham and Semper Fi.

Posted by: Mark at November 14, 2010 07:28 AM
---
Well said Mark and thank you Corporal Dunham.
Posted by: BobF at November 14, 2010 09:04 AM
---
God Bless the Dunham family.
Posted by: Jim at November 14, 2010 01:45 PM
---
Mark, beautifully said, thank you.
Thank you Bob and Jim.
Posted by: Wild Thing at November 14, 2010 10:51 PM
---
A fast ship going in harms way.. The grayhound of
the Sea...Tincans the Best Damn ships in the
Navy..She will ware his name proudly

Do not stand at my grave and weep,
I am not there... I do not sleep.
I am the thousand winds that blow...
I am the diamond glints on snow...
I am the sunlight on ripened grain...
I am the gentle autumn rain.
When you waken in the morning's hush,
I am the swift uplifting rush
Of gentle birds in circling flight...
I am the soft star that shines at night.
Do not stand at my grave and cry—
I am not there... I did not die...
Posted by: Gator at November 14, 2010 10:52 PM
---
Gator, that was great thank you so much.
Posted by: Wild Thing at November 14, 2010 11:23 PM
---