« Nancy Pelosi to Run for House Minority Leader | Main | Coconuts Removed From Trees In Preparation For Barack Obama's India Trip »
November 06, 2010
Mayor Bloomberg Says Obama the Most "Arrogant" Man He Ever Met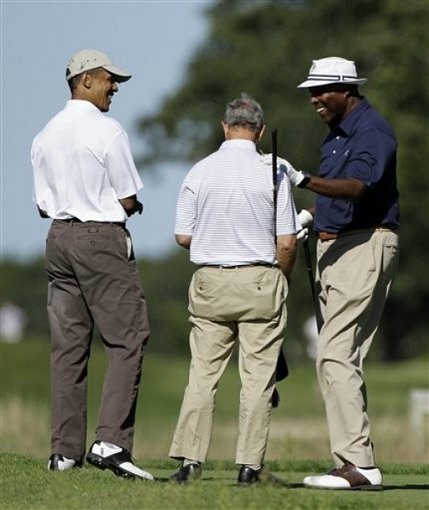 Barack Obama, left, and Washington power broker Vernon Jordan, right, chat with New York City Mayor Michael Bloomberg, center, while playing golf at Vineyard Golf Club, in Edgartown, Mass. , on the island of Martha's Vineyard, Friday, Aug. 27, 2010.

Mayor Bloomberg Called President Obama the Most "Arrogant" Man He Ever Met

by Jack Tapper
You may recall that during President Obama's vacation at Martha's Vineyard, on August 27 he took in a round of golf at the Vineyard Golf Club in Edgartown, playing golf with New York City Mayor Michael Bloomberg; Democratic lawyer, business man and éminence grise Vernon Jordan; and White House trip director (and former golf pro) Marvin Nicholson.
The pool report at the time said that "We are told Bloomberg and Obama talked in the clubhouse for about 15 mins about the economy. They then went to the driving range."
Apparently – at least from a second-hand report – the Obama-Bloomberg convo could have gone better.
In an interview with The Australian Financial Review, conservative media magnate Rupert Murdoch says "Bloomberg said it was a pleasant day. In conversation he put a few ideas … He said it was like verbal ping pong."
Bloomberg, according to Murdoch, "came back and said 'I never met in my life such an arrogant man'."

A spokesman for Bloomberg did not immediately respond to a request for comment.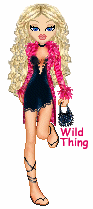 Wild Thing's comment.......

It takes one to know one.
Coming from the Megalomaniac Bloomer that's a real testament to the degree of the Obummer's mental disease.

LOL Obama is making a lot of enemies.......GOOD. Because he is the enemy of our country.
Posted by Wild Thing at November 6, 2010 03:50 AM
---
Comments
An egotist calling a narcissist arrogant. Beautiful!! All they needed was Crist for a threesome.
Posted by: TomR, armed in Texas at November 6, 2010 09:41 AM
---
Sounds like they both needed some followers. Too many leaders in the group. But, the followers aren't nearly as plentiful as they were 2 years ago. hehe.
Posted by: Jim at November 6, 2010 03:04 PM
---
Wow, and thats saying something coming from Bloomberg.
Posted by: Mark at November 6, 2010 06:31 PM
---
Thanks for your input. Yes it really something coming from Bloomberg haha sheesh
Posted by: Wild Thing at November 7, 2010 04:01 AM
---