« George Soros and Barack Obama | Main | The Forgotten Man by Jon McNaughton ( a MUST see Video) »
November 13, 2010
How Congress Was Prepped To Dismiss 'birthers'
How Congress was prepped to dismiss 'birthers'

By Jerome R. Corsi

The Congressional Research Service issued a memo to prepare members of Congress to rebut and defuse questions constituents were asking regarding Barack Obama's presidential eligibility under the "natural born citizen" requirement of the Constitution.
CRS staff member Jerry W. Mansfield, an information research specialist in the Knowledge Services Group, confirmed to WND that he authored the June 5, 2009, CRS memo entitled "Qualifications of Barack Obama to Be President of the United States."
Attached to the memo was an attack piece published by FactCheck.org to dismiss claims that Obama's short-form Certification of Live Birth, or COLB, originally published during the 2008 presidential campaign by DailyKos.com, was a forgery.
The memo was addressed to Rep. Brian Bilbray, R-Calif., and sent to Jeffrey Post, a staff member in the congressman's office.
Attached to the memo were copies of four articles from the Internet aimed at debunking and dismissing arguments questioning Obama's eligibility.
The CRS memo surfaced with a fax cover sheet sent by staffer Jeffrey Post from Bilbray's Washington, D.C., office June 8, 2009, three days after Mansfield authored the memo and compiled the Internet attachments.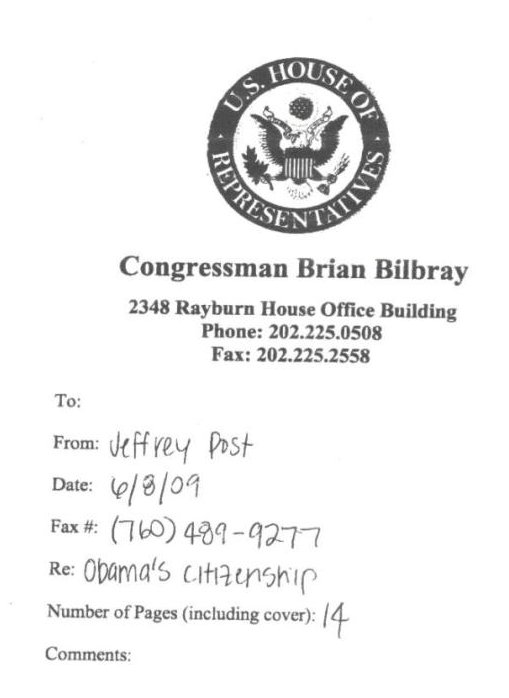 The CRS is a public policy research arm of the United States Congress that is organized as a legislative branch agency within the Library of Congress. It works exclusively for members of Congress, congressional committees and congressional staff in an advisory capacity, answering questions.
Bilbray's office did not respond to repeated WND requests for comment. Jeffrey Post in Bilbray's office told WND he was not authorized to speak with the press.
In the CRS memo, Mansfield writes: "Per your request we are enclosing several articles that address concerns about the birth certificate of President Obama, his place of birth and how questions surrounding it were ultimately resolved."
In the second sentence, Mansfield suggests that questions raised about Obama's eligibility have been conclusively dismissed as Internet falsehoods that are taking on mythical proportions: "Also included are a lengthy piece prepared by the Annenberg Public Policy Center of the University of Pennsylvania [http://www.factcheck.org] and an article that points out that the Internet includes falsehoods and they can live forever."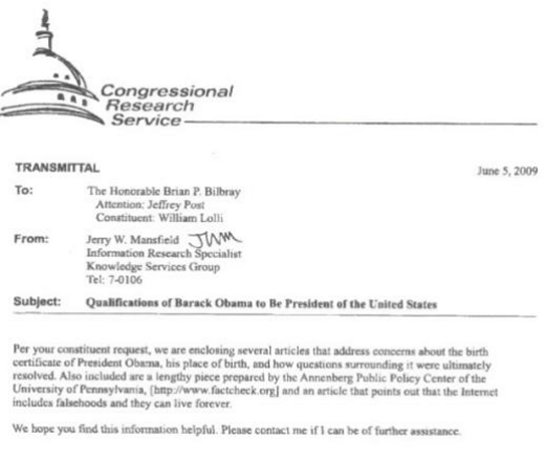 Mansfield told WND that he had written the memo to provide responses Bilbray could give to constituents who were peppering his congressional office for a response to eligibility challenges.
WND has reported that Bilbray is on the record saying there is no need for the president to have been born in the United States – or to have two parents who are U.S. citizens – to be a "natural born citizen" and be eligible for the Oval Office.
The controversy over Bilbray's comments developed when a YouTube.com video was posted. In the video of a television interview on MSNBC's "The Ed Show," Bilbray said, "It's just like people thinking that you gotta be born in the United States to be president. You don't have to be. That's a legend. We got to clarify that."
Mansfield said he "did not conduct any investigation."
"I merely responded to a request from a congressional office to answer a constituent," he said.

Asked why he did not balance his memo with published articles questioning Obama's eligibility, Mansfield responded, "I reported what Hawaii Department of Health officials said because they were official statements made by government employees. There has been nothing official said by any official of government, so far as I know, supporting questions raised about Obama's eligibility. So, there is no issue here."
When WND asked Mansfield if it was his job, in writing the memo, to draw a conclusion for Bilbray, he objected.
"The attachments were articles in print," he said. "I was simply trying to pass on what is in the press."
Mansfield was reluctant to talk to the press, and he ended the call abruptly saying, "I am getting contacted by irate people over this memo. It was meant as an advisory to a member of Congress. It was never meant to be released to the public"
The attachment from FactCheck.org was a posting on Aug. 21, 2008, entitled "The truth about Obama's birth certificate."
The first paragraph makes clear the piece was aimed at refuting the claim that the COLB was "fake."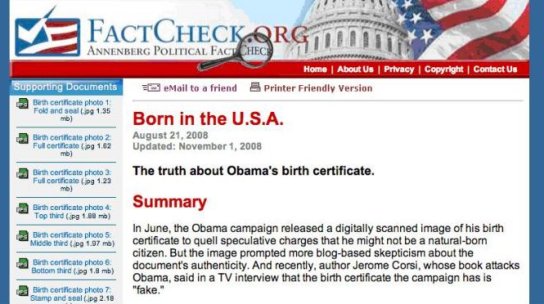 To refute the claim, FactCheck.org cited a statement by Hawaii Department of Health official Chiyome Fukino asserting she and the registrar of vital statistics, Alvin Onaka, had verified that the health department holds "Obama's original birth certificate."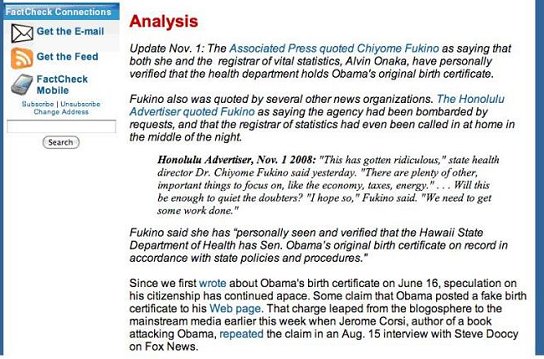 Fukino issued a carefully worded statement on Hawaii DOH stationary Oct. 31, 2008, giving the impression that the agency possessed Obama's "original birth certificate," even though that is not precisely what she said.
Here is the press release in question: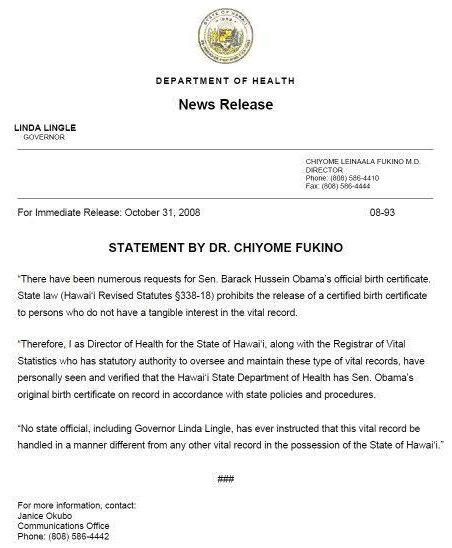 What Fukino said was that she had "personally seen and verified that the Hawaii State Department of Health has Sen. Obama's original birth certificate on record in accordance with state policies and procedures."
The key phrase was the qualification "in accordance with state policies and procedures."
Fukino did not explicitly say she had seen Obama's original birth certificate or his long-form hospital-generated birth certificate.
WND has reported that the Hawaii Department of Health in 1961 would issue a Certification of Live Birth on the basis of family testimony, without any additional proof the child was actually born in Hawaii.
WND has also reported that the Hawaii Department of Health has refused to substantiate the claim made by FactCheck.org and other Obama supporters that the short-form COLB is an authentic document issued by the Hawaii DOH.
The FactCheck.org article, updated Nov. 1, 2008, included a mention of Fukino's carefully worded statement issued Oct. 31, 2008, claiming the statement "confirmed … Obama was born in Honolulu," even though Fukino made no such direct claim.
Nor did Mansfield point out in his CRS memo to Bilbray that the Annenberg Public Policy Center that finances FactCheck.org also financed Barack Obama who served as the Chairman of the Chicago Annenberg Challenge in 1995. At that time the CAC made a $482,662 grant to a workshop project headed by Mike Klonsky, a former top communist activist who is an associate of former Weather Underground terrorist leader William Ayers, as documented by WND reporter Aaron Klein.
The three other Internet pieces Mansfield attached to his CRS memo to Bilbray were:
A story from the Honolulu Star-Bulletin Nov. 1, 2008, entitled "Officials verify birth certificate of Obama," reporting on Fukino's Oct. 31, 2008, press release;

An editorial published in the McClatchy-Tribune Business News Dec. 9, 2008, entitled "Obama birth certificate gets a pass from the Supreme Court," in which the litigation brought by Leo Donofrio in the case Donofrio v. Wells was described by the newspaper as "wacky" and "specious";

A story by Tim Jones published in the McClatchy-Tribune Business News Dec. 8, 2008, entitled "Internet drives Barack Obama birth-certificate battle: Web allows opinions to 'live forever,' expert says," in which WND was characterized as "a popular, political right-leaning site" that has chronicled "the campaign challenging the legitimacy of Obama's 1961 birth certificate or the legality of his taking office."
Mansfield attached to his CRS memo to Bilbray no articles published on the Internet by WND or any other source examining critically the Obama eligibility issue.
As WND reported a CRS memorandum authored by Jack Maskell, the Legislative Attorney in the American Law Division, April 3, 2008, admits openly that no one – not Congress, not the states and not election officials – ever bothered to check Obama's eligibility to be president.
.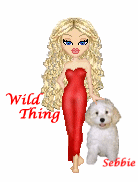 Wild Thing's comment.........
This tells us that this issue did not come right out of the blue to their total surprise.
They knew full well that he was not eligible even before he was elected illegally, so ? during, and after the election they set up a massive disinformation infrastructure campaign to attack this head on with the people who are asking him to release his documents to prove that he is eligible.
Just this one fact alone means it was premeditate and they knew full well what was happening....
The fix was in even before the election

I believe the Annenberg Foundation is a sponsor for some programs on NPR. And George Soros recently gave money to them.
Also William Ayers, The Chicago Annenberg Challenge, Factcheck.com and Obama's COLB, there are all connected all together somehow. If you go to the web page of FACTCHECK.ORG.... right under it says... ( A project of the Annenberg Policy Center ).....

....Thank you Mark for sending this to me.

Mark
3rd Mar.Div. 1st Battalion 9th Marine Regiment
1/9 Marines aka The Walking Dead
VN 66-67


Posted by Wild Thing at November 13, 2010 03:47 AM
---
Comments
We damn near have a dictatorship. A lot of unscrupulous people and organizations worked hard to get obama elected. The reason I question his legitimacy is because he refuses to release his COLB. Just like John Kerry refuses to release his military records. Most honest people will offer refuting proof of charges against them. Dems say "you have my word for it". That's why we don't believe them.
Posted by: TomR, armed in Texas at November 13, 2010 10:19 AM
---
Tom, your right and that scares me that it is so close to a dictatorship. Thanks Tom for your input about this.
Posted by: Wild Thing at November 13, 2010 04:48 PM
---
Posted by: Anon at November 13, 2010 10:24 PM
---