« Homeland Security Secretary Janet Napolitano is Considering Giving Exemptions to Muslim Women at Airports | Main | Congratulations NEW Speaker of the House John Boehner! »
November 17, 2010
Gitmo Detainees Paid Off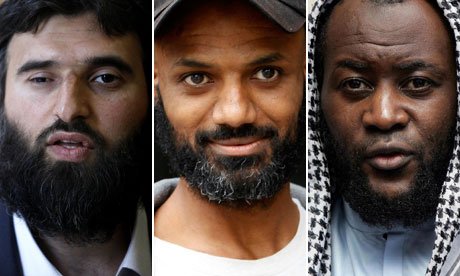 Former Guantánamo Bay detainees, from left, Omar Deghayes, Binyam Mohamed and Martin Mubanga. Photograph: AFP/Getty Images/Reuters/PA

Guantanamo seven 'paid off' to halt legal action against Government

A group of former Guantanamo Bay detainees who claim they were tortured with the complicity of the British security services have been paid millions of pounds to drop legal action against the Government.
Ministers will announce on Tuesday that a deal has been reached with the men, at least one of whom is expected to receive more than £1 million of taxpayers' money.

The former terrorism suspects, some of whom were foreign residents claiming asylum in Britain, were suing the Government for damages over their treatment while in custody. The security services are thought to have pushed for the settlement in order to avoid details of their secret activities being disclosed in court.
Both MI5 and MI6 could have been forced to disclose information that could have threatened national security. Already some information from the defence was starting to slip out, causing anxiety among some senior officials.
.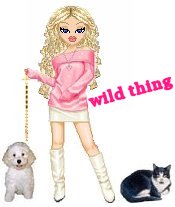 Wild Thing's comment.........

Al Qaeda directs its terrorists to make claims of "torture" whenever they are caught. Such claims are nearly always false. The fact that most are false, this is even a worse idea to do something like paying the terrorist off. sheesh

.... Thank you Jim for sending this to me.


Posted by Wild Thing at November 17, 2010 02:55 AM
---
Comments
Bye Bye Great Britain. You have taken the wrong road and I don't know if you can safely return.
Posted by: TomR, armed in Texas at November 17, 2010 04:00 PM
---
Tom, Great Britain caved years ago and they will never recover. The U.S. is trying as hard as it can to catch up thanks to the 1/2 breed kenyan commie's efforts. Maybe on his upcoming trip to europe, he'll have a fatal stroke and we can start the recovery of our country.
Posted by: Eddie (Enemy of the State) at November 17, 2010 05:20 PM
---
Thank you Tom and Eddie. I hope they turn themselves around and I sure pray hard we don't get as bad as they are....we are closer then ever with obama running things.
Posted by: Wild Thing at November 18, 2010 04:48 AM
---