« Happy Halloween Everyone | Main | Alaska KTVA a CBS Affiliate : We Stand By Our "Corrupt Bastards" »
November 01, 2010
George H.W. Bush, George W. Bush and Nolan Ryan at Game 4 of the World Series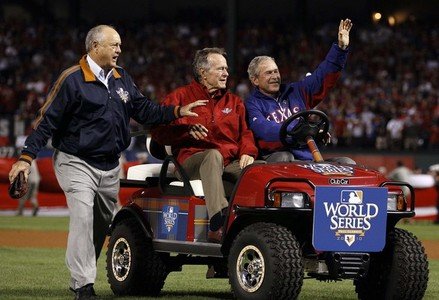 .

Here is video from the World Series tonight – Game 4 in Arlington, Texas – where former Presidents George H.W. Bush and George W. Bush threw out the ceremonial first pitch with Texas Rangers' President Nolan Ryan serving as the catcher. Bush 43 actually did the honors of throwing the pitch, with his Dad – Bush 41 -standing by. Bush got the pitch to home plate in good shape with Ryan catching the ball. The crowd roared for both of the former Presidents!

VIDEO link below......
http://www.youtube.com/watch?v=h_RZYboGeD8
This was an awesome moment, just a really feel good thing.
Laura Bush and Barbara Bush were also there and Barbara was scoring the game.
Posted by Wild Thing at November 1, 2010 04:45 AM
---
Comments
He threw a line drive like a man. Obama needs to take some throwing lessons from GW,
Posted by: BobF at November 1, 2010 07:54 AM
---
Boy has Nolan Ryan gotten old and fat. He use to have the best form, mechanically for a pitcher, no wasted motion.
Great to hear the crowd cheer 41 and 43. and the obama part was good too.
Posted by: Mark at November 1, 2010 08:23 AM
---
American decency incarnate.
Stateliness. Propriety. Respectability. Dignity. Refinement. Sophistication. Grace. Class. Taste. Polish. Substance. Courage. Honorable men of mettle, valor and moral fiber. Exemplary.
George Herbert Walker Bush and George Walker Bush.
They are Americans.
And so are we.
Posted by: Carlos at November 1, 2010 10:14 AM
---
Carlos, nicely done.
The two Bush families, know and respect the office of the Presidency. The Charlatan now occupying the office, along with his wife, have absolutly no clue.
You have to love the response of the two crowds. Hard to hear, if at all any cat calls from ythe Texas crowd, but they are sure obvious when Obama came out in D.C.
You have to love the way GW throws the ball. Like a ball player, instead of I don't know what, a girl, maybe? No that is an insult to girls.
Mark, I wouldn't be too hard on Nolan Ryan. All I can say is, it happens to all of us, eventually.

Posted by: Sean at November 1, 2010 10:58 AM
---
Carlos, that was great.

Thank you everyone.
Posted by: Wild Thing at November 1, 2010 11:47 PM
---