« Coconuts Removed From Trees In Preparation For Barack Obama's India Trip | Main | Moderate Dems Line Up in Opposition to Pelosi's Bid for Minority Leader »
November 07, 2010
Democrat Alex Sink Blames White House and Obama For Her Election Loss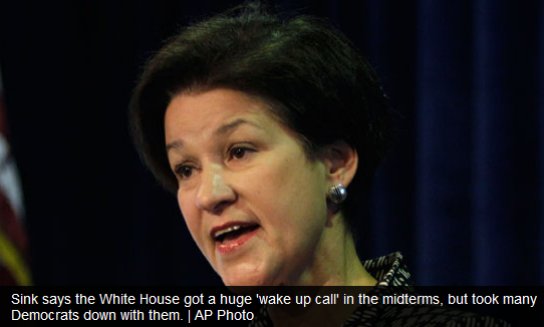 Florida Democratic gubernatorial nominee Alex Sink pointed an accusatory finger Friday at what she called a "tone-deaf" Obama White House to explain why she narrowly lost her campaign.
In an interview with POLITICO, Sink said the administration mishandled the response to the oil spill in the Gulf of Mexico, doesn't appreciate the political damage done by healthcare reform and argued that her GOP opponent's strategy of tying her to the president did grave damage to her candidacy in the state's conservative Panhandle.
"They got a huge wake-up call two days ago, but unfortunately they took a lot of Democrats down with them," said Sink of the White House.
She added: "They just need to be better listeners and be better at reaching out to people who are on the ground to hear about the realities of their policies as well as politics."
White House aides and Democratic National Committee officials, however, say that without the involvement of the national party and Obama's political arm, Organizing for America, Sink would have fared worse.
Read more: http://www.politico.com/news/stories/1110/44773.html#ixzz14asIc88M
.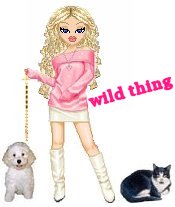 Wild Thing's comment........

The thing is she is not being honest about what she did no her own. When she first started to campaign here in Florida, she stodd there in the ad bragging abouit how obama was doing such a good job and how she was all for what he was doing.

Now she is blaming the very people she bragged about agreeing with.

Thank God she did not win.
The interesting thing about all of this is I don't remember democrats blaming their own president as to why they were not elected or asking their president not to show up at their campaign rallies. I might be wonrg but it seems like this is the first time in my lifetime this has happened.

That is telling on how bad obama is too. He is toxic even for his own party.
Posted by Wild Thing at November 7, 2010 06:45 AM
---
Comments
Haaa!!! Last time I checked we hadn't lost our freedom of choice Chrissie - YET!!!
Just because Sink hitched her wagon to the team of jackasses and their brand then gets kicked in the teeth by them should be a lesson for all of them.
Personally I learned that lesson in '66 after being raised in a staunch FDR household, it cost me dearly to sober up from that lifelong intoxication.
You are most certainly identified by the company you keep, I can't have a bit of empathy for anyone who choses to identify with wear that brand. To a lesser extent I feel the same about the GOP, I remain a rebel independent, an anti Democrat, anti Communist, unapologetic American.
Posted by: Jack at November 7, 2010 11:54 AM
---
Serves her right. and Amen Jack well said.
Posted by: Mark at November 7, 2010 05:50 PM
---