« Somali-American Mohamed Osman Mohamud Accused Of Plotting To Bomb Oregon Tree-lighting Event | Main | Lex The Purple Heart Dog - Semper Fi "Always Faithful" »
November 29, 2010
Checking In With Our Troops ~ They ROCK!
More M1A1 Tanks Arrive in Afghanistan
M1A1 Abrams tanks are staged at the Initial Issue Provisioning lot at Camp Leatherneck, Afghanistan. Five tanks have arrived so far and another dozen or so are expected to arrive over the coming weeks. Marines and contractors will inspect and up-armor the tanks before they are issued to infantry Marines throughout Helmand province. The Tanks will provide coalition forces with superior optics, maneuverability and precision fire power to be used during counter insurgency operations. Produced by Staff Sgt. Jennifer Brofer.
Tanks were last used by the Marine Corps in Al Anbar province, Iraq.
.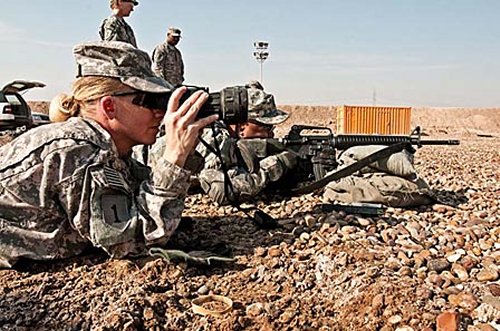 Army Spc. Kathryn Fish coaches a fellow soldier during a leader development program at Camp Taji, Iraq
.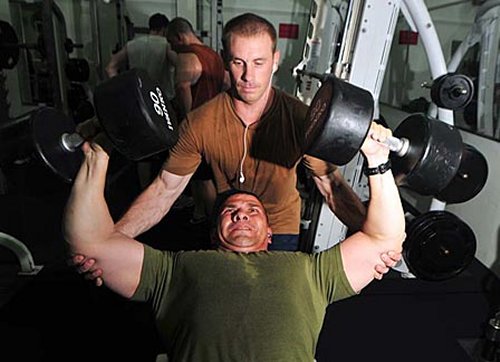 Chief Warrant Officer Jose Martinez performs dumbbell chest presses in the gymnasium aboard the amphibious dock landing ship Pearl Harbor on Nov. 22. Pearl Harbor is part of the Peleliu Amphibious Ready Group, which is transiting the U.S. 7th Fleet area of responsibility.
MC2 Michael Russell / Navy

.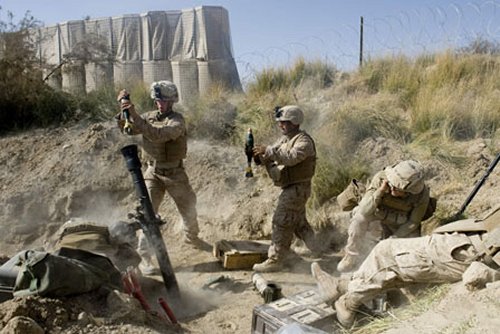 Members of 2nd Battalion, 2nd Marines, 2nd Marine Expeditionary Brigade, fire mortar rounds from their forward operating base at Mian Poshteh, Helmand province, on Tuesday.
Manpreet Romana/Agence France Presse
.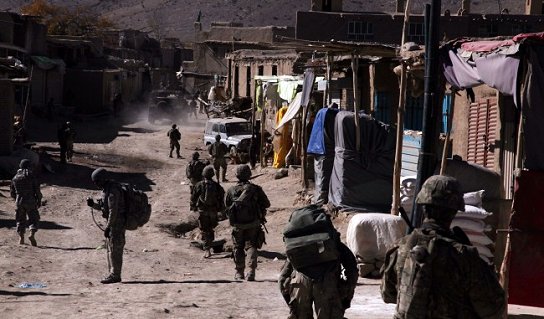 U.S Army Soldiers with the 10th Mountain Division patrol through the bazaar in Charkh, Afghanistan.

Fresh artillery blasts near a South Korean Island attacked earlier this week apparently came during drill today by North Korea. (Nov. 26)
.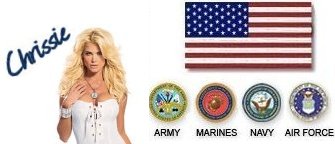 Wild Thing's comment.......
THANK YOU!!! for all that you do!! For serving our country and for the sacrfices you make every day,
I Pray each day God will keep you safe, and that he will bring you home, VERY, VERY, SOON!!!
GOD BLESS YOU ALL!!!! AWESOME JOB GUYS!! YOU are what makes are Country so Great!!
Posted by Wild Thing at November 29, 2010 12:47 AM
---
Comments
"...we'll cut out their living guts and use them to grease the treads of our tanks." - Gen G. S. Patton WW2
Wild Thing, you are sooooo right. Our military is awesome and all those who serve deserve or deepest thanks and respect.
Posted by: petesuj at November 29, 2010 10:06 AM
---
If they don't change the rules of engagement there is no point in going into Korea. We don't need another 55,000 kia's. Here's some irony for you , today is the 60th anniversary of the breakout from the Chosin Resersivoir. The Marines, Army Units, and British were surrounded by some 120,000 chinese there goal was the destruction of the un forces, outnumbered 10:1 All the units had a almost 10,000 kias, frost bite was accounted for another part of casualties.
Unless we are committed to winning another version of the Korean War, there is no point in sending one American Soldier to Korea. The cost for the first one has never been justified.
I am tired of sending in our troops 'in' with one hand tied behind their back, or Ammo less patrols this whole scenario is bullshit.
Posted by: Mark at November 29, 2010 12:37 PM
---
Pete, I LOVEEEEEEE that quote. OH yesss!!
Posted by: Wild Thing at November 29, 2010 11:50 PM
---
Mark, DITTO that about Korea and our troops.

Mark, thank you for pointing that out too about the Chosin Reserivor. That is a huge thing to keep in mind along with the troops killing R.O.E.'s that Obama has. Please God don't let them send our guys there.
NORTH Korea has said many years ago they have a population in the milliions and to lose a few million in battle means nothing to them.
Posted by: Wild Thing at November 29, 2010 11:57 PM
---