« President's Socialist Takeover Must Be Stopped By Jeffrey T. Kuhner | Main | TSA Criminal Activity and TSA Perverts Abound! »
November 20, 2010
Army Sergeant Peter Damon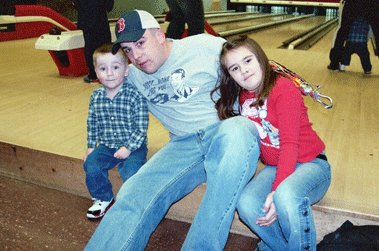 Damon poses for a photograph while bowling with his two kids. Danny (left) is now 8 years old, and his daughter, Allura (right) is now 13. Courtesy photo.
"The blast severed both my arms and killed my buddy," said Army Sergeant Peter Damon of a horrific accident in Iraq a little over seven years ago. "At least that's what I was told when I woke up in the hospital."
In June of 2003, Damon left his wife and newborn son in Massachusetts to deploy to Iraq with his National Guard unit. He was doing his dream job – performing maintenance on UH-80 Black Hawk helicopters. But one day during a routine inspection of the landing gear, there was an explosion.
I remember being in the back of a humvee, racing to the Combat Support Hospital (21stCSH) in Iraq,begging Sgt Alvini not to let me die .I had lost a lot of blood and I could feel myself slipping away. I prayed to God like never before ,asking him to let me live, to get me back to my wife and kids. But I was dying.
I later learned that when I arrived at the CSH they were going to pronounce me DOA , but for the efforts of some tenacious doctor, I was resuscitated. When I awoke I was informed that my work partner and buddy ,Spc Paul J Beuche was dead. I resolved from that moment on that I would do what ever I could to recover quickly and to live my life to its fullest potential. Paul was very young,only 19, and he had his whole life ahead of him. I wasnt about to squander mine with self pity. It would dishonor him to do so.
So now I look at life from a whole new perspective, and I seek to freeze those everyday magic moments in time through painting, and if I can evoke some small emotional response in someone through art, then I have accomplished something to me that is very worthwhile.
"I don't remember any of the details from the accident," said Damon. "I just remember the first thing that really bummed me out was learning that I lost my arms. Strangely, my first thought was how much of a shame it was because I was just getting good at drawing."

To pass the time in Kuwait, Damon had rekindled and interest in an old hobby – drawing -- and became quite passionate about it. But now he would have to re-learn even the most basic elements of writing from scratch.

After 15 months of recovery at Walter Reed Army Medical Center, Damon was fitted with a prosthetic on his left arm first because he still had the elbow on that arm. Unfortunately, he was a righty, which only added to his frustration.
"It was just like elementary school all over again," said Damon, "where you had to write out a big 'A' then a little 'a' on the thick-lined paper.
"It took a while to get good, but once I started picking up the pace, I just kept going," he said. "I realized at that point that if I could write letters, there's no reason why I can't still draw."

The hospital recognized that by then Damon could pretty much take care of himself. So to make room for the influx of new amputees coming in from the battlefield, he was moved into the Malone House, separate quarters in the back of Walter Reed. It was there that drawing and painting quickly became a source of therapy.
"It made me feel like a whole person again," he said. "It gave me a huge boost of self-confidence and helped me to realize that even though I lost my arms, I could accomplish amazing things if I set my mind to them."

Damon's artwork became more than just a morale-booster. It grew into a full-time career. The more he admired the works of Ray Ellis, Edward Hopper, Robert Henri, and local artist Nancy Colella, he began to realize how much talent it takes even an able-bodied artist to paint well.
As he focused day-in and day-out on his art, his works began to attract the attention of local art critics and it wasn't long before he received his first offer to sell his work.
"One of my favorite pieces that I'm really not even sure I want to sell is called Fishing with Mom," said Damon. "Sometimes I do 'open-air' art, and that day at the park was the day I taught my son how to fish. It was such a great day, that I had to sit right down on the tailgate of my truck and capture the moment."

In 2006, Damon and his wife, Jenn, opened The Middleborough Art Gallery, where he could display and sell his artwork. Sadly, however, a downturn in the economy forced the Damons to close the doors after three years.
Recently, as an inexpensive alternative to a brick and mortar gallery, he began displaying his artwork online using a blog to interact with fans and critics.
"The blog gives me a reason to keep painting," said Damon. "I still have pain, depression, and anxiety on occasion, and the painting gives me a reason to get up every day – it drives me to keep moving.
"Maybe I'll do the gallery thing again some day," he added, "but the blog is actually more interactive. People from all over the world have the opportunity to weigh in and perhaps even purchase my work."
Many of his featured pieces have already been sold, but he has been revealing new pieces on his blog every few weeks. And while he may not be able to paint a clear picture of the moment that caused him so much pain, he is more than able to capture on canvas the things that bring him happiness.
View Damon's gallery on his blog, titled Sgt. Damon's Art.

.
"It gave me a huge boost of self-confidence and helped me to realize that even though I lost my arms, I could accomplish amazing things if I set my mind to them." -Sgt. Damon
"I am an artist and a severely wounded Iraq war veteran. In October of 2003 I lost parts of both my arms while serving in Iraq as a helicopter mechanic in the military. The accident killed my buddy, SPC. Paul J Bueche 19, of Daphne AL. Since then, art has become a huge source of therapy for me, both physically and mentally. Painting has given me a new perspective on life. I've made a promise to Paul to make the most of it. This website is dedicated to him. "
.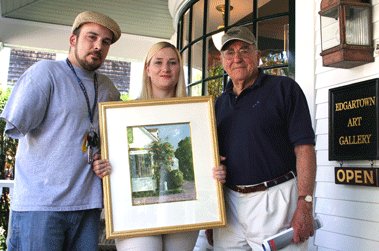 Army Sergeant Peter Damon (Ret.) stands with his wife and his biggest inspiration, artist Ray Ellis, in front of Edgartown Art Gallery in Martha's Vineyard, Massachusetts. Courtesy photo
.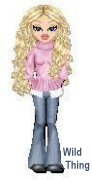 Wild Thing's comment.......
God bless Peter Damon and his family. His story is inspiring and it is an honor to post about him and his art work.
Posted by Wild Thing at November 20, 2010 03:45 AM
---