« Multiple News Agency Personalities Reporting Just How Bad Obama and His Administration Is Doing | Main | Biden: 'If We Lose, We're Going To Play Hell' »
October 09, 2010
Palin Takes A Big Step Toward 2012 Run for President
Palin Takes A Big Step Toward 2012 Run for President

Former Alaska governor and 2008 GOP vice presidential nominee Sarah Palin is raising new speculation in conservative circles that she is already preparing for a 2012 presidential bid. In the latest and clearest example of her plans, Palin met with some 50 national conservative leaders Wednesday in Palm Beach, Florida where she discussed economic and diplomatic policy and led some to declare that she's in the race.
"This was an indication that she's strongly considering running," said one insider. "She was very knowledgeable and gave intelligent answers, despite how she's been characterized," added the insider. "And she was extremely charming."
The meet-and-greet was organized by the conservative magazine and website Newsmax and its boss Christopher Ruddy. Palin, currently a Fox News contributor, has said Newsmax is one of her favorite news sources. Her trip sprung from an accidental meeting in June at the Belmont Stakes race in New York when Palin and Ruddy bumped into each other.
Ruddy, whose Web site helped sell 250,000 of Palin's 2008 campaign book, arranged for Palin to be interviewed by radio host Michael Reagan for an upcoming webcast dubbed "Make America Great Again." Palin will kick off the webcast campaign October 12. Her next book, America By Heart, is due out next month.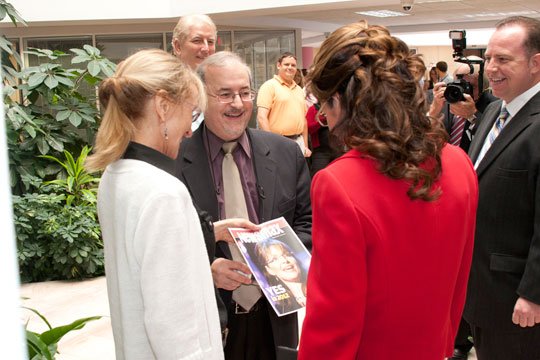 During her stop, Ruddy and his staff presented Palin with a faux Newsmax cover showing her running for the presidency. It was headlined: "Yes in 2012."
At a later reception and dinner, she made her case on several issues to top conservative leaders, among them, Grover Norquist, president of Americans for Tax Reform, pundit Dick Morris, activist Ralph Reed, and John Raese, the West Virginia Republican Senate candidate who holds a surprise lead over Democratic Gov. Joe Manchin.
"This was an indication that she's strongly considering running," said one insider.
Conservatives have warmed to Palin in part because of her golden touch in picking Tea Party candidates to back in House and Senate races, giving her a ready-made support base in a presidential bid.
.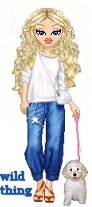 Wild Thing's comoment.......
If she did run can you imagine the sleepless nights Obama would have. heh heh Just thinking about a debate between Sarah and Obama..........heh heh...... he would be stuttering more then ever.

....Thank you Mark for sending this to me.

Mark
3rd Mar.Div. 1st Battalion 9th Marine Regiment
1/9 Marines aka The Walking Dead
VN 66-67


Posted by Wild Thing at October 9, 2010 05:47 AM
---
Comments
I hope Sarah is a candidate in 2012. What really worries is the backstabbing the RNC will do to her. I think establishment Repubs will work against her. The RNC sure didn't do much to help Reagan win in 1980. That may be why Reagan picked the ineffectual Bush as a running mate, to quiet the RNC. Reagan was popular and Sarah is popular. Both appeal to mainstream, taxpaying America. I believe the Reagan Democrats would come aboard for Sarah Palin.
Posted by: TomR, armed in Texas at October 9, 2010 09:14 AM
---
There's a lot of talk amongst the tea party, that they could split with the RNC if the RNC offers up another RINO to run against obummer.
If the RNC is smart they will lean toward Sarah and grab the support of the Tea Party, and dump Karl Rove and his like minded idiots.
Posted by: Mark at October 9, 2010 12:20 PM
---
The RNC had better be listening, with all the Townhall meetings and the Tea Parties that happened all over America. How hard can it be, even the horrible dems are trying to pretend not to be as liberal as obama just so they can try and stay in power.
Posted by: Wild Thing at October 9, 2010 11:29 PM
---