« Walter Mondale Says Obama Needs to Stop Using 'Idiot Boards' to Read His Speeches | Main | Democrat Dick Blumenthal Stumped On How To Create A Job »
October 05, 2010
"God's Own Lunatics" by Joe Galloway,The Video by The Silver Spurs, A Troop, 3/17th Air Cavalry
God's Own Lunatics by Joe Galloway Video by the Silver Spurs, A Troop, 3/17th Air Cavalry
This is also there website:
http://northwestvets.com/spurs/spurs.htm
God's Own Lunatics by Joe Galloway put to pictures by the Silver Spurs, A Troop, 3/17th Air Cavalry, Vietnam '67-'72.
"We had the honor of having Joe Galloway as our keynote speaker for our 2008 Silver Spur reunion. He will return to be our speaker once again in April 2010. Joe is a true friend of all military veterans and those who serve our beloved nation today".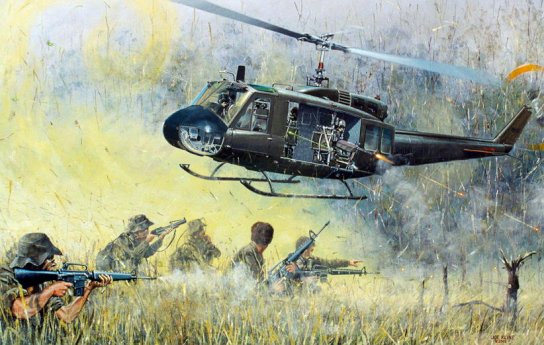 Joe Kline has captured the teamwork, commitment, and devotion to duty required to complete the mission of extracting a Long Range Reconnaissance Patrol under heavy enemy fire.

.

Wild Thing's comment.........
I love this, it has the sacred whop, whop, whop of the Huey blades.
"God's Own Lunatics" is the phrase coined by noted reporter, Joe Galloway, as a description of respect and admiration for helicopter crews, and their willingness to go anywhere, anytime, in support of ground combat forces.

Joe Galloway was a reporter at the Battle of the Ia Drang Valley 1965. He co wrote, "We Were Soldiers Once, and Young" with Col. Hal Moore, the US commander of the battle. This battle was the initiation of the airmobile concept and the US force was the First Air Cav.

Welcome home to all our Vietnam Veterans.
Thanks too to Silver Spurs, A Troop, 3/17th Air Cavalry, Vietnam '67-'72. for putting this together.
The squadrons from the 17th Cav are still very active today and have been deployed both in Iraq & Afghanistan. The 3-17th is currently in Afghanistan.

During the Vietnam War, Joe Galloway often worked alongside the troops he covered and was awarded a Bronze Star for carrying wounded men to safety.

Galloway is a native of Refugio, Texas. His first wife Theresa M. Galloway (May 12, 1948-January 26, 1996) died of cancer. They had two sons, Joshua and Lee. In 1998, Galloway married Karen Metsker, daughter of Capt. Tom Metsker, a battalion intelligence officer killed in the Vietnam War. Galloway now resides in his home county of Refugio County, Texas in Bayside in a cottage overlooking Copano Bay.

....Thank you Tom for sending this to me.


Tom
US Army Aviation
Vietnam 1966-68
US Army Special Forces
1970-72


Posted by Wild Thing at October 5, 2010 03:55 AM
---
Comments
Wop, Wop, Wop. One of the most unique sounds in the world. To those of us who served in Vietnam it is the most meaningful sound. It brings back the memories of 40+ years ago. I always thought the Hueys would be around foever there were so many. But time marches on. Hueys are museum relics now, the few that are left. However, they and their wop,wop live on in our memories.
Posted by: TomR, armed in Texas at October 5, 2010 09:09 AM
---
Great Article.
Yes those Hueys were the best we had going for us. I was watching a video of the A-10 and thought how great to have had a pair of the in 66 that would have saved a lot of lives.
Posted by: Mark at October 5, 2010 09:18 PM
---
Posted by: Wild Thing at October 5, 2010 11:29 PM
---