« Dhimmitude and Obama's Socialized Medicine | Main | Obama Gets Heckled During Speech in Connecticut »
October 31, 2010
Charllie Crist Soap Opera Continues As Voicemail from Crist to Meek Surfaces and Crist Offers Meek A Cross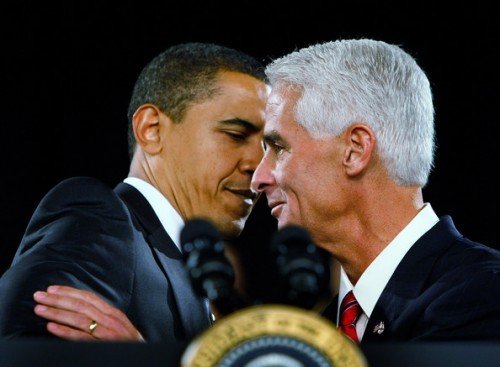 Clinton Will Again Be Coming To FL. For Meek on Monday
Former President Bill Clinton will campaign with Florida Democratic Senate candidate Kendrick Meek in Orlando on Monday night, just days after controversial reports that Clinton asked Meek to withdraw from the race and throw his support behind independent Senate candidate, Florida Gov. Charlie Crist.
Clinton said that he spoke with Meek twice regarding the possibility of leaving the race, but that he had not asked him to do so.
"He was trying to determine what was the best thing for him to do," Clinton said in an interview with CNN's Susan Candiotti on Thursday. "I knew it was being discussed, people had discussed it on and off. It was no secret."

Meek told CNN Friday that Clinton had never approached him about exiting the race, but said Crist had been the one to broach the subject.
"Gov. Crist talked to me about getting out of the race. I recommend to the governor that he should consider getting out of the race." Meek said.
Crist said Thursday on Fox News that said he spoke with Meek and "several people" at the White House, as well as Clinton counselor Doug Band, about having Meek step out of the race.
.

Voicemail from Crist to Meek surfaces


This was left before 5:00 a.m. Monday morning. CRIST: Let's see if "we can work out a time to get together, just you and me"
A voicemail from Gov. Charlie Crist to Democratic Senate candidate Kendrick Meek from earlier this week emerged on Saturday, suggesting Crist asked Meek to withdraw from the three-way race.
The existence of the voicemail comes a day after questions arose about whether former President Bill Clinton pressured Meek to give up his bid and back Crist.
Meek says Clinton discussed the topic but didn't press him to exit the race. Instead, Meek has said it was Crist who asked him to withdraw.
In a voicemail message left for Meek by Crist at 5 a.m. Monday, Crist asks Meek to meet sometime that day after a political event where the governor asked the Democratic congressman face-to-face to bow out.
Reports by the St. Pete Times say Crist was calling Meek frequently in an effort to get Meek to drop out of the race.

Meek has refused to drop out. He and Crist trail Republican Marco Rubio in the polls.
In a Saturday announcement, Clinton said he would campaign with Meek on Monday in Orlando with the mid-term election looming on Tuesday.
Meek told reporters today that the controversy has energized his supporters and he is seeing a surge in voter participation.
.


Meek: I Turned Down Charlie Crist's Cross.
Florida independent Senate candidate Charlie Crist personally lobbied Democratic candidate Kendrick Meek to exit the race this week, offering him a cross that had been a gift from his sister, Mr. Meek said Friday.

The gesture occurred Monday as Mr. Crist and Mr. Meek were surrounded by local Jewish leaders at a Hollywood, Fla., meeting of the pro-Israel lobbying group American Israel Public Affairs Committee.
"I was shocked when he did it," Mr. Meek said in an interview late Friday. "I told him to keep the cross and that I carry my Christianity in my heart."
Crist spokesman Danny Kanner said he would not comment on a private conversation. Charlie Crist personally called a top adviser to Bill Clinton and asked if the former president would discuss with Kendrick Meek the possibility of dropping out of the Florida Senate race, according to a source close to Clinton.
Mr. Meek said he tried to avoid Mr. Crist, but as he left the stage, "there he was, right in front of me."
"He said, 'If you were to drop out and work with me and help me we together can beat Marco Rubio,'" Mr. Meek recalled. "I said, 'Governor, that's a non-starter.'
"Then he dug down into his pocket and pulled a small cross out," Mr. Meek continued. "He said his sister gave it to him and he wanted to give it to me so I would think about it."

Mr. Meek said Mr. Crist had been calling him repeatedly all weekend, and that he blames Mr. Crist for spreading rumors in recent weeks that he was going to drop out of the three–way race against Mr. Rubio, the GOP nominee.
Mr. Crist's camp had been in contact with aides to former President Bill Clinton, who last week tried to convince Mr. Meek he could not win the race and that exiting might help Mr. Crist defeat Mr. Rubio.
Mr. Crist, on the early-morning voice mail, described himself as a "night owl." Mr. Meek said he was asleep when the call came in.
"For him to call me at four something in the morning, you know something's not right," Mr. Meek said.

.


Wild Thing's comment.......
Crist wakes Meek up at 4:45 AM to talk. Stalks Meek and offers him a cross. LOL oh my gosh....hahahaha Crist has gone over the edge. This is more than desperate. Crist seems mentally unstable. My prediction: Crist will not only finish 3rd, but he will be finished politically. The man is mentally unstable.
And the funny thing is all this backfired on Crist. His begging has only gotten Meeks more support. LOL

I wonder how his sister felt that he was regifting?
Posted by Wild Thing at October 31, 2010 07:47 AM
---
Comments
I watched Meek on TV and by his own admission, he's a liberal but he does seem like an honorable man. Charley Crist is a man without honor who is trying put in people's heads that Meek is going to drop out or believes he doesn't have a chance to win. Crist is doing this in hopes of getting Democrat votes away from Meek. I would vote for Meek before I would vote for Crist.
Posted by: BobF at October 31, 2010 09:42 AM
---
Obama couldn't lead a bunch of cub scouts, this is the worst campaign I have ever watched. Nobody wants this guy around, yet he shows up like a bad check and he keeps coming back.
Posted by: Mark at October 31, 2010 06:40 PM
---
Bob, I agree, he is big time liberal but he sure handled himself with more dignity then Crist ever has.
Posted by: Wild Thing at November 1, 2010 01:06 AM
---
Posted by: Wild Thing at November 1, 2010 01:08 AM
---
Wild Thing, you were right! Crist lost and is facing unemployment. (Good riddance.)
Posted by: Anonymous at November 3, 2010 09:29 PM
---