« Megyn Kelly: 'What the Hell was Stephen Colbert doing in Congress?' ~ Thank You Megyn!! | Main | Obama's R.O.E. Called 'Courageous restraint' Is Putting Troops Lives At Risk »
September 26, 2010
UN To Appoint Earth Contact For Aliens

UN to appoint Earth contact for aliens
United Nations was set today to appoint an obscure Malaysian astrophysicist to act as Earth's first contact for any aliens that may come visiting.
Mazlan Othman, the head of the UN's little-known Office for Outer Space Affairs (Unoosa), is to describe her potential new role next week at a scientific conference at the Royal Society's Kavli conference centre in Buckinghamshire.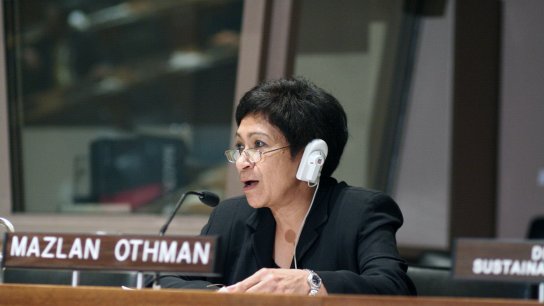 She is scheduled to tell delegates that the recent discovery of hundreds of planets around other stars has made the detection of extraterrestrial life more likely than ever before - and that means the UN must be ready to coordinate humanity's response to any "first contact".
During a talk Othman gave recently to fellow scientists, she said: "The continued search for extraterrestrial communication, by several entities, sustains the hope that some day humankind will receive signals from extraterrestrials.
"When we do, we should have in place a coordinated response that takes into account all the sensitivities related to the subject. The UN is a ready-made mechanism for such coordination."
Professor Richard Crowther, an expert in space law and governance at the UK Space Agency and who leads British delegations to the UN on such matters, said: "Othman is absolutely the nearest thing we have to a 'take me to your leader' person."

However, he thinks humanity's first encounter with any intelligent aliens is more likely to be via radio or light signals from a distant planet than by beings arriving on Earth. And, he suggests, even if we do encounter aliens in the flesh, they are more likely to be microbes than anything intelligent.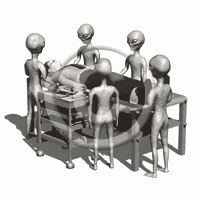 Wild Thing's comment.......
Absolutely nothing surprises me any more.
And the aliens are supposed to get this new protocol how?

"Gort, Klaatu barada niktu."
Posted by Wild Thing at September 26, 2010 01:55 AM
---
Comments
Ok, what is this debacle going to cost the American Taxpayer.
Heres: the Agenda for the first term of the new congress. Disavow any treaty made by obama.
Start assembling Articles of impeachment, then impeach this usurping SOB. Run him down to the local Port Authority on a Rail and put him on the first ship out to sea. I dont care if its a garbage skow. He spent enough of our money.
Posted by: Mark at September 26, 2010 08:07 AM
---
Exactly what I was thinking Mark. How much is this going to cost the US. I wonder what this woman is getting paid for her new position?
Posted by: BobF at September 26, 2010 09:00 AM
---
I guess they are not referring to the aliens with leaf blowers on their backs.
Almost any member of the Democrat Party in Congress could be a contact for ET's. Those Democrats are far removed from reality. Of course, a super intelligent ET meeting one of our Dems would have to think of earthlings as super backwards.
Posted by: TomR,armed in Texas at September 26, 2010 10:27 AM
---
I thought Screwy Louie farrakhan was earth's alien contact.
Posted by: Bob A at September 26, 2010 01:09 PM
---
Great input thank you all so much.
Posted by: Wild Thing at September 26, 2010 11:40 PM
---