« Obama Allowing Tax Cuts to Expire Hits Taxpayers At Every Level | Main | GOP Rep. Michele Bachmann Speaking At The Values Voter Summit Yesterday »
September 17, 2010
Today Is National POW/MIA Recognition Day ~ 2010 ~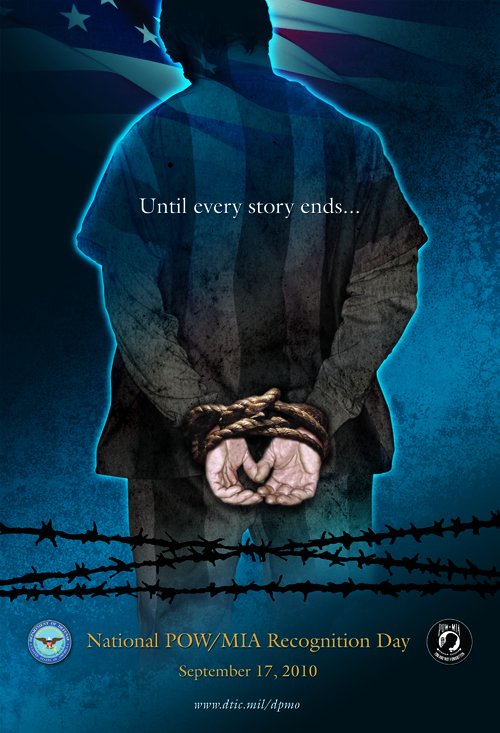 The President issues a proclamation commemorating the observances and reminding the nation of those Americans who have sacrificed so much for their country.
Observances of National POW/MIA Recognition Day are held across the country on military installations, ships at sea, state capitols, schools and veterans' facilities. It is traditionally observed on the third Friday in September each year. This observance is one of six days throughout the year that Congress has mandated the flying of the National League of Families' POW/MIA flag. The others are Armed Forces Day, Memorial Day, Flag Day, Independence Day and Veterans Day.
The flag is to be flown at major military installations, national cemeteries, all post offices, VA medical facilities, the World War II Memorial, Korean War Veterans Memorial, the Vietnam Veterans Memorial, the official offices of the secretaries of state, defense and veterans affairs, the director of the selective service system and the White House.
Recently Accounted-For
The names listed here are U.S. military servicemembers who were once missing and are now accounted-for.

•Maj. Woodrow W. Vaden, U.S. Air Force, 1131st Special Activities Squadron, was lost on Dec. 10, 1964, aboard a C-123 Provider aircraft that crashed into a mountain near Da Nang Air Base, South Vietnam. His remains were identified on Aug. 11, 2010.

•Sgt. John P. Bonnassiolle, U.S. Army Air Forces, 392nd Bombardment Group, was lost April 29, 1944, near Hannover, Germany. His remains were identified June 14, 2010.

•Cpl. Frank H. Smith, U.S. Army, 5th Infantry Regiment, 24th Infantry Division, was lost on July 25, 1951, in South Korea while under enemy attack. His remains were identified on May 25, 2010.

•Capt. Clyde W. Campbell, U.S. Air Force, 602nd Special Ops Sq., was lost on March 1, 1969 while flying his A-1J Skyraider over targets in Houaphan Province, Laos. His remains were identified on May 18, 2010.

•1st Lt. Paul G. Magers and Chief Warrant Officer Two Donald L. Wann, U.S. Army, Company D, 158th Aviation Battalion, 101st Airborne Division, were lost June 1, 1971, while flying in an AH-1G Cobra helicopter over South Vietnam. Their remains were identified on March 22, 2010.
.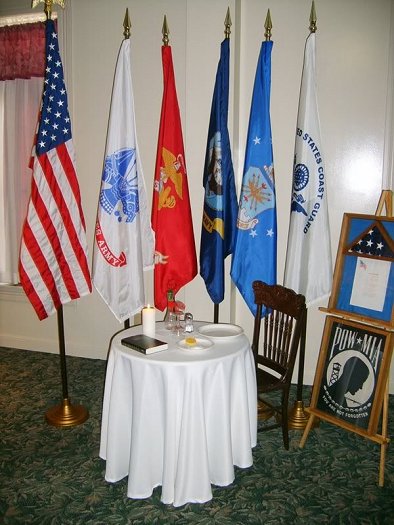 MISSING MAN TABLE & HONORS CEREMONY
I would like to explain the meaning of the items on this special table.
The table is round -- to show our everlasting concern for our missing men.
The tablecloth is white -- symbolizing the purity of their motives when answering the call to duty.
The single red rose, displayed in a vase, reminds us of the life of each of the missing, and the[ir] loved ones and friends of these Americans who keep the faith, awaiting answers.
The vase is tied with a red ribbon, symbol of our continued determination to account for our missing.
A slice of lemon on the bread plate is to remind us of the bitter fate of those captured and missing in a foreign land.
A pinch of salt symbolizes the tears endured by those missing and their families who seek answers.
The Bible represents the strength gained through faith to sustain those lost from our country, founded as one nation under God.
The glass is inverted -- to symbolize their inability to share this evening's [morning's/day's] toast.
The chairs are empty -- they are missing.
Let us now raise our water glasses in a toast to honor America's POW/MIAs and to the success of our efforts to account for them.
Posted by Wild Thing at September 17, 2010 08:50 AM
---
Comments
I am glad we are able to find remains and account for our missing men even as far back as WWII. I have a small POW/MIA decal on the windshied of both of my trucks. I pray for the missing every night.
Posted by: TomR,armed in Texas at September 17, 2010 09:27 AM
---
Who's President? Not mine!!!!!!!!!!!!!!!!!!!!
Posted by: Eddie (Enemy of the State) at September 17, 2010 11:31 AM
---
It seems like the only people who remember are former service. Politicians could care less. They forget and move on and the POWs are still there.
Shame on them.
Posted by: Mark at September 17, 2010 01:28 PM
---
I know the missing man table well.We set it up for our USNA events here in NE OH. It is a sad reminder of the fight for freedom. God love and protect these patriots and their families.
Posted by: jan at September 17, 2010 05:23 PM
---
I was in attendance today at a missing man ceremony, it is my third MM service, they don't ever get easy. Never forget!!!
Never forget that John Kerry and John McCain wrote off the Vietnam missing in action and remaining POW's when they were chairman and co-chairman of the Senate Select Committee on P.O.W./ M.I.A. Affairs.

Posted by: Jack at September 17, 2010 11:34 PM
---
Eddie, haha that is why I only said the President and no name with it. I did not want to have it there.
Posted by: Wild Thing at September 18, 2010 05:40 AM
---
Thank you everyone so much you are all so awesome. Thank you for sharing and for the links too.
Jack yes I promise too never to forget what Kerry and McCain did on that committee. Thank you for the added links.
Posted by: Wild Thing at September 18, 2010 05:42 AM
---